Saddleback Mtn 4120 ft | The Horn 4023 ft
---
Of the fourteen 4000 footers in Maine, eight are located in the Rangeley-Stratton Mountain Range in Western Maine. I'd already checked Sugarloaf, Spaulding, and Abraham off my list during the winter and late spring. It's a bit of a haul to get up to Stratton, so I decided to check the remaining five peaks off my list in one trip.
This area of Maine is home to Sugarloaf, arguably the most popular (certainly the best-known) ski resort in the state. Saddleback is also a ski mountain, and the Rangeley Lakes Region attracts tourists year-round, thanks to an impressive collection of lakes, woods, trails, and recreation opportunities. As a result, there are a bunch of affordable motels in the area with rooms made for sleeping multiple people. There are plenty of fancy places to stay too, if that's the kind of trip you're looking for. I was not, so I settled on the White Wolf Inn in Stratton. It's a friendly, modest spot with a restaurant, located on the main drag through town (Rt. 27). The east end of Flagstaff Lake is steps away and the Appalachian Trail crosses a few miles down the road. And, if you stay two nights midweek, you get a third night free.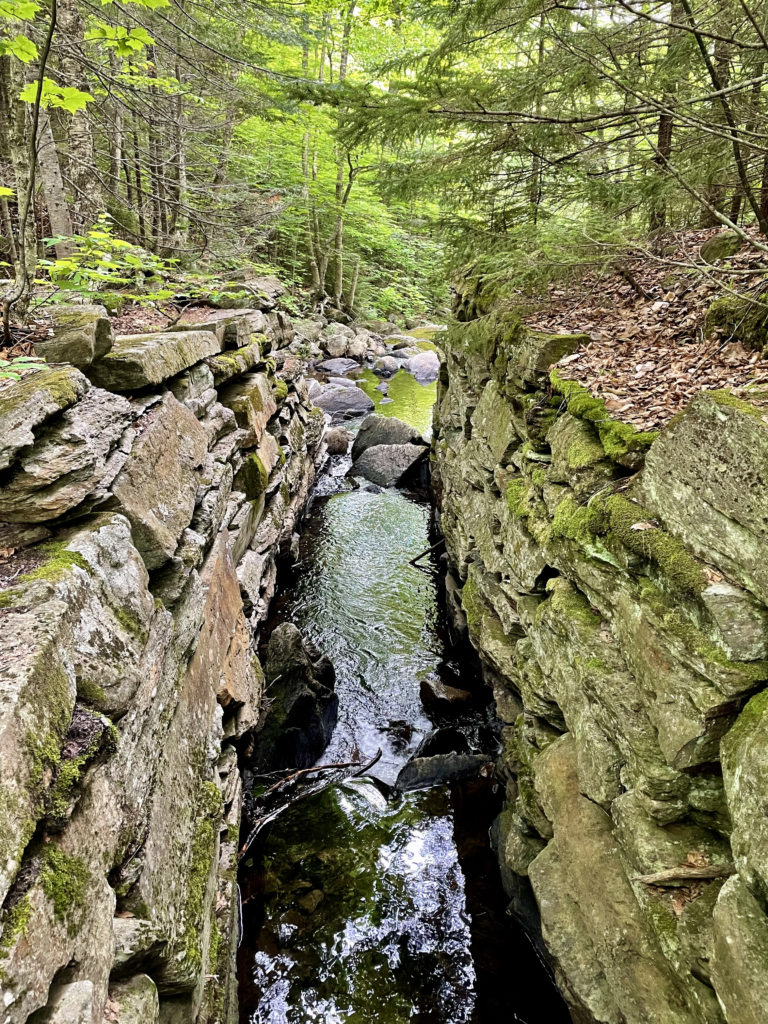 I started my hike on Rt 4 where the AT crosses the road. The trail immediately passes over Sandy River via a bridge over a human made stone channel and begins to climb gradually out of a valley. At almost two miles, a short side trail leads to Piazza Rock, a large granite slab protruding from a cliff. Piazza Rock Lean-to is also there, featuring a double privy called 'Your Move' where bathroom-goers can share a game of cribbage. I guess if you've been on the AT since Georgia, you probably unpacked bodily function modesty somewhere around Harpers Ferry. Travel light, they say.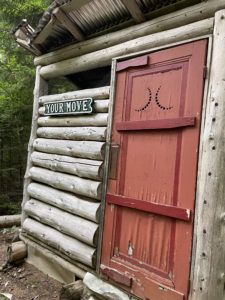 Shortly after Your Move, the trail passes the Caves, a series of boulder caves with narrow passages between the huge, mossy rocks. Pause for a photo, because it's about time to climb. The trail passes three small ponds (Ethel, Mud, and Eddy) with relative ease before heading steeply up through a pine forest to reach the scrubby slope of Saddleback. There are a few metal ladders on or over boulders on this trail. For the purposes of rating dog-friendliness, I do think most agile dogs could manage the rocks without using the ladders. They're mostly placed for ease, not necessity, on this route.
Hiker term: Privy
A backcountry pit toilet, usually with wood chips to help compost. Often referred to as an outhouse in the US. Outside North America, 'outhouse' refers to any outbuilding (sheds, barns, workshops, etc).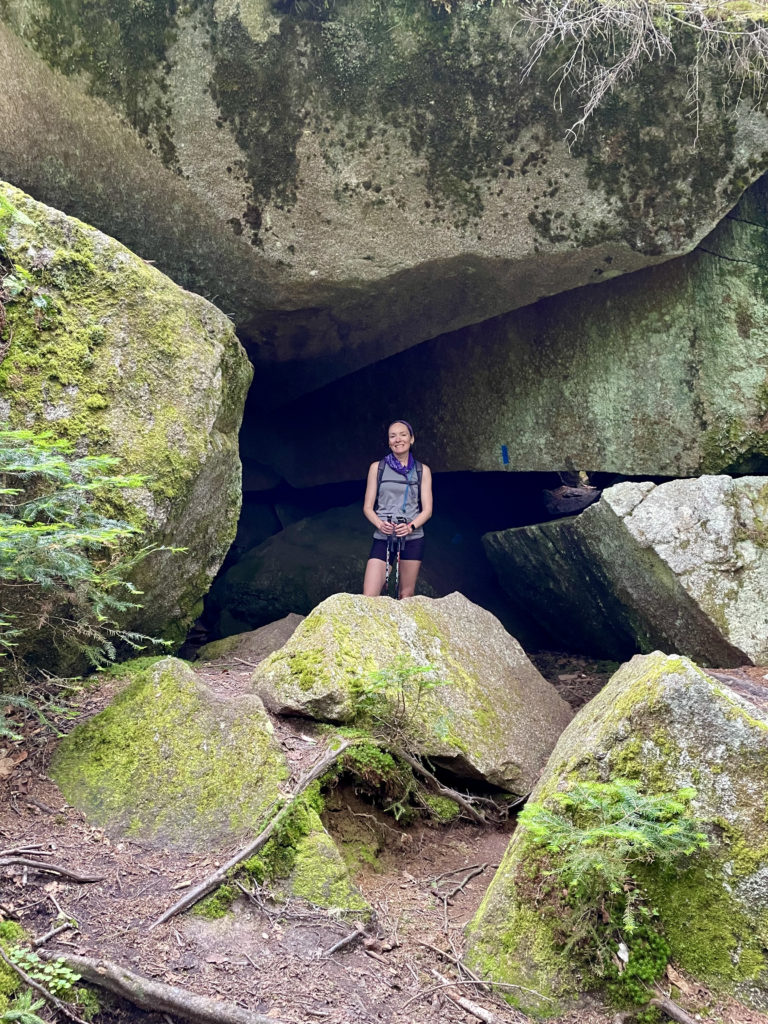 The ridge of Saddleback is three miles long and entirely exposed. On a clear day, I'm sure the views are phenomenal. There was nothing to see in the distance on this foggy day, although it was beautiful in the way mountains are eerie and peaceful in the mist. The fog made the foliage even more vibrant, so although the sky was gray there was no shortage of color. The AMC's Maine Mountain Guide warns this section of trail can be dangerous in bad weather due to exposure and the possibility of losing the route. I found it to be well marked with white blazers and cairns.
In the alpine zone, I had my first bunny tail sighting. That is absolutely not what the fluffy white flowers are actually called, but it's all I could think of when I saw them. If anyone knows what these plants are officially named, do tell! They were everywhere, bending and bobbing in the direction of the wind and giving the whole scene a fairytale-like quality.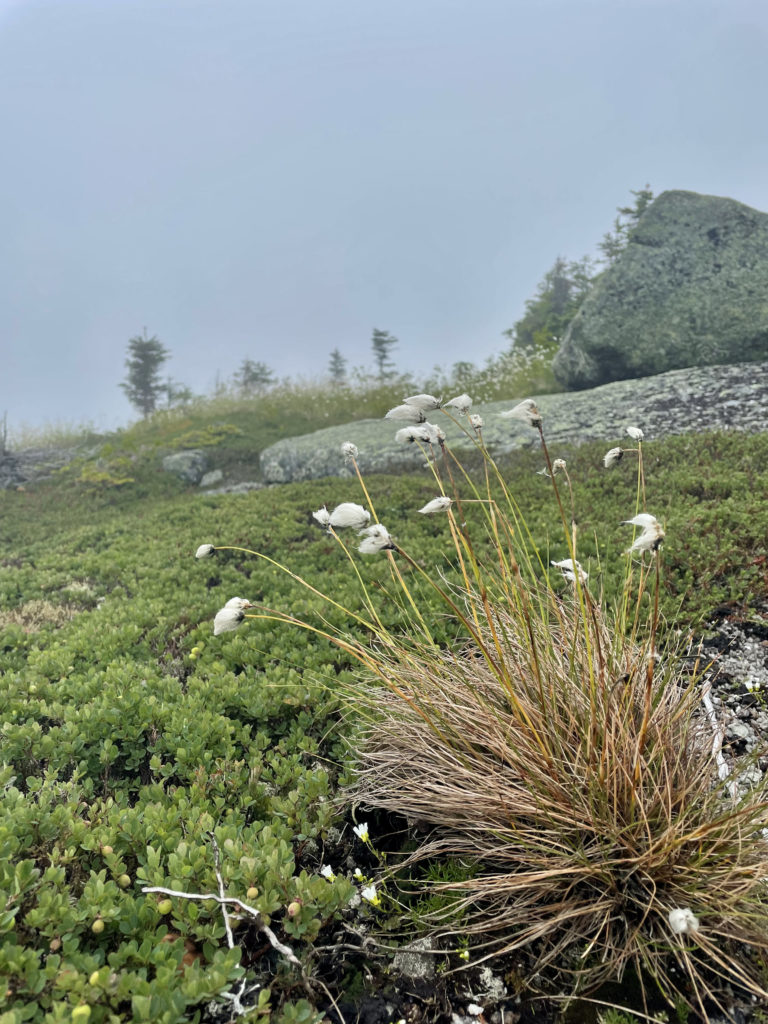 After a long stretch over rocky slopes and ledge surrounded by low scrub, the trail descends slightly into a sag before climbing to the Saddleback summit at 5.7 miles. The alpine ridge continues on, dropping steeply into the col between the peaks of Saddleback and The Horn. The ascent out of the col climbs large slabs and ledges, reaching the second summit at 7.3 miles.
For hikers not wishing to retrace all their steps, it is possible to backtrack to Saddleback and descend via the ski slopes. I will do anything to avoid hiking ski slopes, even if it means more miles. The reviews on AllTrails say the slope descent is steep and rocky (as are most ski slope descents). Unless it's winter and you're hiking up with skis to swish your way to the bottom of Saddleback, my vote is to stay on the AT the whole way back.
Summit lesson: Hiking on a cloudy day has its benefits. I'm more likely to take in my immediate surroundings when there isn't a view to focus on. I notice things like alpine vegetation, interesting rocks, and unexpected colors. And bunny tails.
---
| | |
| --- | --- |
| Total elevation: 4,120 & 4,023 ft | Elevation gain: 3,871 ft |
| Mileage: 14.6 miles | Alpine exposure: yes, significant |
| Terrain: wooded trail, rock, log bridges, ledge, ladders | Challenges: steep in parts, exposed ridge |
| View payoff: exceptional (I'm told) | Dogs: yes |
Recap: Unless you're on a schedule, consider saving this hike for a bluebird day. I'm confident the views will be worth the wait, and there won't be any worries about losing the trail on the exposed ridge. This route has some really lovely things to see in the woods as well, including the Caves formed by massive boulders, the impossibly balanced Piazza Rock, and an impressive variety of vibrant alpine vegetation. While the trail wasn't technically difficult, it was long. The steep sections were intense, but the variety of terrain and the long ridge created a nice rhythm on the route. The Appalachian Trail is very well maintained in this area, which is always a pleasure to experience.