Crocker Mtn 4228 ft | South Crocker Mtn 4050 ft | Mt Redington 4010 ft
---
After a foggy hike up Saddleback and The Horn, I spent a second night at the White Wolf Inn in Stratton. The restaurant is closed Tuesday and Wednesday, but there is a well-stocked general store (more like a mini grocery) just steps away. The room at the inn had a microwave and a fridge, so it was easy to prepare a meal.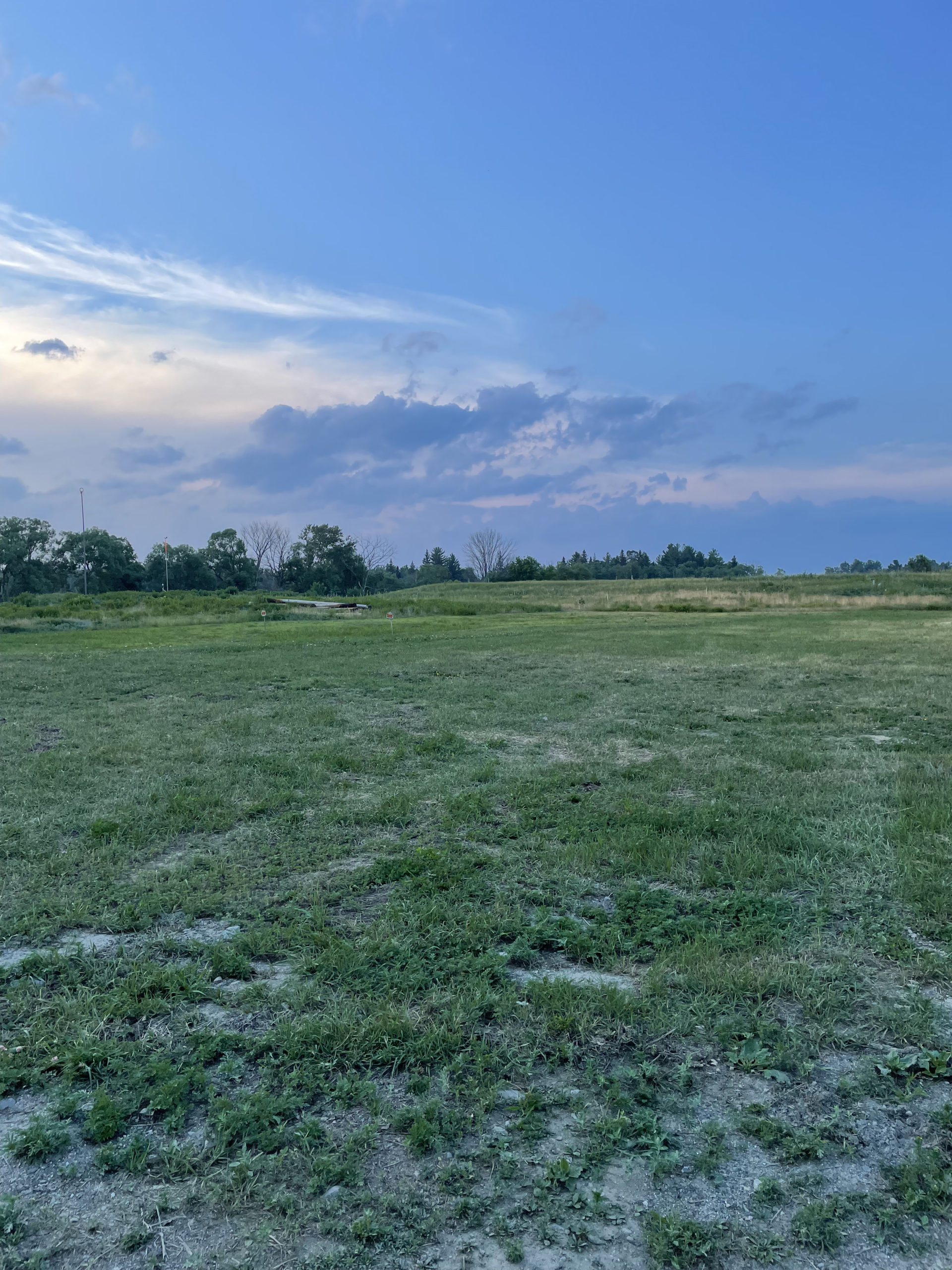 On my way to the store I passed The Coplin Co-op, and I was sorrowfully disappointed to find it closed. The shop is described as 'Natural Foods & Gifts' and sells local art, toys, jewelry, candles, and soaps. It is also home to Mothmoon Florist & Live Plants. The front lawn was full of colorful flowers and potted plants, garden decor, and vegetable sets. When I return to hike Saddleback and The Horn on a sunny day, I will time my trip to allow a visit to this fabulous shop. It's the kind of place that screams "treasures found here!"
On day two of my trip to Western Maine, I tackled Crocker, South Crocker, and Redington Mountains. The Crockers are on the Appalachian Trail, but Redington is an illusive peak that, until recently, required an aggressive bushwack to reach. It is still considered the only 'trailless' 4000 footer in Maine. A decent herd path connects the summit of South Crocker with the top of Mt. Redington. With the popularity of peak bagging, the path has become fairly easy to follow and is marked with surveyors tape in some places. That said, the Appalachian Mountain Club's Maine Mountain Guide does give this warning: "Even with the presence of a herd path, an attempt on Mt. Redington should not be underestimated and must be treated as a bushwack. Hikers should be prepared for travel into remote terrain with proper gear and the requisite navigational skills."
Basically, consider yourself warned and don't blame us if you get lost trying to follow an unofficial path. Fair enough.
Hiker term: Herd paths
Created simply by boots, hoofs, and paws, these unofficial routes can lead miles through the woods with few-to-no markings.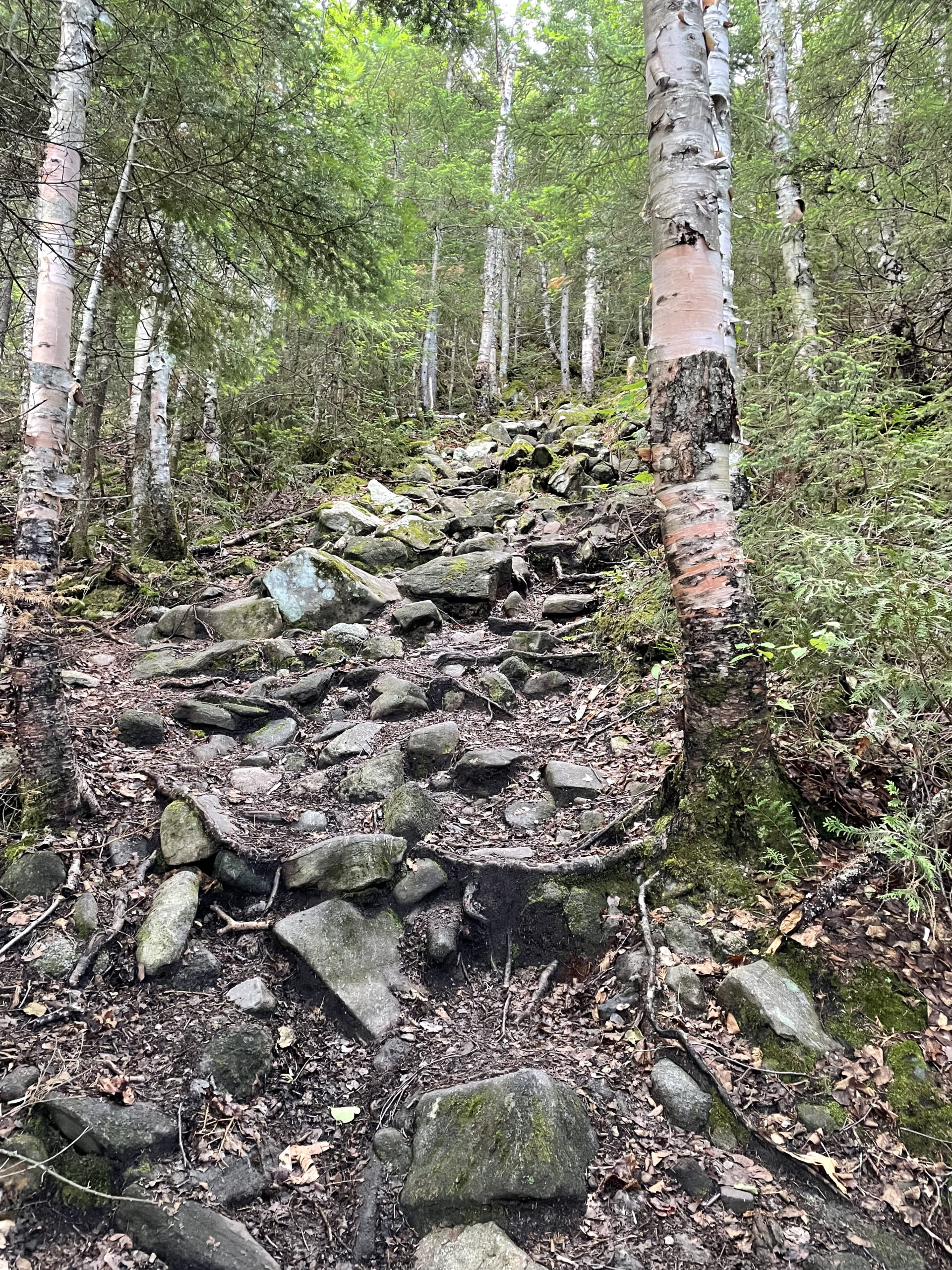 The trailhead for this loop is located on Caribou Valley Road, which Google identifies as Caribou Pond Road. Either way, it is accessed off Rt 27 near Carrabassett Valley. The maintained road ends at a gate about four miles in, and there is a parking lot. To reach the AT crossing, walk around the gate, across three bridges, and look for a small cairn on the right where the trail enters the woods heading west.
The first mile is relatively easy, although the footing is uneven in places with rocks and roots. After passing the turn for Crocker Cirque Campsite, switchbacks lead up a steep incline before crossing a talus field with lovely views of North Crocker and Sugarloaf in the distance. The climb up the ridge is moderate but very rocky, reaching South Crocker at 2.6 miles. Here the AT bears right to reach Crocker's north peak, and a side trail leads left 50 yards to the true summit of South Crocker and ledge outlook. Just before the view, the herd path to Mt. Redington heads off to the right.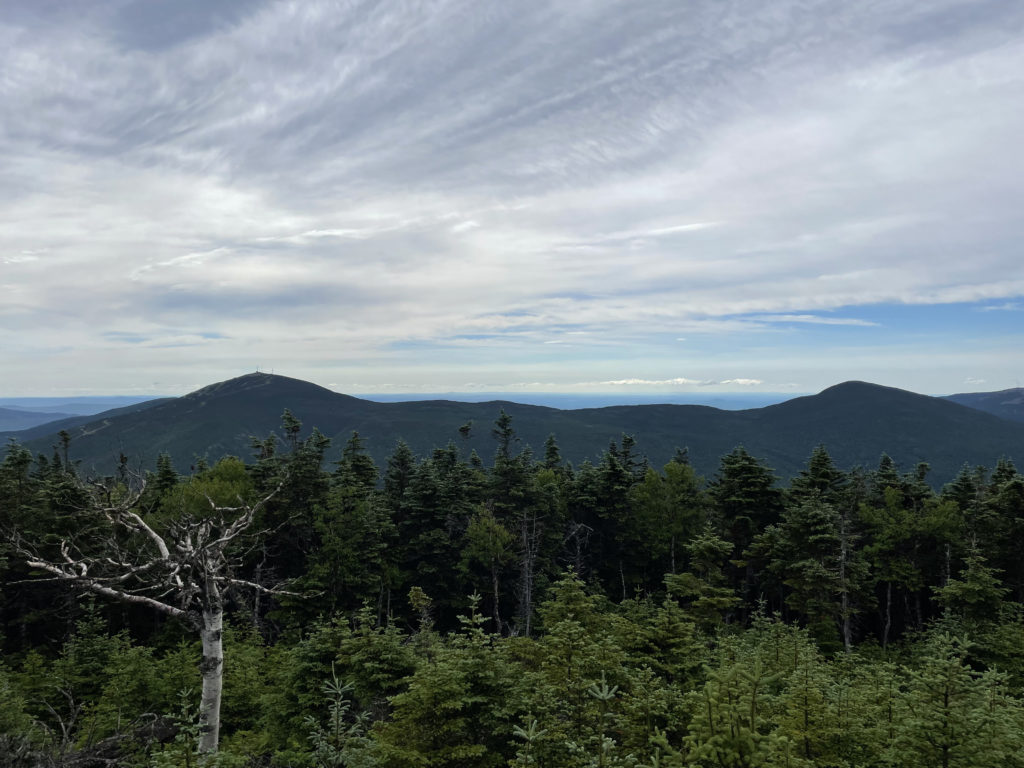 After seeing the sights, I headed back to the AT, traveling north to reach the second Crocker summit. It is a mile through the woods and less than 200 feet of elevation gain. The gravelly trail is lined by dense ferns and coniferous forest, and the summit of North Crocker is heavily wooded with limited views. It has a nice sign though!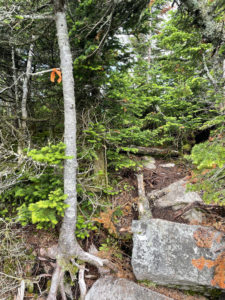 I backtracked to the junction and picked up the herd path, which (at the time) was marked by an orange tape tied to a branch (see picture). The flagged path continues along the ridge and then drops down to briefly follow a yellow-blazed boundary line. At less than a quarter mile, a cairn on the left marks the narrow trail and a brush pile blocks the boundary corridor ahead. When I made this turn, I thought the woods were dense. In comparison to what was coming, it was an open concept forest.
There is a small clearing at the low point between South Crocker and Mt. Redington where the upcoming summit is visible. Shortly after, an old skidder road intersects the trail, marked by another small cairn. A short distance up the road (like .1 mile), make a right off the road and back onto the herd path, following it a mile to where an old logging road enters and climb another half-mile to the summit. Through the firs there is a view of the Crockers and the Bigelow Range to the north. There is also a fantastic handmade summit sign and an old register canister bearing the pre-1989 USGS survey elevation of 3,984 ft. Apparently, the mountain has grown since then.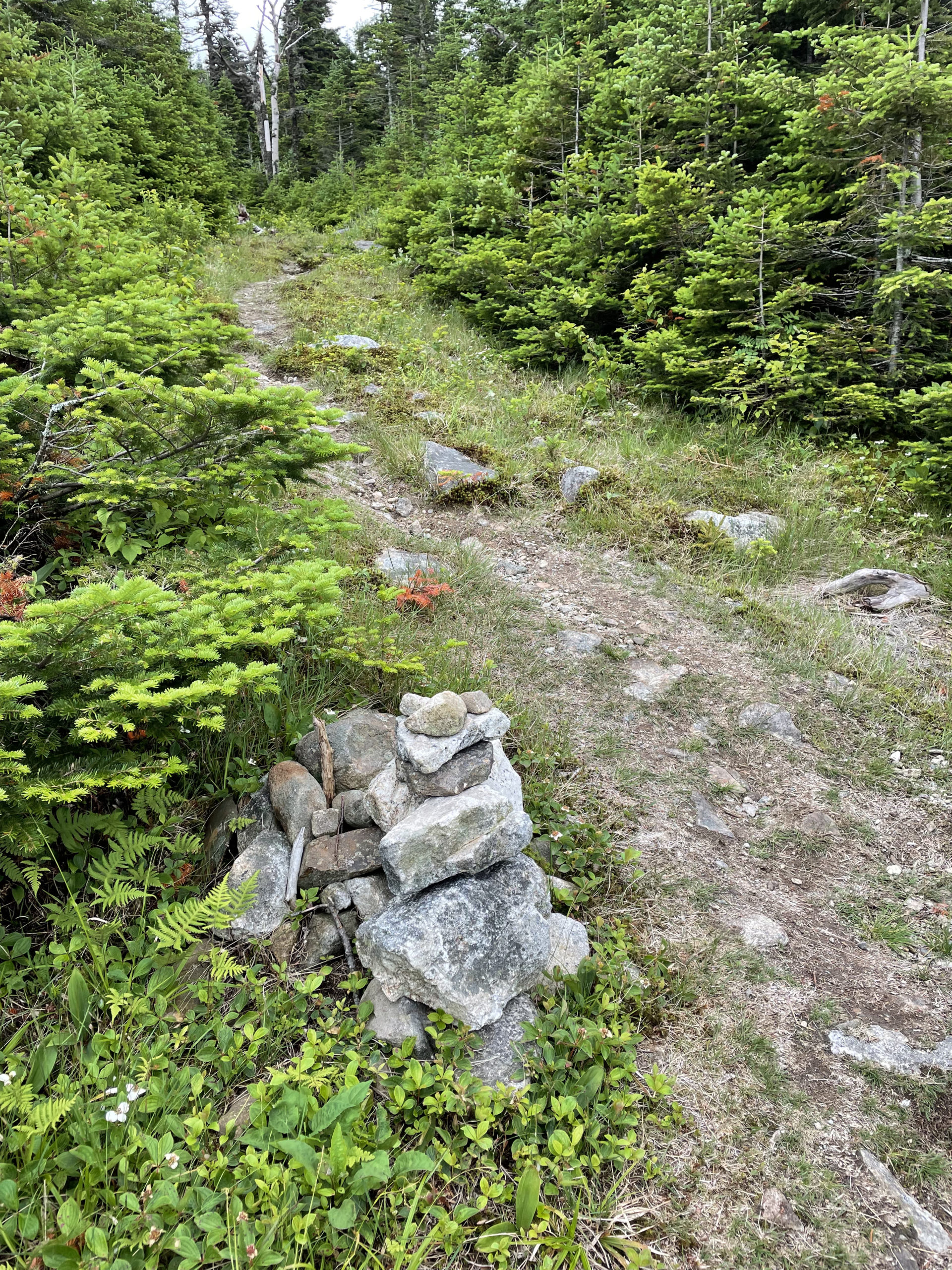 Now, in case this journey wasn't complicated enough with the number of turns and intersections, it's about to get even dicier. Not because it's difficult, but because… it's spooky.
From the summit I went back to the intersection of the logging road, which is actually labeled on AllTrails as the Mount Redington Snowmobile Path (if you search Crocker-South Crocker-Redington Loop on AllTrails, this will be the route you're given). I don't think it's actually a snowmobile trail; it seems way too narrow and steep. Either way, I headed down it.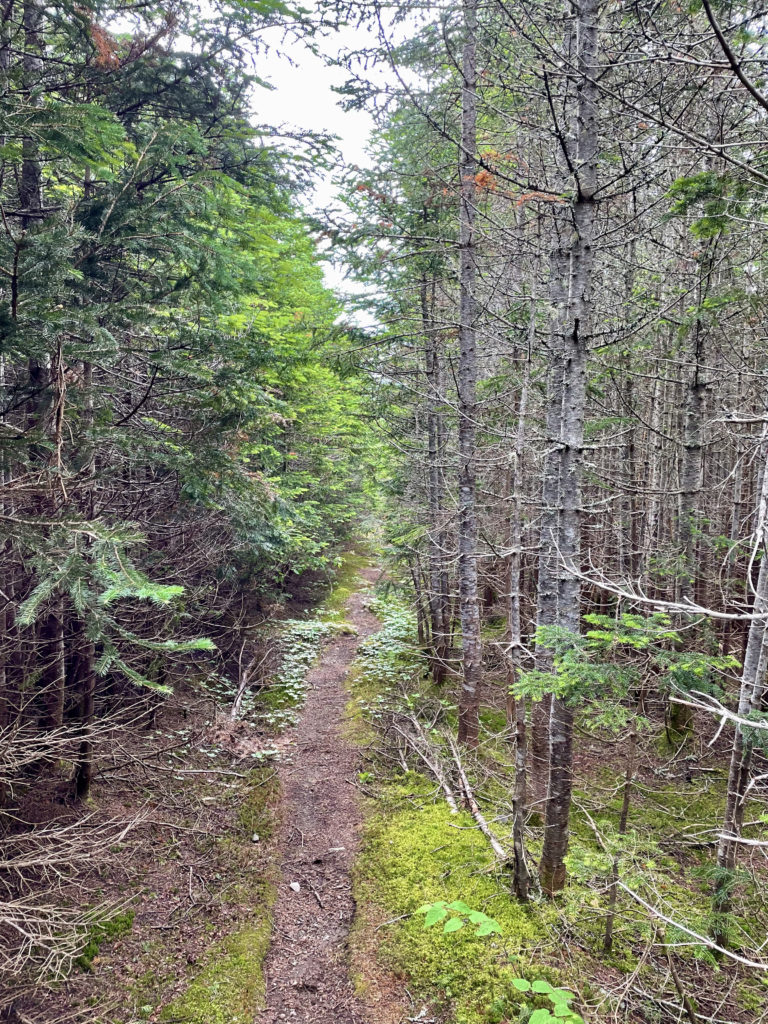 I've spent a lot of time alone in the woods. Daytime and nighttime. The trip down from Redington was the only time (so far) I've been truly freaked out. I've never been in denser woods. The first section of trail leading down from the summit was so thick I couldn't see into the forest on either side of me. It was like walking through a tunnel. It was silent. And straight. There was no way to get off the trail without tearing through the trees and getting scratched to pieces. All I could think about was that scene in Anne of Green Gables when Anne and her bestie Diana are in the Haunted Wood. Anne is telling a ghost story and she freaks herself out so terribly that she falls in a well and sprains her ankle.
Well, I had no time for a sprained ankle and no Diana with me to run off for help. But I sure did move quickly through that stretch of woods.
Scary forest behind me, I came to an old logging road being reclaimed by nature. At one point, Mt. Redington was slated to house an experimental wind gauge tower and an access road was built for the work crews. The descent was long but pleasant, thanks to the cleared path. The wild flowers were beautiful and there were tiny strawberries everywhere.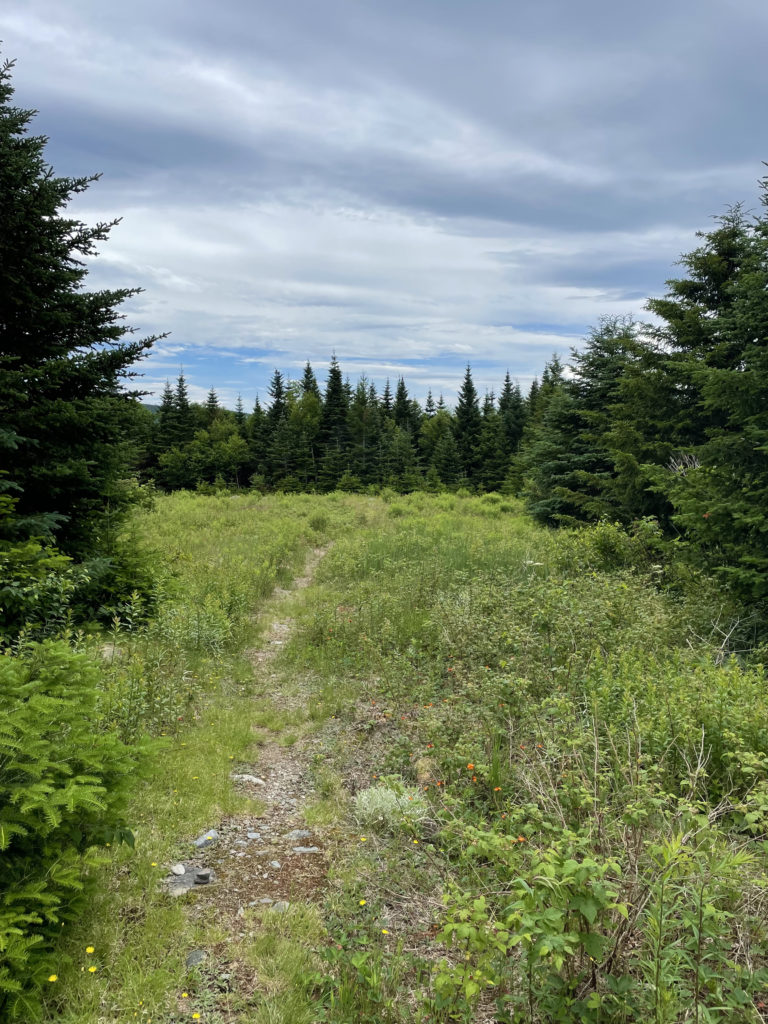 When I reached the intersection of Caribou Valley Road, I traveled along the south branch of the Carrabassett River for 2.5 mostly-flat miles before returning to the Appalachian Trail crossing where I started. The river was running high, and there were signs of recent fishing trips. For those who don't want to hike the peaks, an easy walk along Caribou Valley Road to swim, picnic, or cast a line would make for a lovely summer afternoon.
Summit lesson: Fear presents itself in unexpected places. I'm rarely scared by steep ledges, dramatic drop-offs, or foul weather, but a narrow path through a dense and soundless forest got me on this hike. What does this tell me? My fear is triggered by the unknown.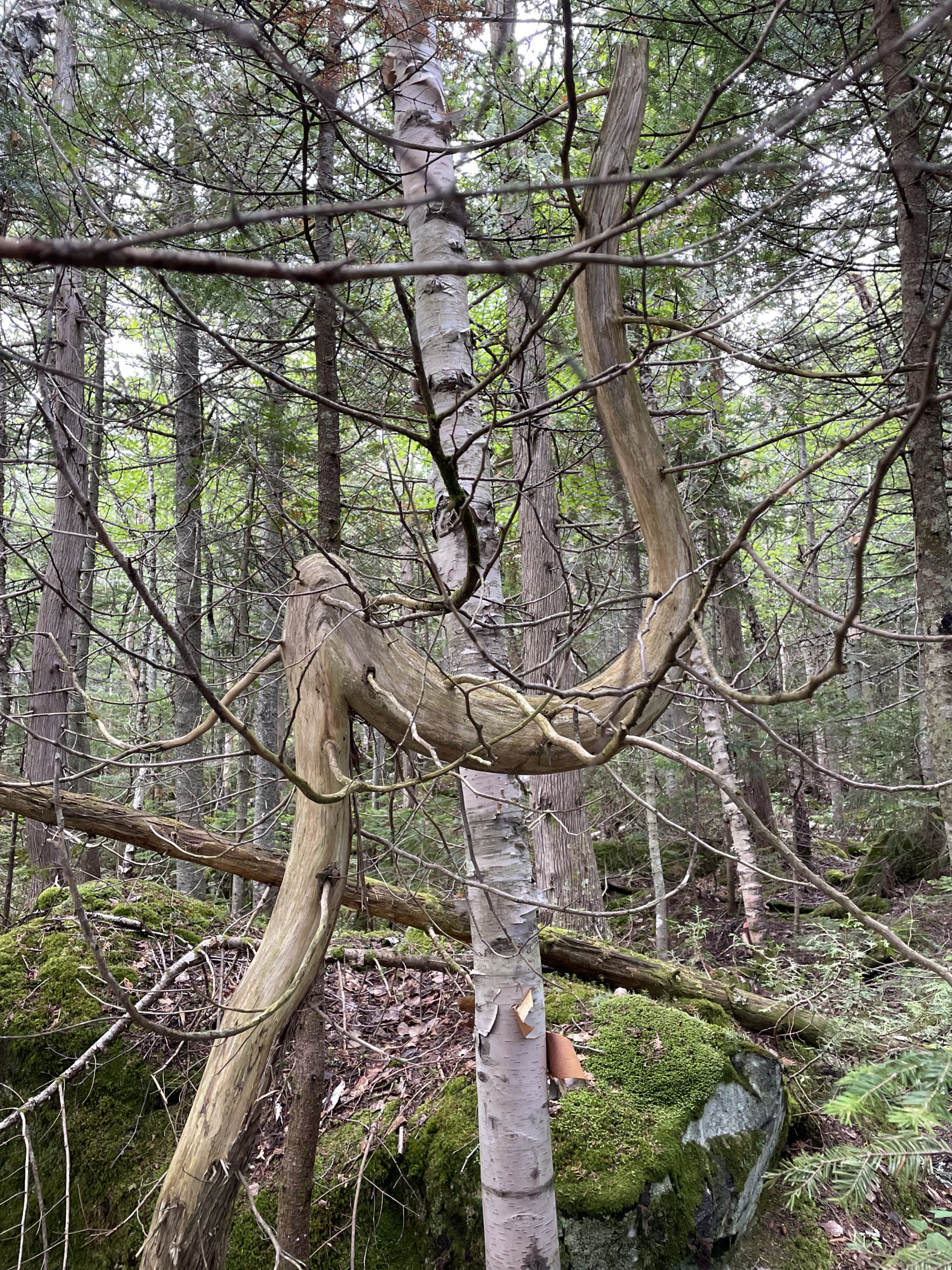 ---
| | |
| --- | --- |
| Total elevation: 4228 ft, 4050 ft, 4010 ft | Elevation gain: 3353 ft |
| Mileage: 11 miles | Alpine exposure: minimal |
| Terrain: wooded trail, rocky trail, cart path, dense woods | Challenges: narrow in parts, bushwhacking |
| View payoff: excellent at South Crocker | Dogs: yes |
Recap: These three peaks offer a wonderful variety of terrain and stunning views of Sugarloaf and the Bigelow Range. Be prepared for some very dense forest and a lot of turns on the way to Mt. Redington. I highly recommend utilizing a GPS mapping tool for this hike. I used a downloaded AllTrails map multiple times to ensure I was on the right path. Access to Mt. Redington is via a herd path, and, although well-trodden, it is still considered 'trailless'. This loop descends via an overgrown access road, offering a longer, easier alternative to backtracking on the Appalachian Trail.