Camel's Hump 4083 ft
The day before I hiked Mt. Ellen and Mt. Abraham, I drove from Maine to Vermont, hiked Killington, drove an hour and a half to Camel's Hump, hiked that, then drove another hour to Underhill State Park to sleep in a lean-to.
Needless to say, I was pretty tired.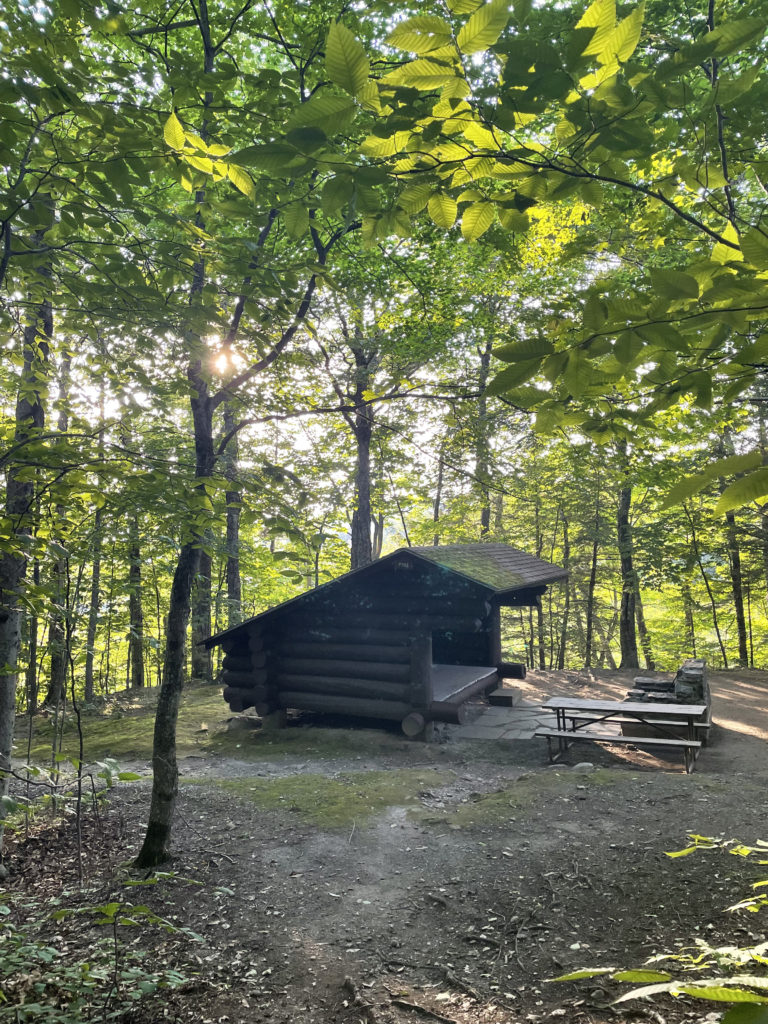 I don't have much lean-to sleeping experience. I prefer the enclosed interior of a tent. It feels snugger and safer, even though a tent actually provides no real protection from would-be attackers, animal or otherwise. In this case, though, the lean-to seemed easier. One less thing to set up and guaranteed dry space if it rained.
I wasn't disappointed by the location. The campsite was large and private, and the firepit was more like an outdoor fireplace than the typical metal ring. I fell asleep easily after dinner and stayed that way until 1 am, when I woke to the sound of a shriek and two gunshots. They sounded like they came from the campground.
Now I was wide awake, pulse pounding, adrenaline racing. I was also frozen in place. I had no idea what to do. Leaving the shelter of the lean-to seemed like a terrible idea. But then, so did staying put. I weighed the options. There were other people at the campground who had obviously heard the noise. I was confident someone, somewhere, was leaving his or her tent to check the surrounding area. There was still a bit of light coming from the fire pit, which meant if a person or an animal approached the lean-to I would see him, her, or it.
So I stayed put. But I definitely didn't sleep.
The next morning, I joined a small group of campers waiting at the campground office to speak with the daytime manager. When we described what had happened, she said it must have come from the National Guard training camp on the other side of the mountain. That made zero sense to me (in the middle of the night and only two shots?), but I didn't feel like pushing the issue. I had other fish to fry.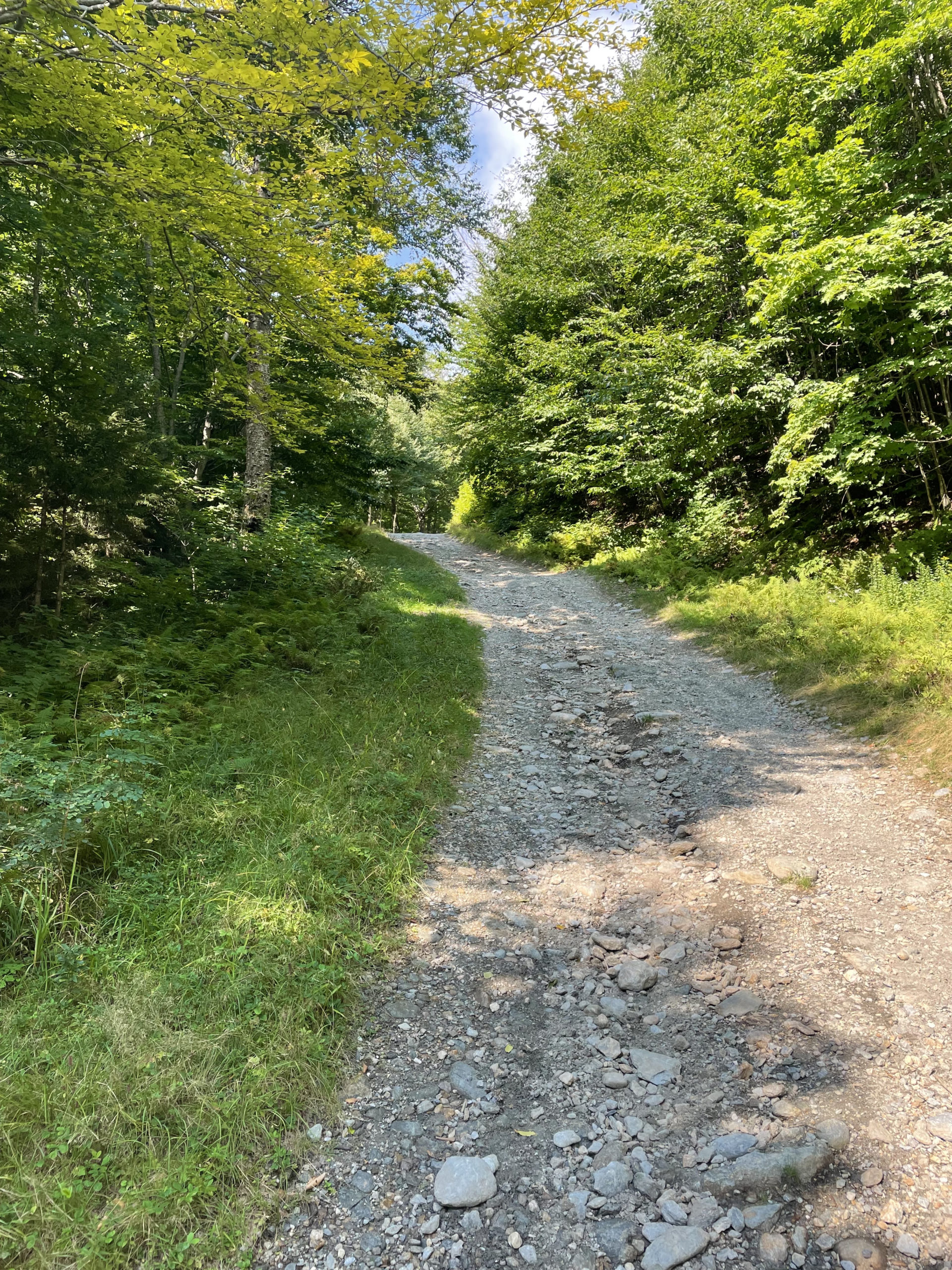 From Underhill State Park, I drove south to Sugarbush Ski Area to hike up yet another ski slope. There are other ways to access Ellen and Abraham, but in my flurry of last minute VT research, this is the route I found and committed to. I parked at the resort (closed for the summer) and headed for a ski trail called Castlerock Runout. It led to a gravel access road and then a meadow dense with ferns, the top of which was insanely steep. Like unpleasantly so. It was muddy, wet, and potholed under the ferns. And it was hot. There was also a storm brewing above me.
After slogging my way through the ferns, I came to the intersection of the Long Trail. I took it northbound first. This part of the hike is lovely; it's basically a 2.5 mile flat ridge walk through the woods to the viewless summit of Mt. Ellen, which is also the top of Mad River Glen ski area. The route makes a u-turn back to the top of the Sugarbush ski slope and continues onto the Long Trail South. It's a long trek across the ridge, over six miles, but the terrain is relatively flat, albeit narrow and rough in places.
The summit of Lincoln Peak is at the top of another Sugarbush chairlift and a radio broadcast tower. From there, the trail to Mt. Abraham (Long Trail southbound) is more like a herd path, so paying attention is important. There are rocks and uneven footing and plenty of opportunities to slip. It is a mile and a half to the summit, and the views are worth the effort of carefully following the trail. Abraham's peak is wide open and in the alpine zone with the Green Mountains stretching for miles in every direction.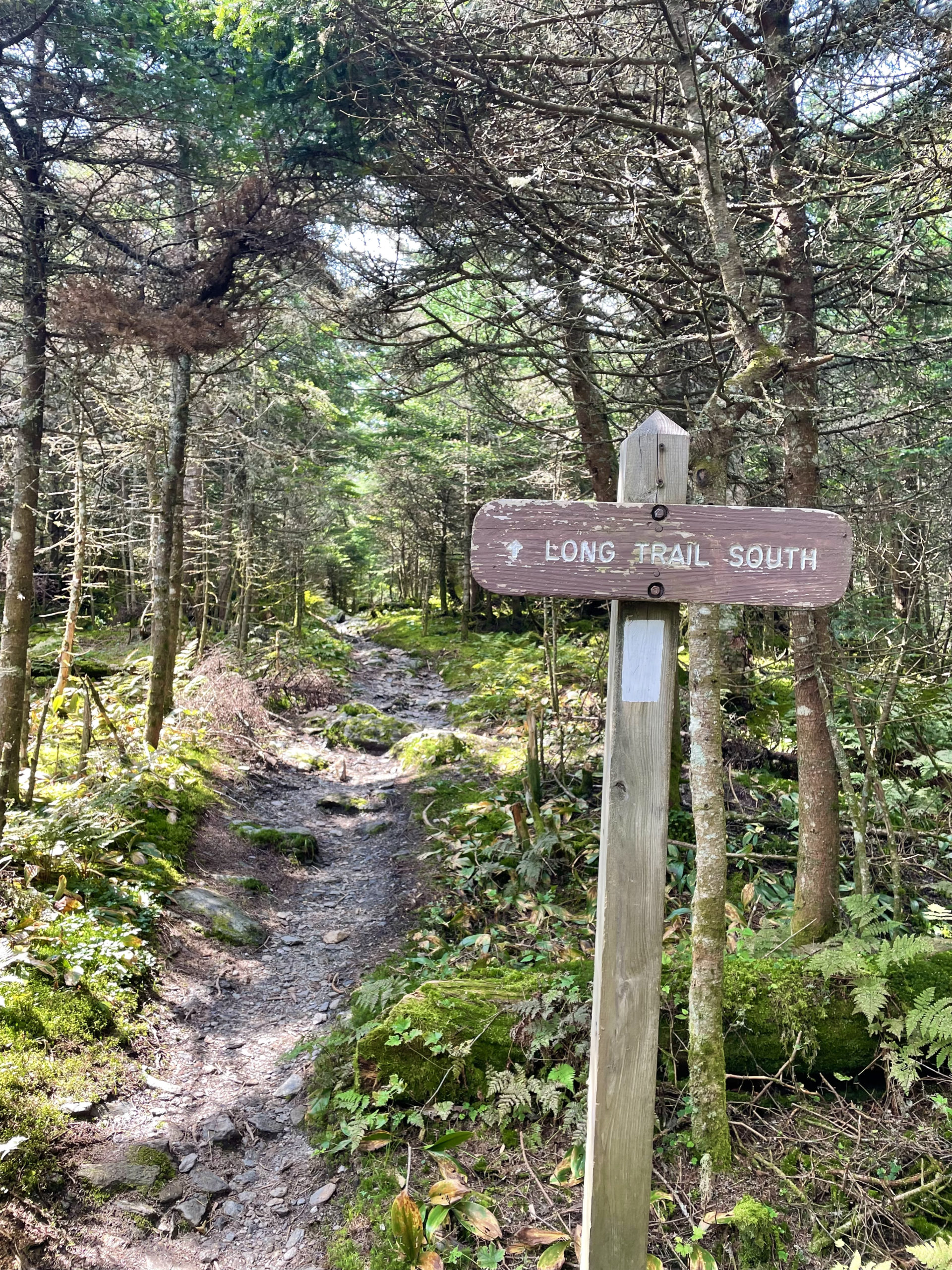 At this point in the day, rain was imminent and I could hear thunder coming. Not wanting to get stuck on the ridge in a lightning storm, I booked it back toward Lincoln Peak where I planned to take a ski trail down. While I was in the woods, it started to pour so hard there were rivers of water rushing over the rocks. It was like a flash flood on the trail. At that point I was soaked and there was no shelter, so the only thing to do was to keep walking.
I reached the southern side of Sugarbush where there was a building and darted inside to take a break from the rain. There was a woman there hiking the Long Trail, charging her phone while the storm passed. We chatted for a few minutes, but the moment the rain let up I was on my way down the ski slope.
There was a road to follow for most of the descent. Not a terrible gravel access road like at Killington, but more like an old cart path with grass growing in the middle. I was passed by several resort utility vehicles making their way to the summit for summer maintenance work. The trip down was steep in parts but relatively easy overall, thanks to traveling on the road versus bushwhacking through ferns.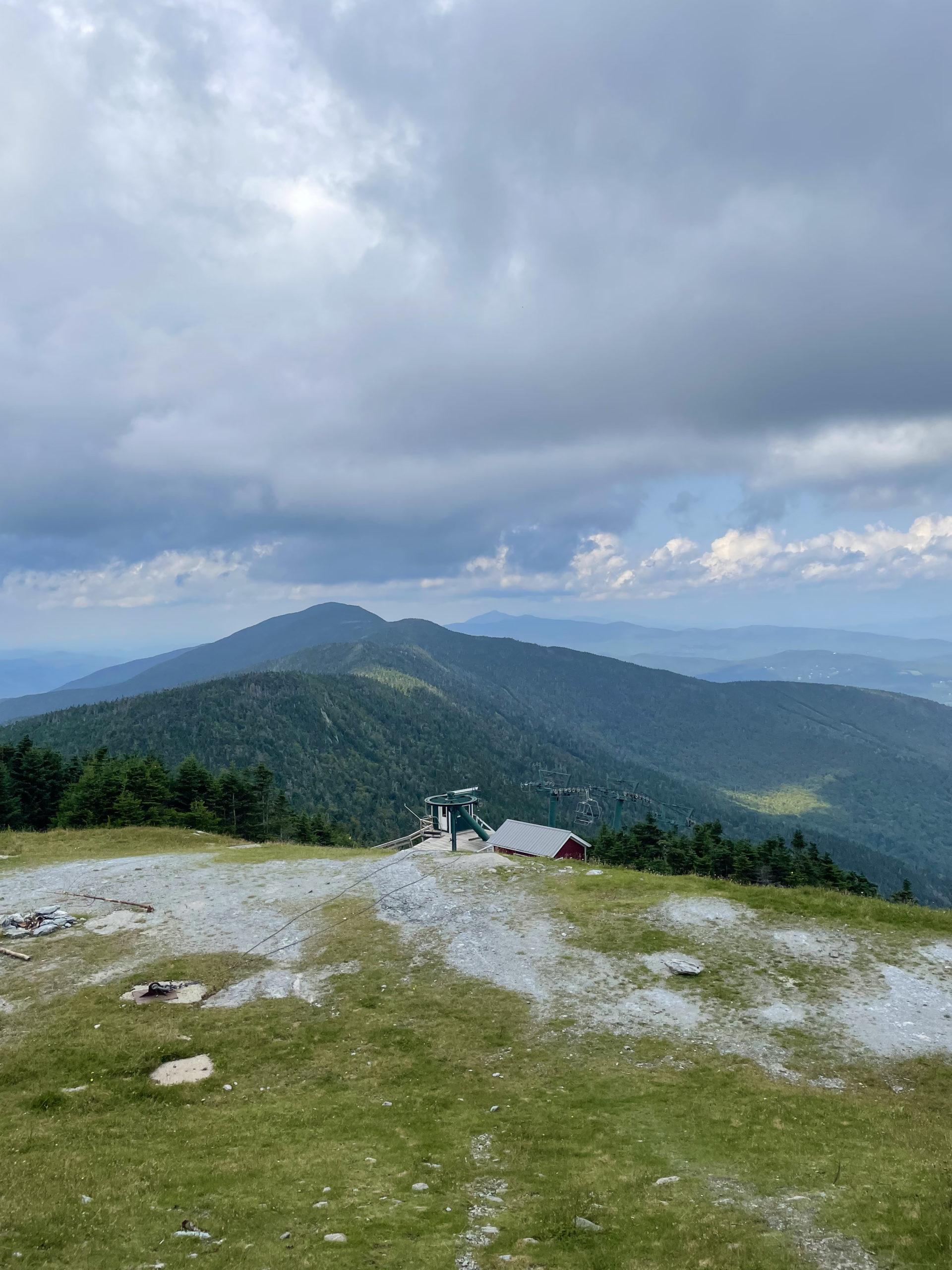 As soon as I got back to the campground, I went to the office to see if there was any new news about the gunshots. There was a different attendant present, and he seemed to think the shots were further away than they seemed.
"It's the way the valley is shaped," he said. "Sound really travels."
Um, no, wrong again.
But he also assured me the police checked the area, and there were no signs of foul play or mischief. I was still pretty unsettled by the whole thing, and I did consider leaving the campground. I went as far as calling a local motel to inquire about vacancy (the woman who answered basically laughed at me) before determining I just had to tough it out. With only one peak left to hike in Vermont, there was no chance I was bailing out.
I didn't sleep much, even with bear spray, pepper spray, and a knife next to my pillow.
Luckily dawn came peacefully with no shots fired, and the VT5 was about to be in the bag.
---
| | |
| --- | --- |
| Total elevation: 4083 ft & 4006 ft | Elevation gain: 3290 ft |
| Mileage: 10 miles | Alpine exposure: at Abraham summit |
| Terrain: woods walk, rough footing, ski slope, ferns | Challenges: steep, overgrown trail |
| View payoff: zero at Ellen, amazing at Abraham | Dogs: yes |
Recap: If I had this hike to do again, I would choose a route that doesn't involve hiking up a ski slope. Sugarbush (ski resort) was particularly overgrown with ferns, making for a challenging ascent to reach the Long Trail. Both Mt. Ellen and Mt. Abraham are on the Long Trail, so it's possible to hop on at a different spot for an out-and-back hike. That said, the views from the open ridge where the ski slopes start are outstanding. Mt. Ellen is a wooded summit at the top of Mad River Glen (another ski resort), but Mt. Abraham has great views from its rocky peak.