Mt. Abraham 4050 ft
---
Having made the decision to hike 67 peaks in a year, I decided to celebrate with an overnight adventure. Overnight in a hotel, that is. I chose Mt. Abraham (locally referred to as Mt Abram and not to be confused with Mt. Abram Ski Area in Greenwood), which is part of Maine's Northwestern Mountains. The majority of Maine's 4000 footers are in this mountain range, along with the Bigelow Range and three peaks in Baxter State Park. From Portland, it would have been a 2.5 hour drive to the trailhead of Mt. Abraham, and that felt like a lot to do in one day in combination with a hike and the 4:30pm dusk. So, the trip started with a stay in Waterville, just over an hour up I-295 and I-95.
Waterville is worth a stop if you're traveling through. It's home to Colby College and has an old-timey downtown, a Riverwalk, and the venerable Railroad Square Cinema, which has been screening independent films since the late seventies. Sadly, I considered these waypoints off limits (damn you, COVID). I limited my adventures to a quick visit to the Hobby Lobby (what is this joyful place!?) and the relative comfort of the Best Western (clean, comfy, affordable, and free breakfast). On the morning of my hike, I grabbed a blueberry muffin and fruit, filled my Yeti with coffee and was on my way shortly after 6am.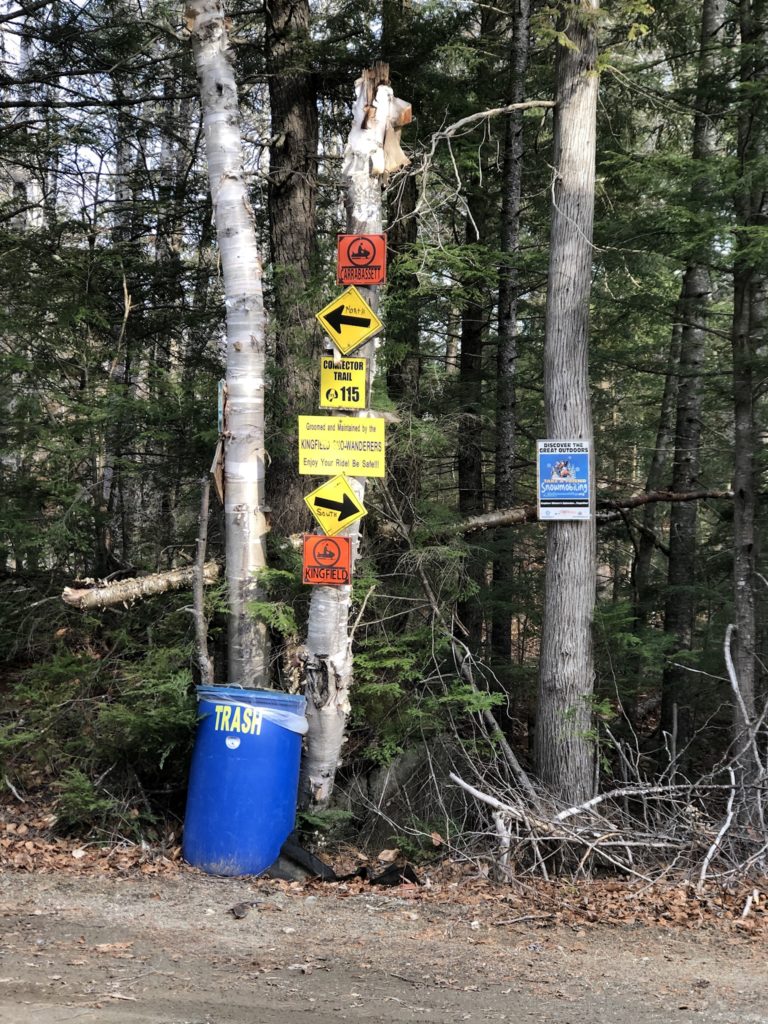 From Waterville, the drive to Mt. Abraham was a series of state routes and back roads through rural towns until Kingfield, just south of Sugarloaf Mountain. Shortly after leaving Rt 16, I hit Rapid Stream Road. It's six miles of bumpy dirt before you reach the trailhead parking lot. After reading several reviews on AllTrails that suggested a 4WD, higher clearance vehicle, I opted to drive a borrowed Ford Edge instead of my VW GTI. I *think* my GTI would have made it… but probably not if I'd attempted this trip during mud and frost heave season. Needless to say, those last six miles are slow going in any vehicle. Also noteworthy, some of these access roads are private logging roads, and those big trucks always have the right of way.
After crossing two bridges over Rapid Stream and navigating a truly impressive number of informational signs, most related to the extensive snowmobile and ATV trail system in this part of Maine, I found the parking lot. It would be easy to head off onto one of the trails meant for motorized recreation, so make sure you find the hiking trailhead marked with the wooden Mt. Abraham Trail, also known as the Fire Warden's Trail. The mileage on the sign posts 3.9 miles to the summit, which would make a 7.8 mile total hike. My watch recorded a 9.25 mile round trip. Even if you subtract a bit for me romping off the trail for photo-ops and potty breaks, that's still a mile more than I expected. Something to keep in mind, especially when daylight is limited.
A stream crossing comes up within minutes of starting off. I balanced my way over the logs; I was caffeinated and feeling sure-footed. On the way down I opted for the less thrilling rock-hop crossing. This stream was the first of many to cross along the way (I didn't count but guessing six). Not a problem at this time of year but could be precarious in the spring when the mountain snow melt swells the streams.
The first part of the trail was easy going, more of a nature walk than a hike. It was relatively flat without much challenging footing for about 2.5 miles, until—lo and behold—I came upon an outhouse! BYO-TP, but still. Apparently this is also an unofficial campsite for hikers who want to spend a night. Somehow I missed the old fire warden's cabin (it's supposedly located in a clearing around the 3 mile mark). The trail started climbing after the outhouse and was consistently steep for another mile before opening up to the treeless alpine zone.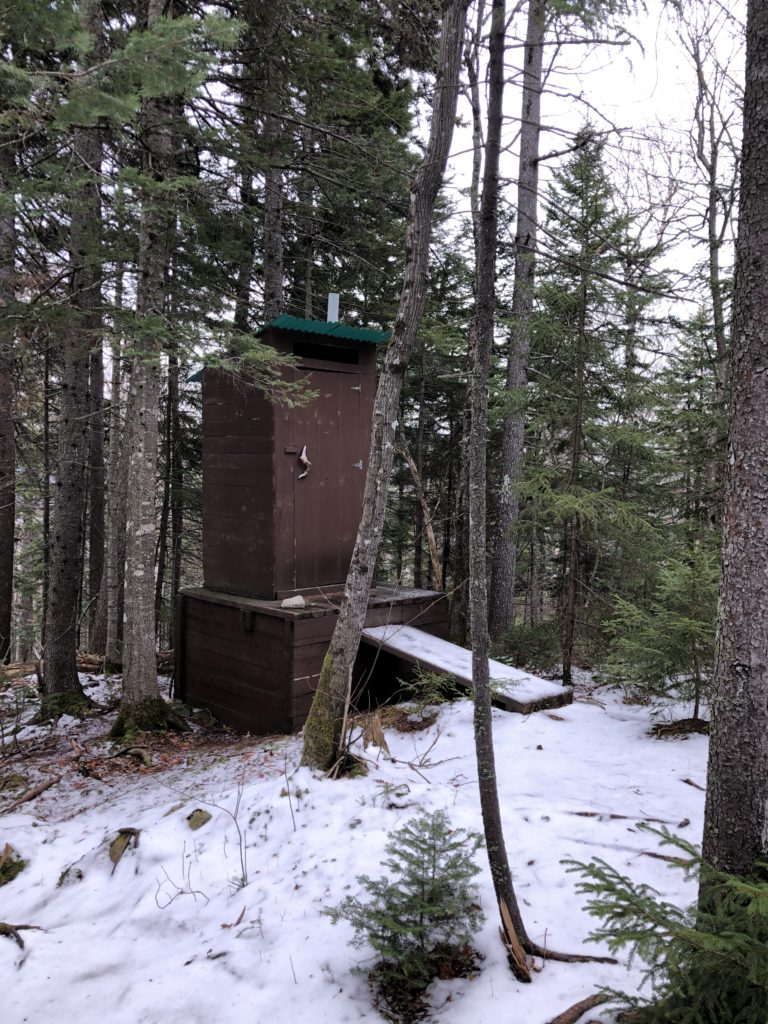 Mt. Abraham's alpine zone covers 350 acres, according to the Maine Bureau of Parks and Lands, and is second in size only to Mt. Kahtadin's. The rocky expanse is characterized by steep, rugged talus slopes, and the trail ascends the eastern side of the mountain where there is no shelter. The wind increased significantly once I left the woods behind. It was coming over the northwestern side of the mountain, so I wasn't being hit with the full blast (yet). There was 2-3 inches of sticky snow on the rocks, which kept clogging the EXOspikes I was wearing (MICROspikes would have better choice for traction). Footwear choices notwithstanding, the last half-mile of the trail was a straight scramble over rocks.
The views at the top were definitely spectacular. Peaks were visible for miles in every direction with nearby Spaulding and Sugarloaf Mountains easy to spot to the north. The scenic summit experience was interrupted only by the wind, which was INSANE. Yes, worthy of all caps. The cairn marking the top blocked me from the worst of the gusts coming out of the northeast, but it was still way too wild for a leisurely observation of the views.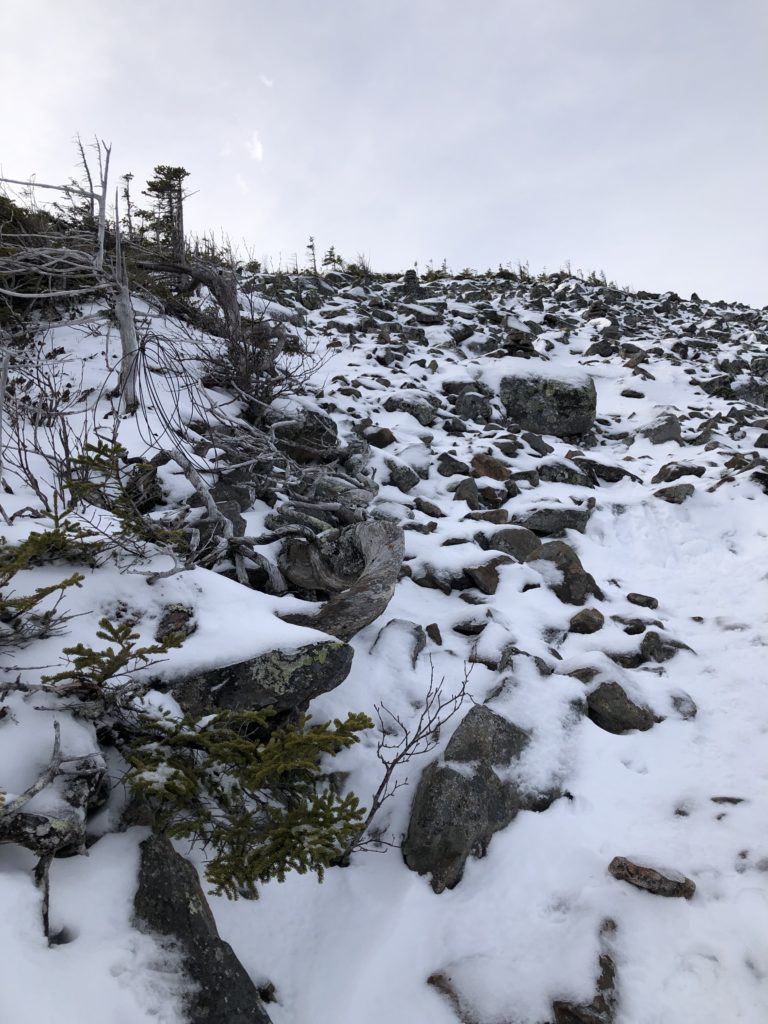 Near the summit I saw a fallen metal structure (an abandoned Maine Forest Services tower according to a review on summitpost.org), and a small, collapsed shed. A second rock structure was across the open ridge, a bit to the south, and I wanted to check it out (because, I can't leave a summit without seeing all the things). The moment I stepped out from behind the cairn, I thought the wind might actually sweep me off the mountaintop. This is not a dramatic statement. I *literally* staggered to the structure, which was nothing terribly exciting, took a few pictures of frosty rocks, and staggered back. Then I tried to take a video, but I couldn't keep the phone steady, so I bee-lined it for the relative calm of the descent.
Hiker term: Talus Slope
Created by rock debris that piles up to a specific angle, called the angle of repose. The slopes move and shift to reestablish the angle when new debris is added.
On the way down, I found frozen streams, moss-covered rocks, river hearts, embracing roots, beautiful birches, and storybook fungi. For me, the best things about hiking alone is the absence of distraction. I'm not trying to keep up a conversation or pay attention to my hiking partner. My mind is free to wander or process or rest, and my eyes are free to explore. For an introvert, this is like plugging in (or unplugging, metaphorically) for a full recharge. To the extroverts in the room, this may sound boring as hell. And for those whose energy comes from a competitive spirit, why would you waste time looking at birch trees when you could be setting a personal best mileage split, right?
We are all motivated by different things. Solitude, companionship, competition, adventure. When I tell people I hike alone, I can tell immediately what their motivation is, based on their reaction. Brows furrow in confusion or eyes light up in understanding. I used to start explaining, trying to justify and validate my choice to spend so many hours alone in the woods. I'd get that anxious tension in my chest, the anticipation of judgment, the want of acceptance.
The more I hike, the less I feel the need to explain myself. These are the fringe benefits of putting myself first. Greater confidence in my choices and a broader respect for the choices of others.
It is amazing what you can find in the woods when you really look.
Summit lesson: You do you. Do it fully, boldly, and without apology.  

---
Mt Abraham: Fire Warden's Trail
| | |
| --- | --- |
| Total elevation: 4050 ft | Elevation gain: 2900 ft |
| Mileage: 9 miles | Alpine exposure: Significant, unsheltered |
| Terrain: logging road, woods walk, steady incline, talus slopes, very steep to summit | Challenges: scrambling, bouldering, balancing, water crossing, high wind, loose rock |
| View payoff: Totally worth it | Dogs: On leash, challenging at the top |
Recap: The first three miles are moderate and travel through beautiful forests. Difficulty increases steadily to the treeline. Ascending the talus slope in the alpine zone is very challenging (but absolutely stunning). The view from the summit is one of the best I've seen.