Mt. Isolation 4004 ft
---
My first attempt to climb Mt. Isolation was a total bust. I tried it in January via the Glen Boulder Trail and did not complete my due diligence re: researching my path. Glen Boulder is a killer trail that climbs up to 5000 feet in just over three miles before intersecting Davis Path. From there, you descend 1000 feet to reach Mt. Isolation… and then climb back up those 1000 feet to return to the intersection. By the time I hit Davis Path I was cold, my boots were hurting my ankles, and I had not seen another living thing since I left the trailhead. Not even a bird or a squirrel. It was the eeriest, most desolate hike I'd ever done. Needless to say, I turned back.
This illusive peak is one many hikers groan about. It's the second shortest of the 4000 footers (shortest award goes to Mt. Tecumseh by one foot), and it's called Mt. Isolation for a reason. There is no easy way to get there. It can't be combined with another peak unless you're on a multi-day journey. The quickest routes, via Glen Boulder or Dry River Cutoff, are both no less than 12 miles. It is a voyage unto itself, requiring a whole day and a whole lot of patience.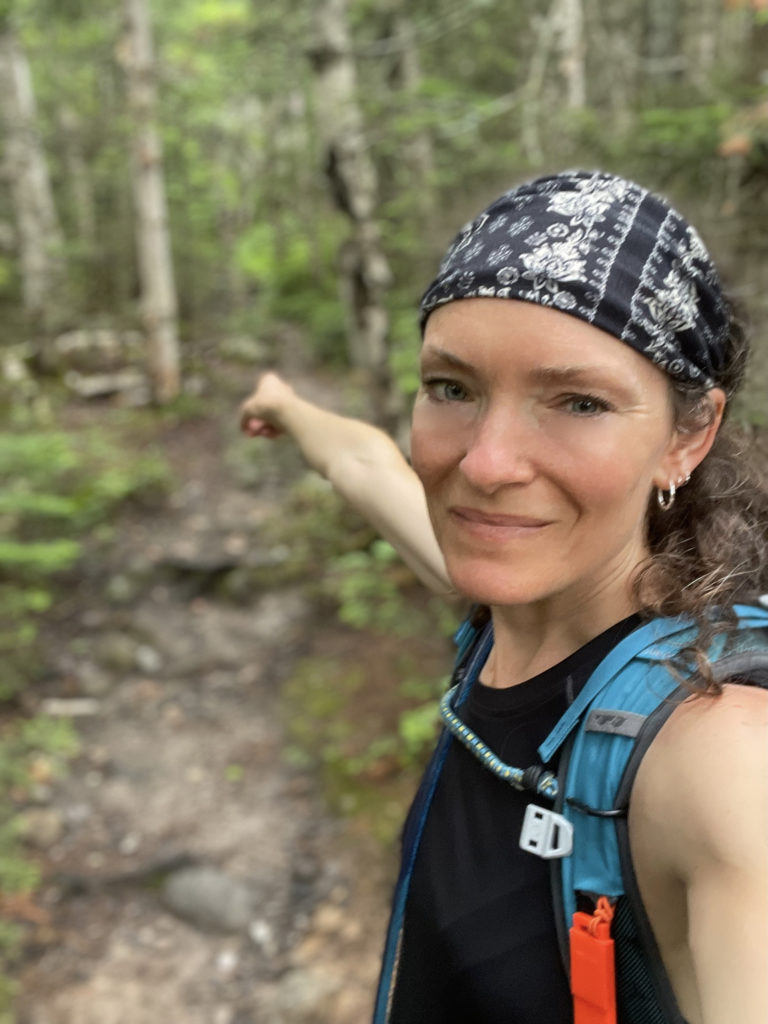 For my second attempt, I chose the Rocky Branch Trail. It starts on Rt. 16 and climbs steadily for about two miles. Before you hit the three mile mark, there is an option to take the Engine Hill bushwhack on the right, which cuts off a mile and is a more direct route to Isolation Trail. I didn't know about this option until I reached the summit and was informed about it by a group of hikers who'd tried to find it and failed. Based on AllTrails reviews, they were in good company. The general consensus is that the bushwhack is poorly marked and leads through a swamp.
Hiker term: Bushwhack
Off-trail navigation through forested areas or other dense vegetation, called 'bushwhacking' because the trees and bushes whack back when you push through them.
Having no knowledge of the cut off option (I probably wouldn't have taken it anyway; I'm leery of shortcuts in general), I intersected Isolation Trail at the Rocky Branch Tentsite location. From there, the elevation is moderate but the footing is not. It is wet. And then it gets wetter. At least 2.5 miles of this trail follows an active streambed, so you are hopping from rock to rock, trying not to fall in. It is technical and slippery. I landed in the water twice, and when my feet weren't wet, they were covered in mud.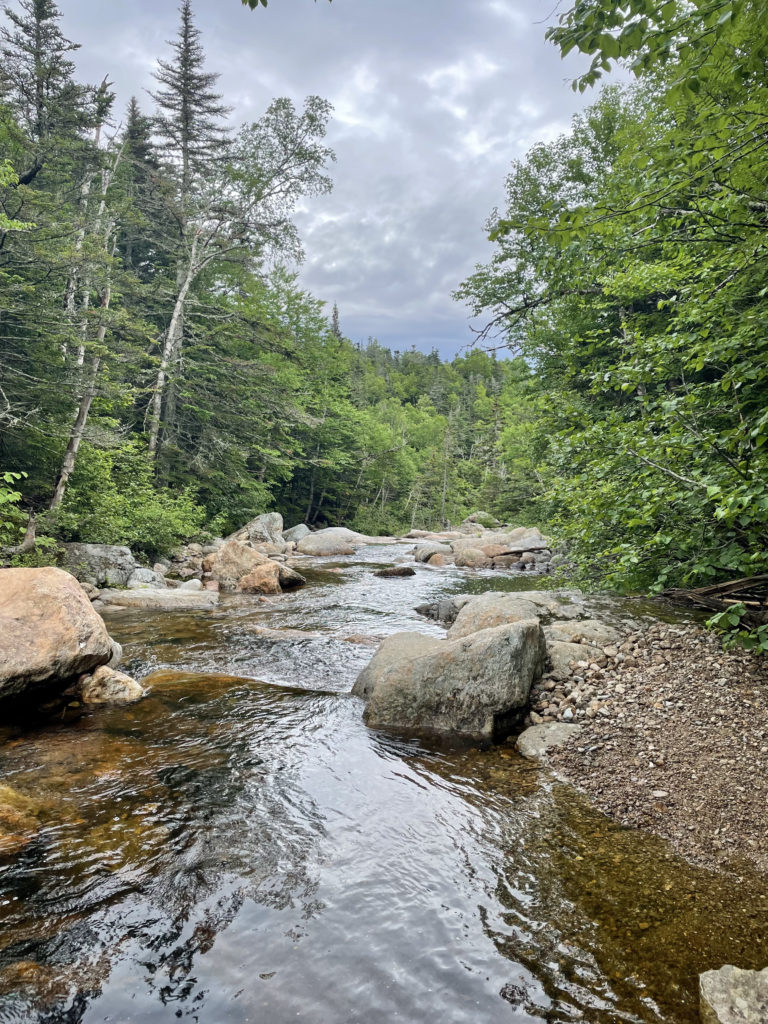 Isolation Trail also crosses the Rocky Branch stream about eight times, often for no apparent reason other than to mess with your psyche. I said out loud more than once, "Why the (expletive) am I crossing this water again?"
On the plus side, all the water made for a very lush, green environment, and the trail's lackluster reputation meant I was alone for most of the journey (and free to swear at will when I slipped, fell, and slipped again). I encountered my first group of fellow hikers near the peak. They were eager to know if I'd found the bushwhack and unimpressed when they learned I hadn't even tried. They did give me shortcut intel for my upcoming Owl's Head hike, during which I did, in fact, utilize a well-known bushwhack.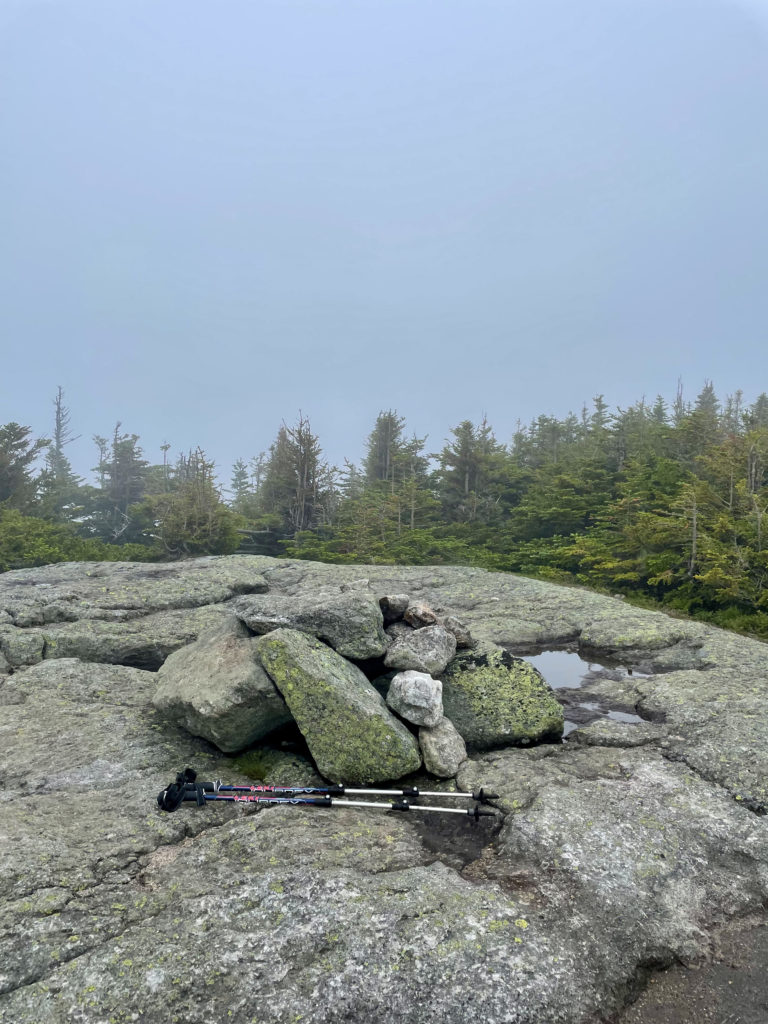 The last push up to the summit of Mt. Isolation is steep, but it's very short. The peak is purported to have outstanding views of the southern Presidential Range to the north, Crawford Notch to the west, and the Sandwich Range to the south. Alas, the day was foggy and I saw nothing but clouds, an uninspiring cairn, and the crew of hikers I'd met near the end of the trail.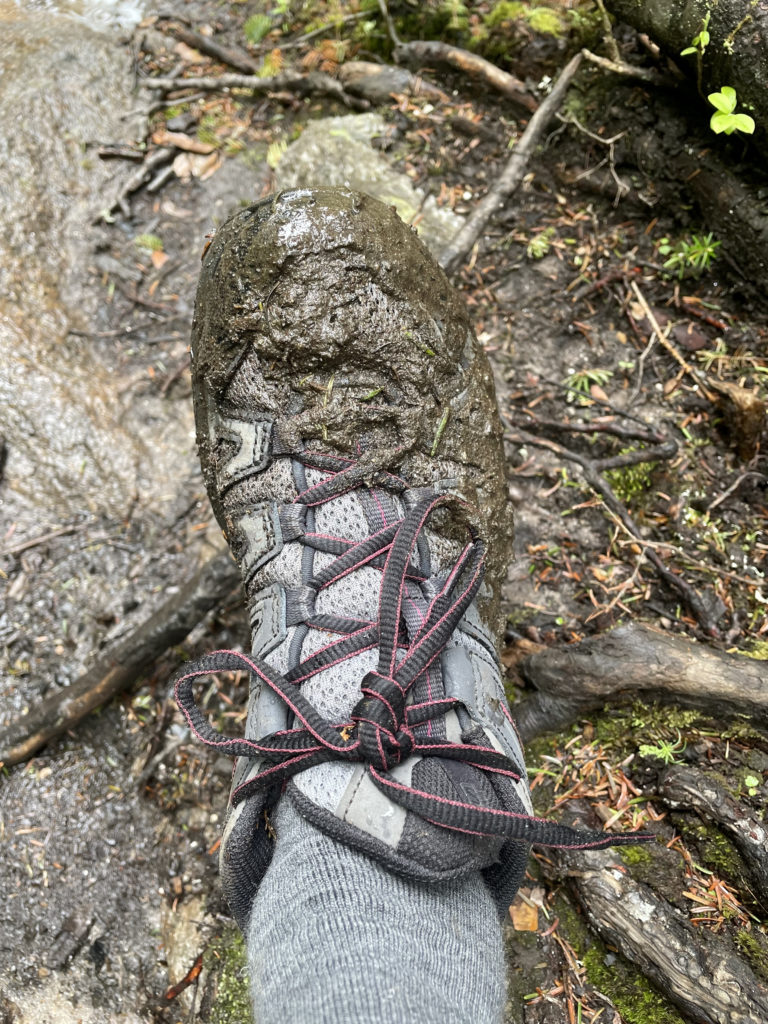 The main thing I'll remember about Mt. Isolation is the wetness and the mud. I'll also remember it was very long, very green, and very peaceful. After all the complaining I'd heard about this mountain, I was prepared for the worst. Although upon reflection, I'm not sure what 'the worst' would even look like. I've been on hard hikes. I've been on hikes that felt like an endless slog. I've experienced trails I really didn't like and conditions that produced very real fear. But at the end of a hiking day, I'm always happy. Sometimes I'm initially just happy to be done. Eventually, though, when the pain or the fear or the discomfort wears off, I'm happy in a much bigger way. Happy to have been outside, pushed myself physically, and overcome a (literal) mountain.
So, I won't say Mt. Isolation was my favorite hike. It wasn't my least favorite either. It sits comfortably in the middle of the rankings, and it is definitely a peak I will visit again… just maybe not during mountain mud season.
Summit lesson: The payoff of a long hike isn't always the view or an immediate feeling of excitement when you finish. Sometimes it's the steady burn of accomplishment that develops over time, after your shoes dry and the blisters heal. 
---
| | |
| --- | --- |
| Total elevation: 4,004 ft | Elevation gain: 3,503 ft |
| Mileage: 13.3 miles | Alpine exposure: yes, only at the summit |
| Terrain: wooded trail, roots, rocks, stream bed | Challenges: water crossings, slick rocks, remote |
| View payoff: excellent on a clear day (I'm told) | Dogs: yes, but its a long trip |
Recap: This much-bemoaned 4000 footer often gets a bad rap for being so isolated. Let's just accept that it's named Mt. Isolation for a reason and embrace the obvious: It's a long-ass hike any way you get to it. The Rocky Branch to Isolation Trail option is wet and muddy and involves multiple water crossing, and these variables make for potentially treacherous conditions. That said, this route is also relatively easy in terms of elevation, with only one steep stretch at the end. The views are (said to be) outstanding on a clear day, and hikers have reported moose and bear sightings on this remote journey into the Dry River Wilderness. As always, be prepared, but for this one, bring extra snacks and definitely extra socks.