Old Speck 4170 ft
---
After my epic adventure up Monroe and Big W, I chose a shorter hike up Old Speck for the first week of November. Luna would be joining me, and as this would be her first 4000 footer, I wanted to keep the mileage on the lower end. From what I could tell on AllTrails, there wasn't anything super ledgy or complex on the route, so I felt confident bringing along my pup.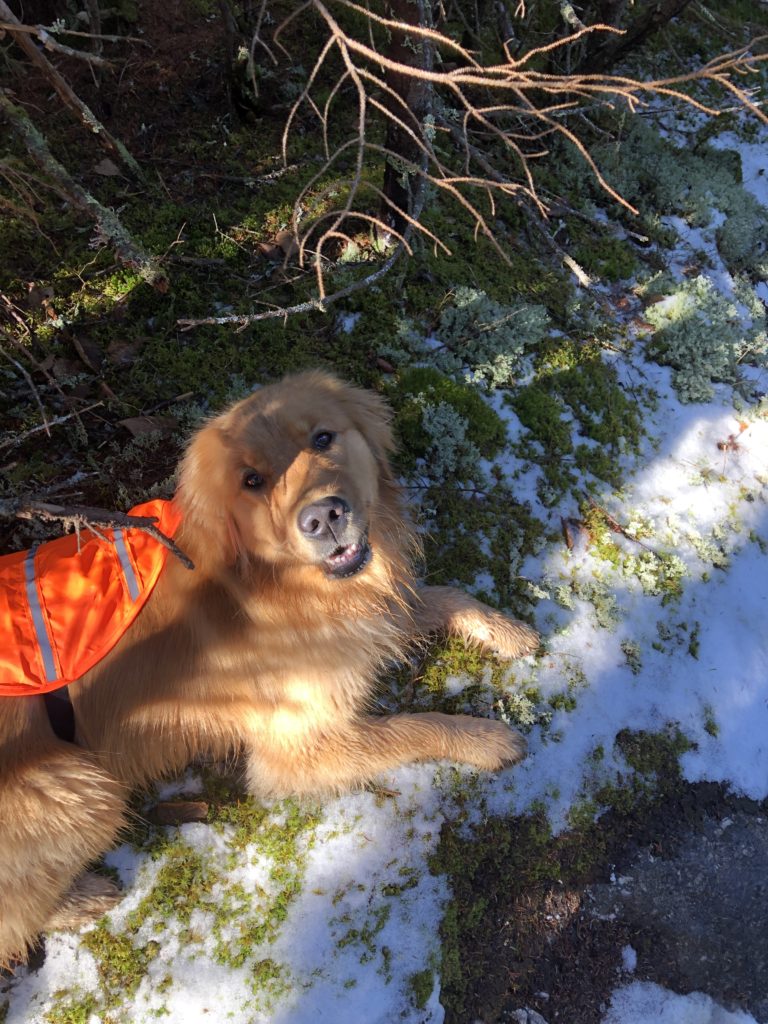 For the sake of comparison for anyone hiking with dogs, Luna is a 60lb golden retriever. She's seventeen months old and has A LOT of energy. She's also cautious, so I wasn't sure how she'd handle rock scrambling (hence choosing a more moderate trail).
Despite any timidity, Luna was super excited to go on the hike. She'd taken to sulking around every time she saw my blue backpack come out because she knew it meant I'd be gone for the day. Imagine her excitement when she got to come along with the blue bag!
Old Speck is in Grafton Notch State Park, inside the White Mountain National Forest but located in Maine. It's one of the fourteen 4000 footers in Maine, the fifth highest in the state. Most of the others are clumped together in Maine's Northwestern Mountains near Sugarloaf or in Baxter State Park, but Old Speck is part of the Mahoosuc Range on the border of Maine and New Hampshire. This makes it the closest Big Maine Mountain to Portland, about a two hour drive northwest. Thus far, all my 4000+ foot hikes had been in New Hampshire, and I was excited to climb something in my home state.
To reach the trailhead, I opted for the non-turnpike travel route. It was five minutes slower and free. Also, I didn't know it at the time but it would take me along Rt 35, which is now one of my favorite stretches of rural road in Maine. It reminds me of the roads where I grew up. All manner of Mainer is on display along the route. You have to see it to understand it. I'll dedicate a post to this topic at a later date. For now, onward to the hike.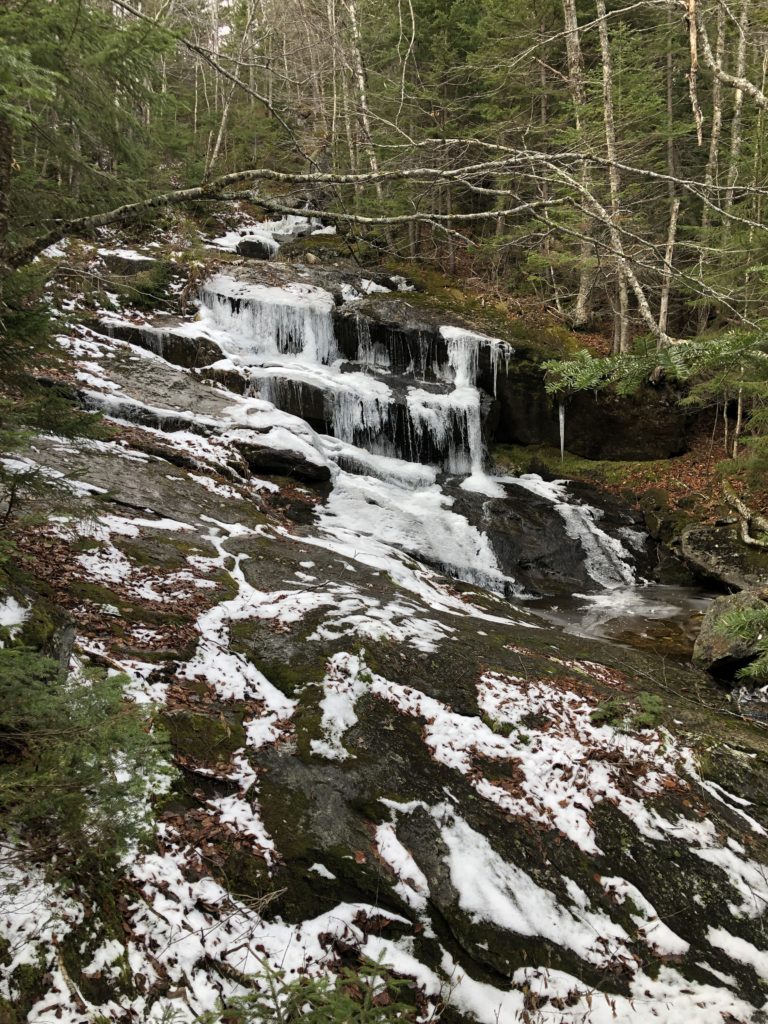 The trail I chose (Old Speck Trail) is part of the AT and leaves from a parking area off ME 26. During the on-season, a fee is collected to park (I think $5/vehicle). From the kiosk on the north side of the parking lot, you'll head left on the trail. To the right, the Appalachian Trail crosses ME 26 and travels east to Baldpate Mountain.
Fun Fact:
Old Speck is named for its speckled appearance, which is caused by large areas of exposed rock and tree cover.
Old Speck Trail begins to climb almost immediately, following along the edge of a brook and then traversing several long switchbacks. The grade is steep but fairly consistent with generally good footing, thanks to many rock steps. A lot of roots cross the trail, which did increase the need for foot caution.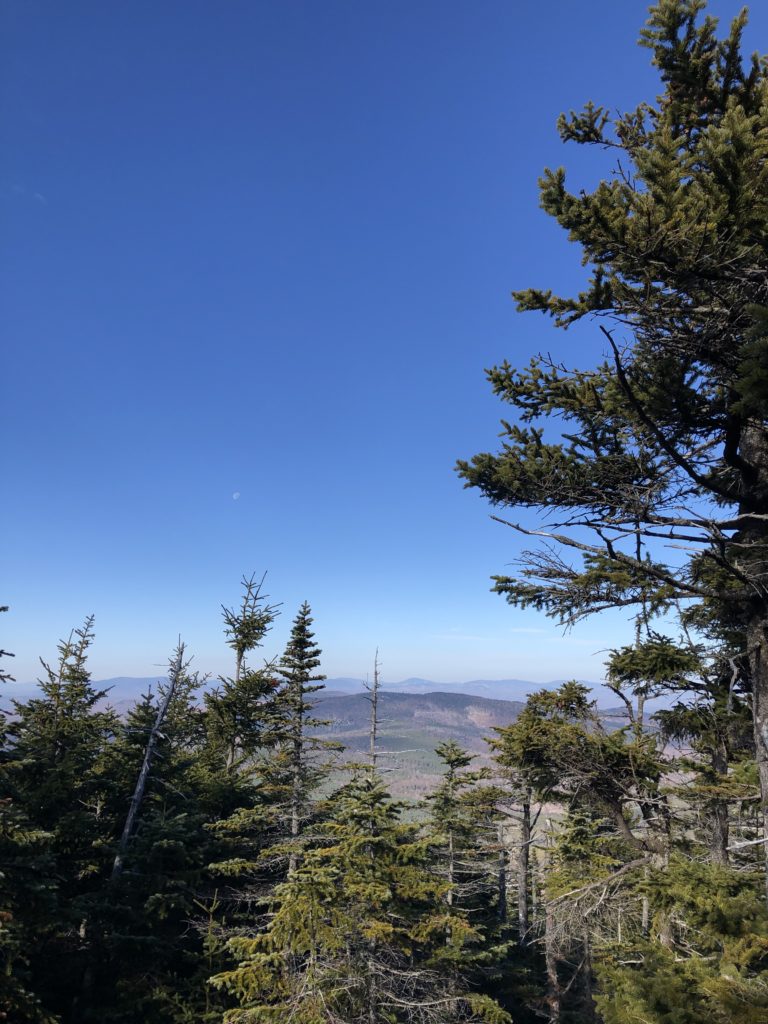 As I climbed higher, I found plenty of beautiful views through the trees. I love it when there are peeks at the peaks (see what I did there?). It gives me a sense of where I'm going and how far I've come. It can also work in reverse, of course. There have definitely been times when I've caught a glimpse of where I'm heading and thought, "Good gawd, that's far away."
This hike was the first time Luna had been in snow this season (there wasn't any in Portland yet) and she was pretty darn excited about it. There was a lot of zooming and bounding and rolling. When we reached the falls of Cascade Brook, the water was already starting to ice over. It was a beautiful wintery scene, and I imagine the water volume is impressive in the spring when the snow melts.
After crossing the brook a few more times, Old Speck Trail bears left and follows the ridge, with multiple minor descents followed by significant climbs toward the summit. Large stretches of exposed bedrock and some rough, rooty footing make for a challenging last push (I had to give Luna's butt a boost more than once). We paused at several impressive outlooks from ledges along the final half-mile of trail, before Old Speck Trail ends and merges with Mahoosuc Trail for a few steps before the wooded summit. An observation tower in the cleared area offers fantastic views above the trees—if you're not afraid of narrow ladders and heights. I stayed off the tower; I didn't think Luna could handle the stress of being left on the ground (she's that kind of dog).
After a quick snack we headed back down. It was slow going over the steep sections but manageable with careful navigation. Although I would agree with AllTrails designation of this trail as 'hard', I'd also call it do-able for most folks in decent shape. There really isn't much exposure, and the up-down travel along the ridge breaks up the climb. The tower makes it unique; it's a bonus reward for the hard work of getting up there. There was nothing extraordinary about this trail or the summit, but it was lovely nonetheless… and sometimes that's enough.
And it was a great starter hike for Luna!
Summit lesson: A hike doesn't have to be epic to be enjoyable.
---
Old Speck: Old Speck Trail to Mahoosuc Trail
| | |
| --- | --- |
| Total elevation: 4,170 ft | Elevation gain: 2,870 ft |
| Mileage: 7.5 miles | Alpine exposure: insignificant |
| Terrain: woods walk, roots, rock steps, exposed ledge | Challenges: water crossing, uneven footing, steep sections |
| View payoff: Several outlooks and a nice view from the summit observation tower | Dogs: Yes, a great trail for pups! |
Recap: This trail was steep but consistent, with many rock steps and nice woods walk sections. Exposed roots on the trail and some bedrock can be tricky to navigate. The traverse across the ridge mixes up the ascent and although the summit is wooded, an observation tower offers a chance for a great view.