Mt. Madison 5367 ft
---
Had I known when I hiked Mt Adams I was about to become possessed by an insatiable need to climb all the mountains in the Presidential Range, I probably would have hopped on over to Mt. Madison to tackle them both in one day. The two peaks are just over a mile apart, and Adams is about 400 feet higher. Alas, I did not yet know my fate, and honestly I was so blown away by my experience on Adams, it's unlikely I could have managed a second peak that day. So, I had to go back for Madison, the northernmost president.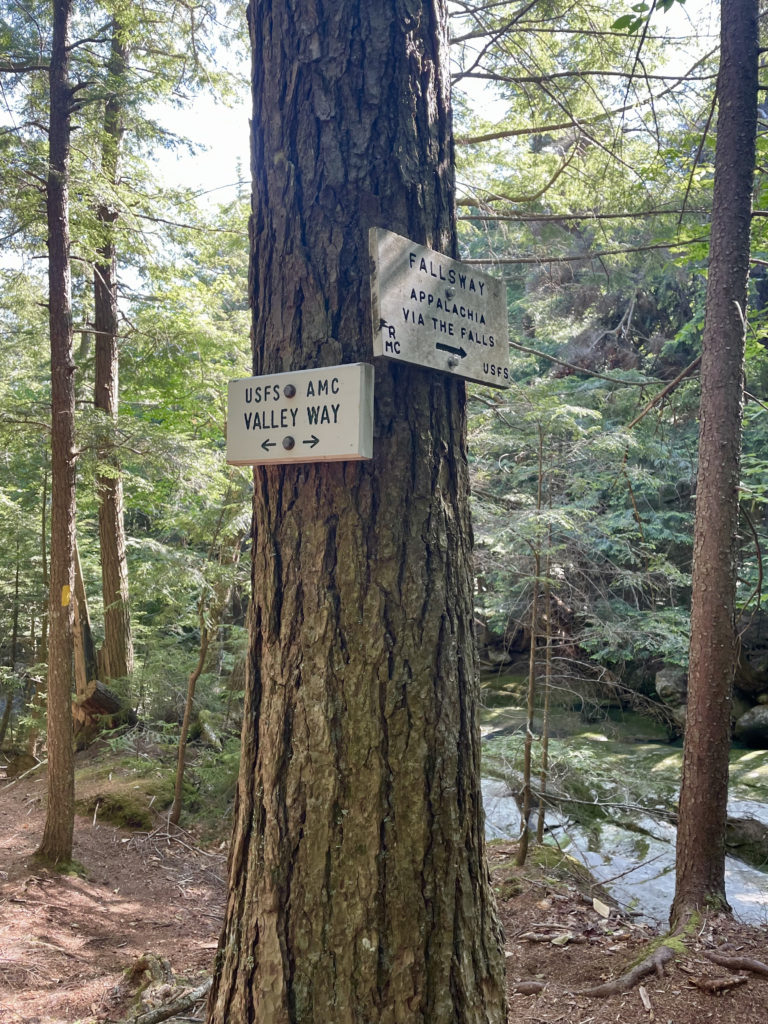 I started this hike at the Appalachia parking lot. The very popular Air Line leaves from there and is the straightest shot up to the Presidential ridge. I took it when I hiked Mt. Adams, so I opted for Valley Way to reach Mt. Madison. According to the AMC White Mountain Guide, Valley Way is the most direct and easiest route from the parking lot to Madison Spring Hut. It is also sheltered by trees overhead almost the entire way and is considered the safest route in bad weather.
At about the half-mile point, multiple trails converge on Valley Way. Luckily, the mess is well marked and you can easily plow onward. The trail is steady and comfortable, climbing up rock steps and keeping close to Snyder Brook. On this day in mid-June, there was considerable evidence of trail maintenance. Wood chips littered the ground where a tree had been severed, having (inconveniently) fallen across the trail during the winter. I also passed an AMC crewmember hiking up with a packboard—a tall wooden frame laden with supplies for the Madison Spring Hut.
This got me wondering: Who maintains all these trails? I know there's a strong volunteer contingent, but with the volume of hikers trekking up, over, and through, there has to be more than that.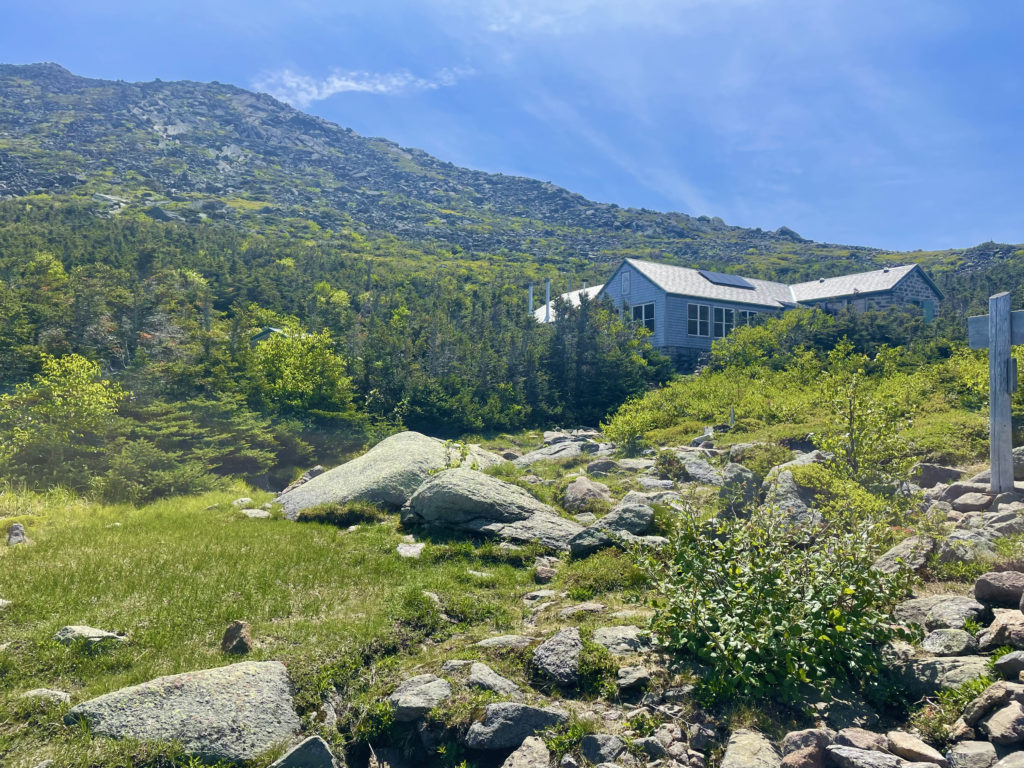 Turns out, the Appalachian Mountain Club has a Professional Trail Crew, a group that assembles in the early summer and works until fall. The crew is weighted heavily with 20-somethings and college kids with common traits: strong, eager, and willing to work hard.
Not much has changed in the 100ish years since the first AMC trail crew set out. According to an article in NH Magazine, an AMC leader hired six high school students and three Dartmouth Outing Club members to form the first professional trail crew in 1919. Now the crew has 15-20 members each summer, covering 360 miles of Appalachian Mountain Club-maintained trails in the White Mountains. The main tools for the work—rock bar, double-bit ax, and pick mattock, along with some good old-fashioned grit and muscle—haven't changed and likely never will. Rarely, helicopters drop off big loads of supplies on mountaintops, but for the most part, everything is packed in or found in the woods.
Hiker term: Social Trails
Short trails that lead off main trails, usually to see something cool, like a view. These are created by one person tromping through the woods (or worse, across fragile alpine vegetation) and creating a herd effect. Others follow, and a trail is created. Social trails can damage important plants, create confusion, or lead to unsafe terrain. For the sake of safety and minimal impact, stay on the marked trail!
The AMC also has a plethora of opportunities for volunteers who want to spend a day, weekend, or whole week living like the trail crew. They also have an Adopt-A-Trail program to promote stewardship and community involvement, and multiple training opportunities throughout the year. In short, AMC relies heavily on the goodwill of those who enjoy the trails they maintain. This goodwill is shown through willingness to work hard for little-to-no compensation, donations, and usage fees.
This hike was a good reminder that, although hiking is technically a free activity, there is a significant cost involved in keeping the trails safe, open, and enjoyable. From this day forward, every time I see a trail crew member, I stop to say, "Thanks."
Okay, now back to Mt. Madison. At about 2.5 miles, Watson Path breaks off and heads left, leading straight up to the summit. I stayed on Valley Way, which climbs the slope of Durand Ridge. There is a big (scary) drop off into the gorge of Snyder Brook on the left, a few steps off the trail. The terrain gets a lot steeper after passing the spur to the Valley Way Tentsite and eventually breaking out of the scrub just before Madison Spring Hut.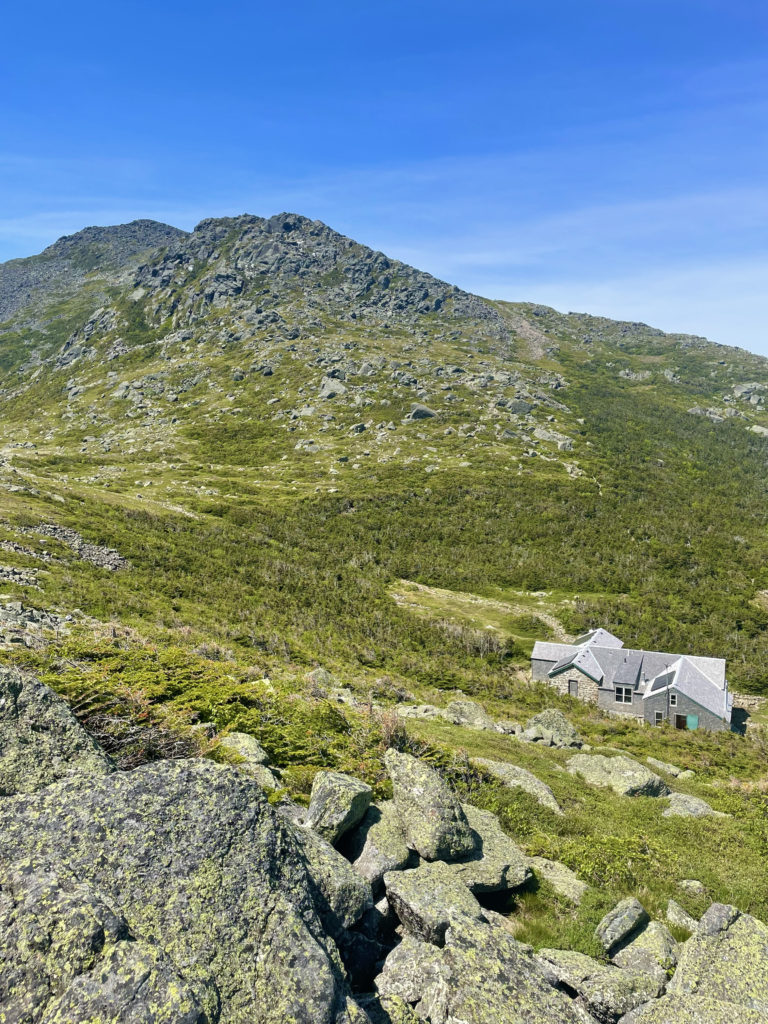 I made a brief stop for a bathroom and water break and to visit with a HUGE dog that was way too fluffy to be hiking in the hot weather. He was relaxing in the shade with his owner, whose hiking companions had gone onward to the summit.
From Madison Spring Hut, Osgood Trail leads a half mile to the summit of Mt. Madison. It is a gruelling climb up a pile of craggy boulders. There's no path, just blazes on the rocks telling hikers where to step—or jump to—next.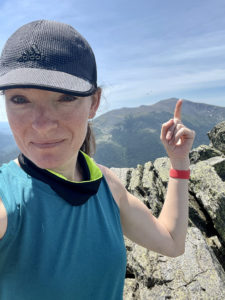 The top of this peak was weirdly hot and still. It was also annoyingly buggy. I saw more rock spiders than I wanted too, and I watched several minor freakouts from fellow hikers less tolerant of bugs than I am.
Needless to say, I didn't stay long. But while I was there, I did fully appreciate the incredible view.
Picking my way back down to the hut was nerve-wracking, but the hike down Valley Way was lovely. Near the bottom I chose to take the Fallsway route, a slightly longer path that travels next to three waterfalls: Tama, Salroc, and Gordon Falls. The extra .1 mile was worth it, and had I been just a smidge more motivated, it would have been a great place to swim.
Summit lesson: Trails don't maintain themselves. Thank your local trail crew and consider donating or volunteering if you can! 
---
| | |
| --- | --- |
| Total elevation: 5,367 ft | Elevation gain: 3,832 ft |
| Mileage: 8.5 miles | Alpine exposure: yes |
| Terrain: wooded trail, roots, rocks, boulders | Challenges: water crossings, steep section, scrambles |
| View payoff: amazing! | Dogs: maybe… use caution at the top, very rocky |
Recap: Valley Way is a classic White Mountain trail: rocky, woodsy, and steep in parts, with enough variety of terrain to keep you committed to the task at hand. Most of the journey is well-sheltered, until you reach the Madison Spring Hut. After that, it's a fully exposed scramble up a rock pile to reach the summit. Be sure to take the Fallsway trail (just after you leave the parking lot) in at least one direction to see the lovely waterfalls.