East Osceola 4156 ft
---
It's a good thing I spent all that time reflecting on the benefits of frustration, because this hike tested every last ounce of patience.
It started with the weather, which was supposed to be mild. It had rained the day before, and my hope was the rain would melt some of the snow. The sky was gray when I left Portland, and at the last minute I ran back into the house and grabbed my waterproof shell jacket. A half-hour into the drive, it was raining. Not pouring, but just kind of spitting. I figured it was remnant clouds from the night before and it would clear up.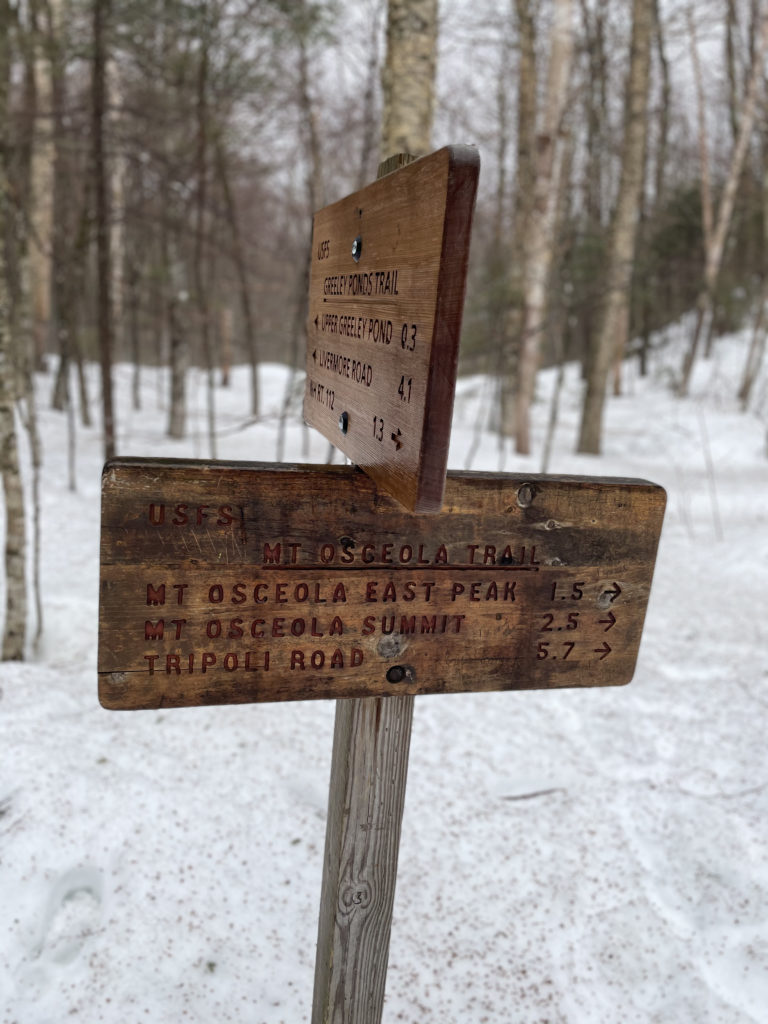 My plan for the day was to tag both East Osceola and Mt. Osceola. The most popular route for these peaks is the Mt. Osceola Trail off Tripoli Road. However, the road is closed in the winter and it comes in from the west, making it a longer drive from Portland. I opted to take Greeley Pond Trail, which starts after the hairpin on the Kancamagus Highway, and connect with Mt. Osceola Trail. This would have been about a 7.5 mile round trip. I also knew there was a rock chimney between the two peaks, but the reviews on AllTrails reported it could be avoided by a detour. I decided to bring Luna, assuming we would bypass the chimney and all would be well.
What is it they say about the best laid plans?
Hiker tip: Seasonal road closures
The USDA Forest Service website says seasonal road closures are common in the White Mountain National Forest. Check social media or call the Ranger District to confirm road status. Closed roads are open to foot traffic unless otherwise noted.
Luna and I parked at the Greeley Pond trailhead around 8am. The first mile was easy-going with multiple scenic water crossings, many of which had hewn logs spanning them. I did plunge my foot into one stream, thinking the snow underfoot was solid. This is definitely the time of year for waterproof boots. And waterproof everything else. It wasn't raining, but it wasn't not raining, and the air felt soggy and raw. Luna, who usually races ahead of me and then circles back to make sure I'm still coming, plodded along dutifully behind me as though personally offended by the weather. The dampness does do lovely things to the trees though, heightening the contrast between light and dark.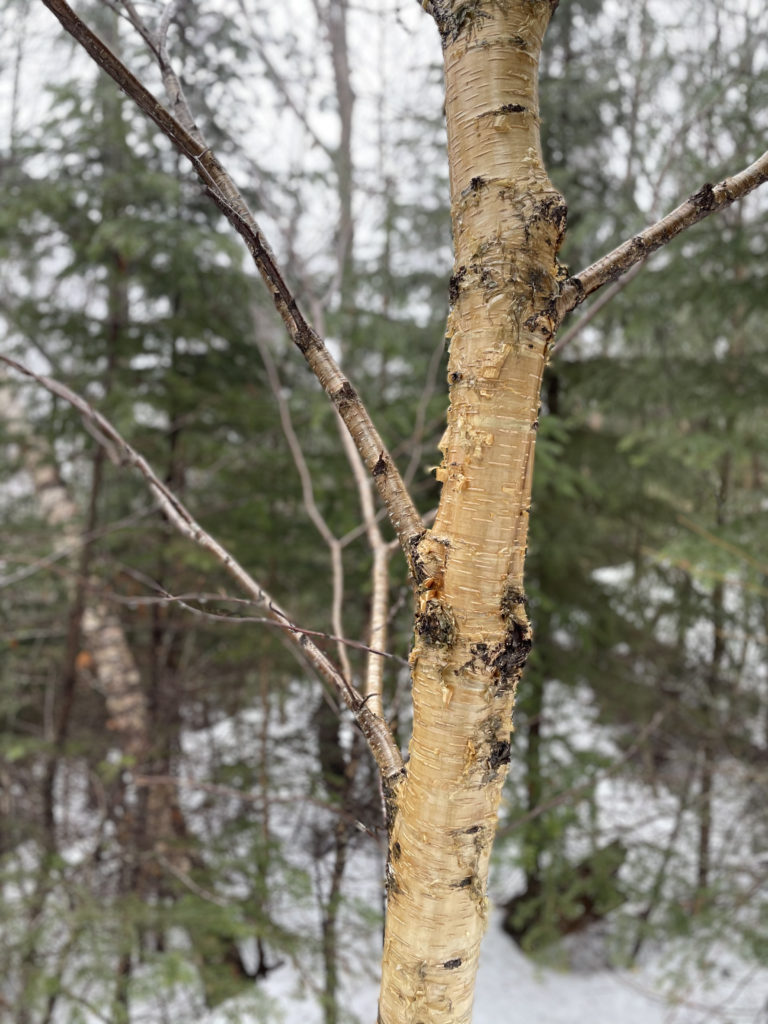 The grade remained moderate as we started up Mt. Osceola Trail, but not for long. It got steep. I mean S-T-E-E-P. Like an unrelenting 70 degree angle that does not let up for a mile. A mile doesn't seem that far until your knees are touching the slope in front of you. Every time I paused and looked back at Luna, she was standing still, watching me with her head cocked as if to say, "Are we done with this nonsense yet?"
No, Luna. Onward and upward.
Thanks to the mist and fog, I can't report much on the views. Although near the summit there's an impressive section of rock slope just beyond the trail to the right. I didn't want Luna getting any ideas about scaling it, so I moved past it quickly. We reached the wooded summit of East Osceola and the outlook east from a side path (the outlook was fog) and kept going until we reached—dun dun duuuun—The Chimney.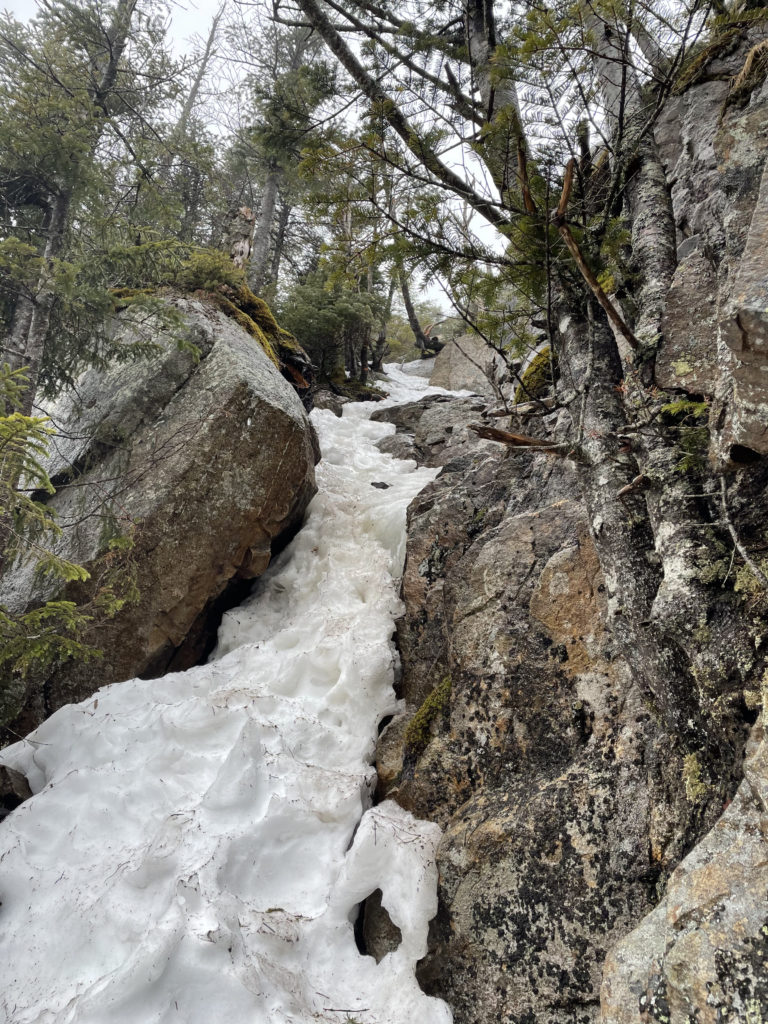 Yeah, there was no way in hell Luna was getting up this thing. It was a sheer layer of ice with melting snow running under it. The picture doesn't do it justice. I climbed part way up while Luna stood at the bottom and whined in protest. I knew the summit of Mt. Osceola was very close, and I considered leaving Luna tied to a tree while I tagged it but decided that might scar her for the rest of her doggie days.
I backtracked and went right, looking for the bypass mentioned on AllTrails and in the AMC White Mountain Guide. There were some tracks in the snow where others had trekked, but there was no clear way up. It was still insanely steep and the footing wasn't reliable, thanks to the snow. Luna did her best to follow me up, but it just wasn't happening. When I turned to climb back down, my leg sunk up to my hip in a snow drift. This is when the frustration shifted in the overdrive and I started yelling obscenities into the wind.
This snow-sinking nonsense happened three more times, ending with me flinging my trekking poles in the general direction of the trail, rolling onto an uprooted tree to get my body above the drifts, and crawling back to the packed trail on all fours. Satisfied that we were abandoning this futile pursuit, Luna licked my face (while I was lying on the ground, swearing loudly) and rustled up a stick from the woods. She then settled herself down in the snow for a chill chew-session while I grasped for a shred of composure with which to continue this miserable hike.
This was Frustration Station at rush hour.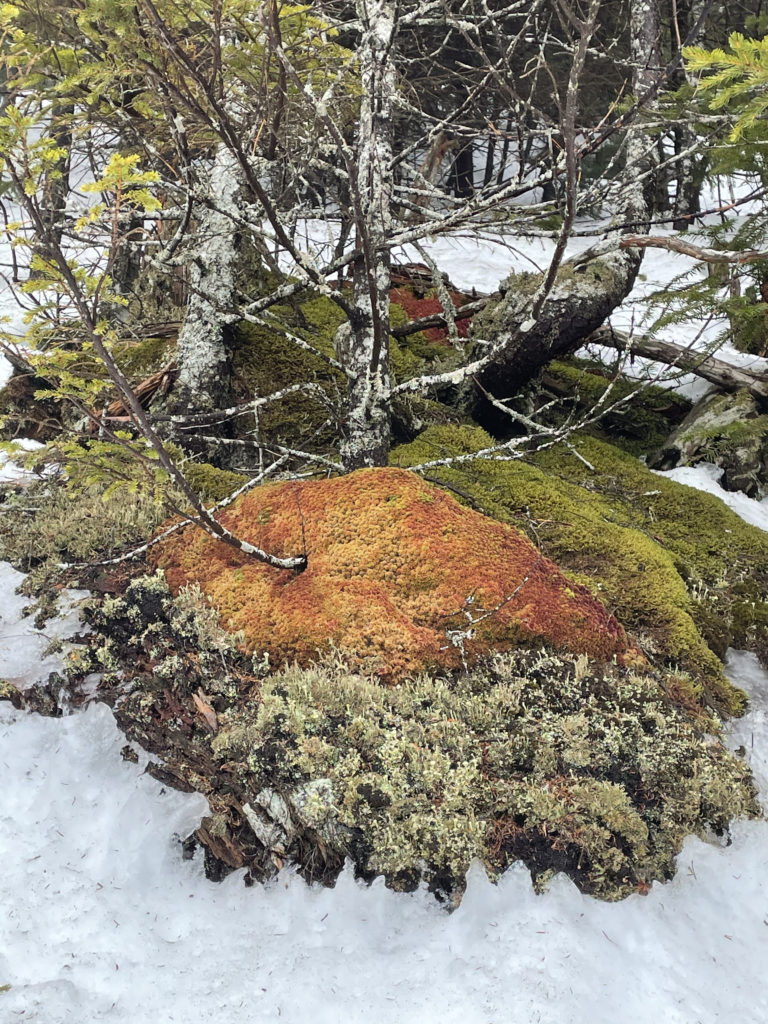 As we've established, it's hard to turn back. And it's doubly hard when you know you can reach the peak but others in your party (four-legged in this instance) cannot. But having been in this position several times before, I found the choice easier than in previous circumstances. The second summit wasn't going to happen on this particular day, and that was that.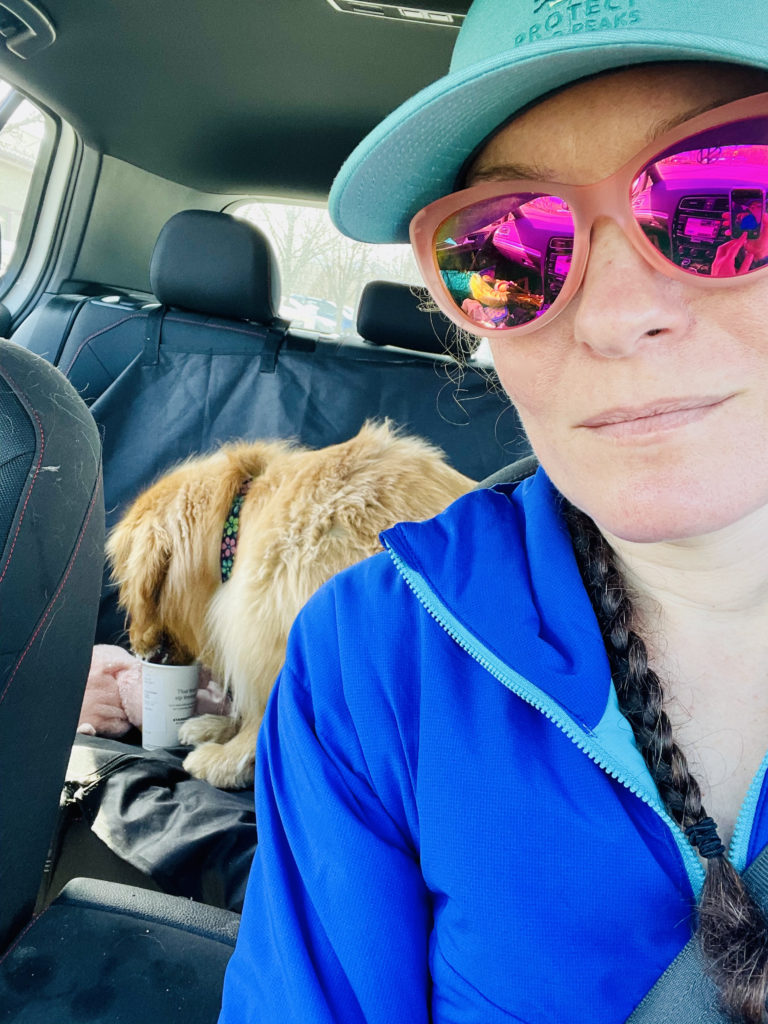 Luna and I headed back down, moving slowly to avoid sliding. There were dozens of postholing incidents, but as I've devoted several paragraphs to that misery in a previous post, it should suffice to say it sucked just as much as it did the first time.
Okay, so what was good about this trail? Whelp, sometimes it's good enough to check one off the list. And let's not forget: A frustrating hike is still a good day in the woods. I'm not gonna lie, this one challenged my zeal for that sentiment, but I'm standing by it nonetheless.
In the end, there was a Puppuccino for Luna and a stop at dog-friendly REI in North Conway to use my March Member discount (helloooo new multi-day backpack).
Summit lesson: Early spring hiking conditions are my least favorite. 
---
East Osceola:
Greeley Pond Trail to Mt. Osceola Trail
| | |
| --- | --- |
| Total elevation: 4,156 ft | Elevation gain: 2,280 ft |
| Mileage: 6 miles | Alpine exposure: none |
| Terrain: woods walk, very steep | Challenges: extreme incline, water crossings |
| View payoff: wooded summit, outlooks | Dogs: on leash |
Recap: The first mile of this trail is a woods walk with several easy water crossings. After that, it becomes incredibly steep and the grade does not let up for over a mile. Without snow, I imagine the footing is rocky. Between the summit of East Osceola and Mt. Osceola, there is a very challenging rock chimney to climb. I turned back at this point, after realizing my pup couldn't make it up. Other reviews report fantastic views when the weather isn't foggy!