West Bond 4540 ft | Mt. Bond 4698 ft | Bondcliff 4265 ft
Unwittingly, I'd saved the best for last. Or one of the best, depending on who you ask. The Bonds are a much-loved trio of peaks including West Bond, Mt. Bond, and Bondcliff, all connected by Bondcliff Trail. All three summits have exceptional views, and Bondcliff has an iconic jutting rock formation ideal for photos. According to the AMC White Mountain Guide, "The views from [Bondcliff] trail are unsurpassed in the White Mountains."
I woke up at the Guyot Campsite shelter after a day of rain and clouds, ready to complete my New Hampshire 48. The sky was breaking open and it looked like there would be views, eventually. I packed up my overnight gear, filtered water into my hydration bladder, and tied on a pair of very wet Hokas. I didn't bother with breakfast. My first shelter overnight had been fine, but I was ready to bid farewell to my fellow campers and return to the familiar comfort of mountaintop solitude.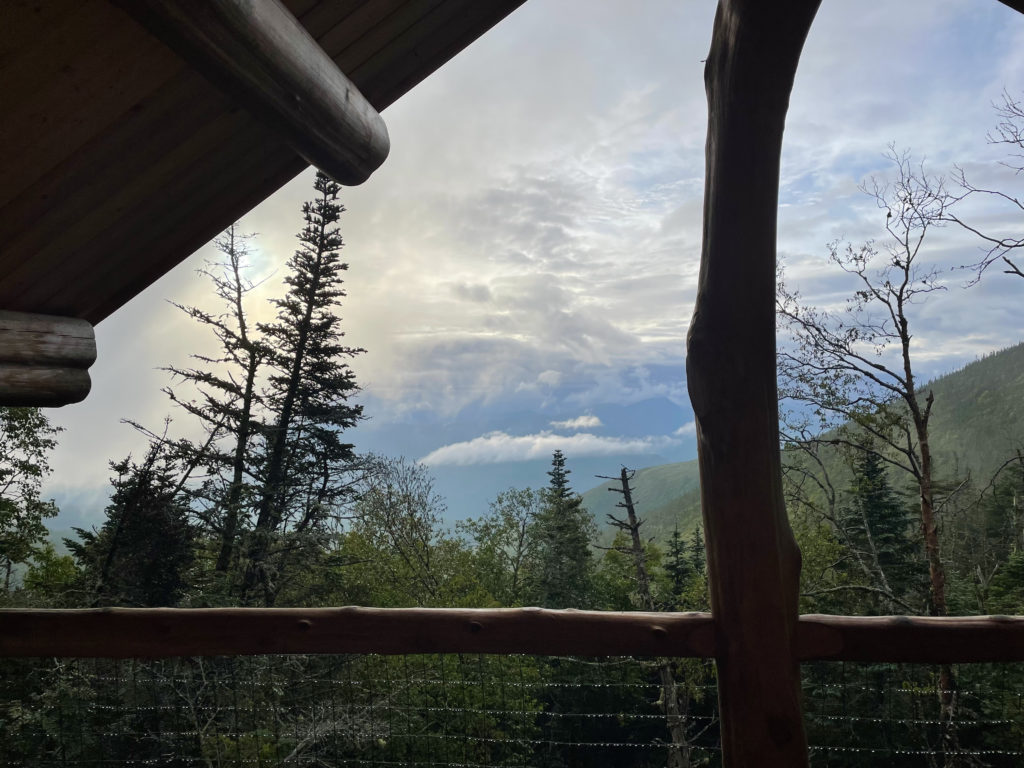 From the campsite I hiked less than a quarter mile on Bondcliff Trail to reach the West Bond Spur, which leads up to the summit of Mt. Bond. The spur is a mile out and back and relatively moderate until the final climb up the steep cone. The summit is sharp and rocky, and the peak is surrounded by deep valleys. When I reached the top, the clouds were lifting and the wind was whipping. I was able to find a sheltered spot to eat my Bobo's breakfast bar and heat water for coffee. I enjoyed the silence (well, human silence and the noisy wind) and the incredible views I hadn't seen the day before.
Hiker term: Cone
A mountain with a distinctly conical shape, usually used to refer to the very top of a peak.
Back on Bondcliff Trail, the path dips into the woods and then climbs steeply up the rough slope of Mt. Bond, the highest of the three peaks. When I reached the geological survey marker, the sky had clouded over again. A few wind gusts opened up the view and I could see the expansive Pemigewasset Wilderness in every direction.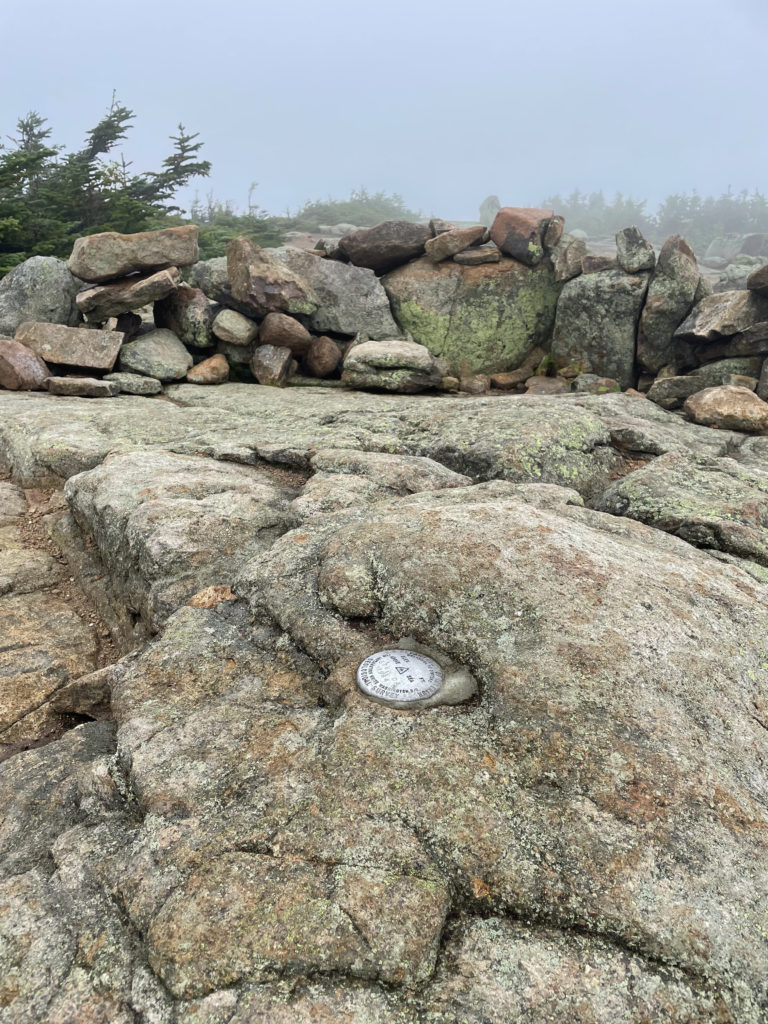 The next mile leading from Mt. Bond to Bondcliff is almost entirely above the treeline and potentially dangerous in high winds. The AMC guide urges hikers to keep to the east side of the ridge when visibility is poor. The west side is a long run of precipice edges; a fall from there could (most likely would) be deadly.
When I saw the flat summit of Bondliff ahead of me, I noticed two hikers resting at the top. I had a fleeting hope they'd be there when I arrived, because there is no way to get the classic Bondcliff photo without someone to take it. I figured they would be gone when I got there, but as luck would have it, they'd settled in for a snack.
When I reached them, I found the young couple sharing a peanut butter and jelly sandwich. "I'm sorry to bother you," I said, "but is there any chance you could take my picture on the cliff?"
"Of course!" they both answered.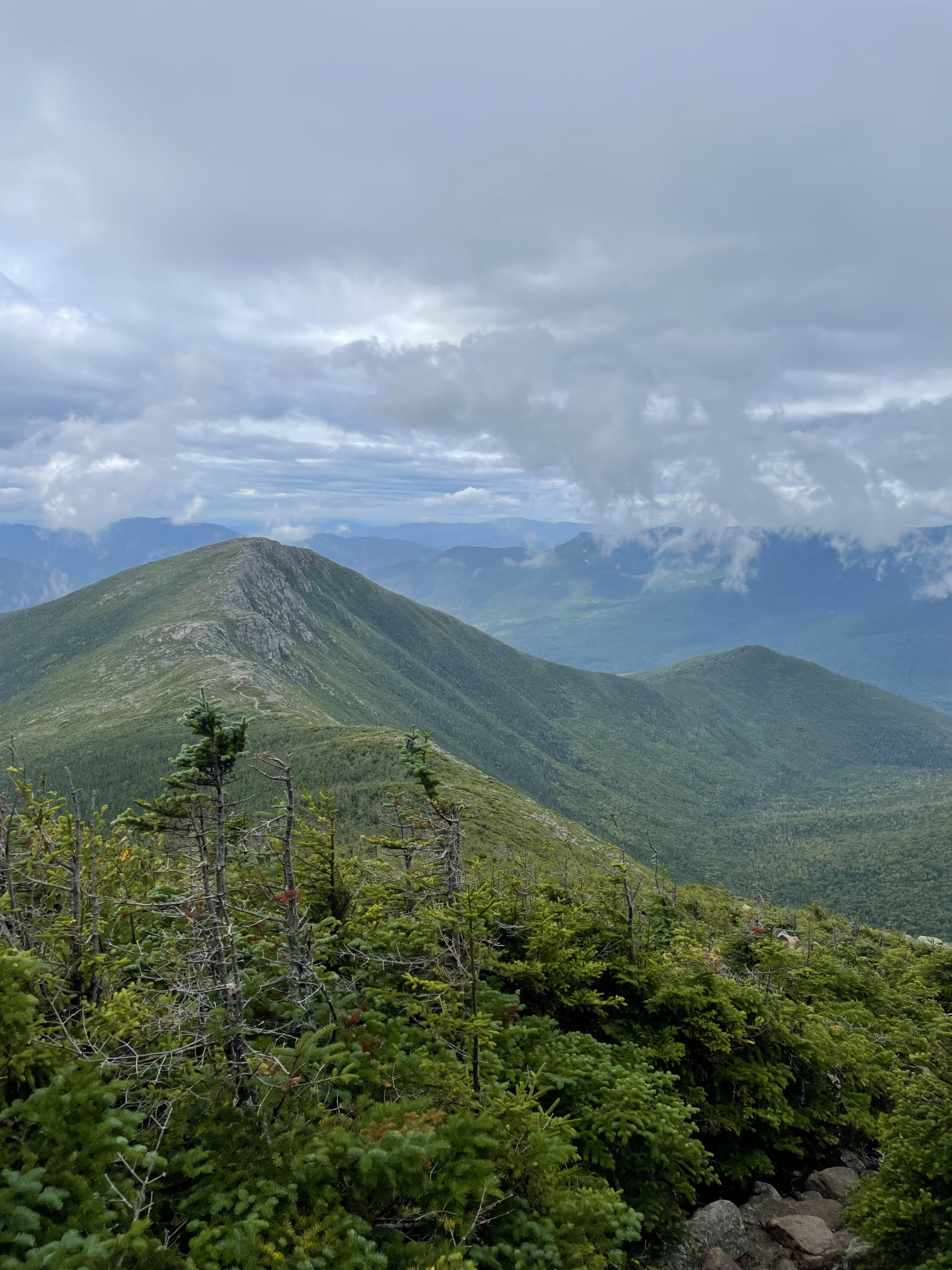 I asked if they hiked a lot, and when they said they did, I shared that Bondcliff was my #48. They were more excited for me than I could have imagined.
"Get out there before the clouds come back!" the woman said.
I ran out to the cliff and got what would become one of my favorite hiking photos. Even from a distance, the energy, excitement, and accomplishment are evident in the picture.
When I ran back to retrieve my phone, the woman said, "Would you mind taking our picture too?" She smiled shyly and said, "We just got engaged on that cliff."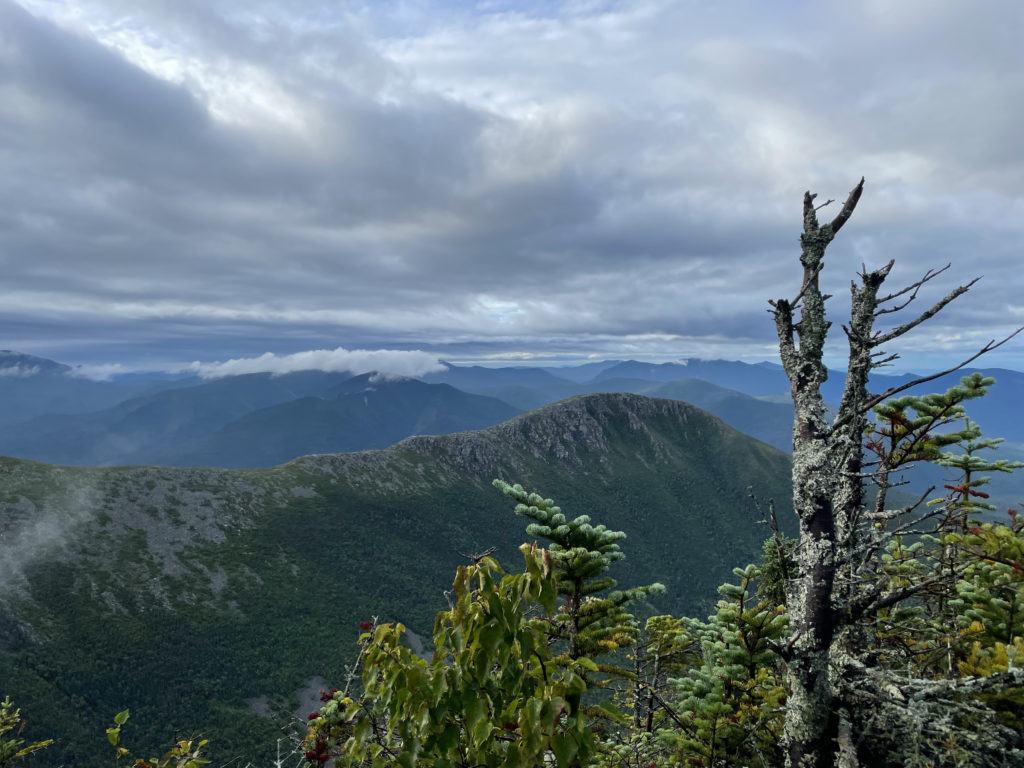 I was so happy to hear their news and share such a special moment with them. I took at least twenty photos and congratulated them profusely. It was an entirely unexpected connection and two completely different accomplishments, both meaningful in their own way. A chance encounter allowed us to share and capture a moment that otherwise would have been kept only in memory. It was the perfect way to complete my New Hampshire 48.
The descent from Bondcliff is a steep ledge scramble that follows a prow-shaped ridge. It then enters the scrub and swings back and forth, crossing a brook four times. After about two miles the descent lightens up, traveling through the woods and along the edge of Black Brook, sometimes on an old logging road.
Just over six miles from the summit of Bondcliff, Bondcliff Trail exits the Pemigewasset Wilderness. From there, Lincoln Woods Trail follows the wide bed of a former logging railroad and leads easily back to Lincoln Woods Visitor Center where my car had been dropped off by my parents.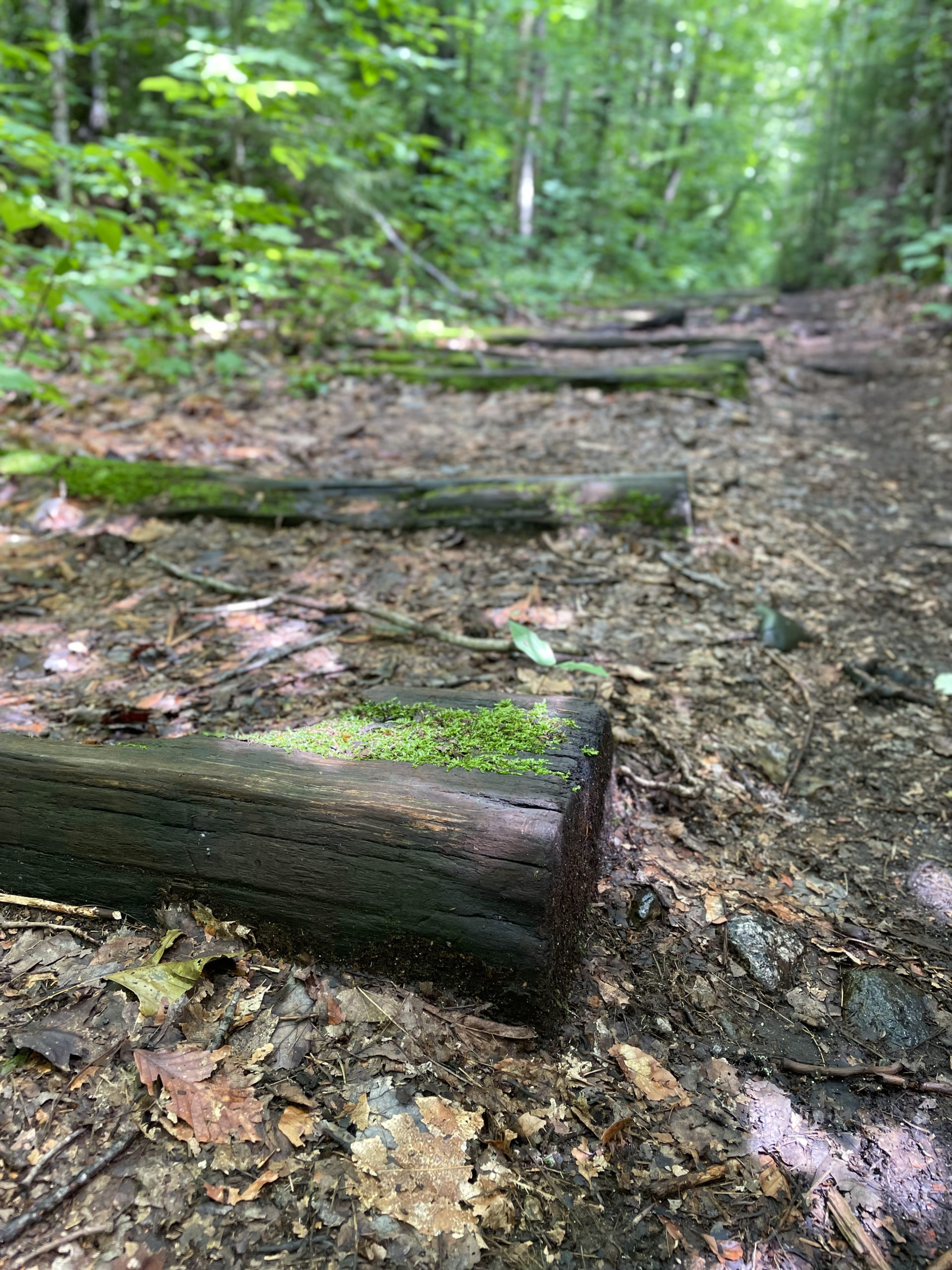 On the drive back to Maine, I thought about how excited the young couple had been for me when I told them I'd finished the NH48. Later, when I posted the picture of me on Bondcliff on Instagram, I was surprised again by how many people congratulated me. I'd been so focused on my ultimate goal—the 100 Mile Wilderness and the NE67—that I hadn't given much thought to completing 48 peaks in less than a year. Most of the people congratulating me were hikers. They understood what those 4000 footers in New Hampshire are like and what it means to finish them in a year.
It means a lot of hiking. A lot of commitment. A lot of digging deep.
I allowed the accomplishment to settle in.
And then I got ready for the last big push before the 100 Miles: Vermont's five 4000 footers.
Summit lesson: Having big goals is great. Remember to enjoy the process and celebrate all the accomplishments along the way.       
---
| | |
| --- | --- |
| Total elevation: 4540 ft, 4698 ft & 4265 ft | Elevation gain: 814 ft from Guyot Camp, 4609 ft from Lincoln Woods Visitor Center |
| Mileage: 11.5 miles one way | Alpine exposure: extensive |
| Terrain: woods walk, rough footing, ledges, scrambling | Challenges: water crossings, exposure to weather, steep |
| View payoff: spectacular | Dogs: yes (use caution near precipices) |
Recap: The Bonds are a very special hike. Similar to the Presidential Range, they are fully exposed and offer exceptional views. Unlike the peaks on the Presi, they can't be reached without covering significant miles. The Bonds can certainly be completed in a (long) day, but spending a night at one of the AMC huts, shelters, or campsites makes for a challenging, rewarding backpacking trip. Whether done in one day or two, this hike requires preparation for alpine conditions and significant exposure. If you can time it right, drop your pack at Guyot Campsite and hit West Bond for the sunset. I haven't done it, but I've heard it is spectacular.