Mt. Washington 6288 ft
---
I am not entirely sure what happened in my brain between the time I left the summit of Mt. Jefferson and the morning I found myself standing outside the Pinkham Notch Visitor Center, staring at the Tuckerman Ravine trailhead. I have a hunch, though. I'm pretty sure all that self doubt I was feeling a week earlier got shoved aside to make room for some very feisty determination.
I'm no good at quitting. It takes a lot of failure before I'm comfortable letting go of a goal. As soon as this idea of hiking all the presidents took root, it started growing. Quickly. And deeply. I knew I only had a month (at most) before the summit of Mt. Washington got snow, and I did not want to wait until spring to hike it. I also knew the day I chose, September 25, was going to be cloudy at the top and I didn't care at all. I wasn't after the view. I was after the peak.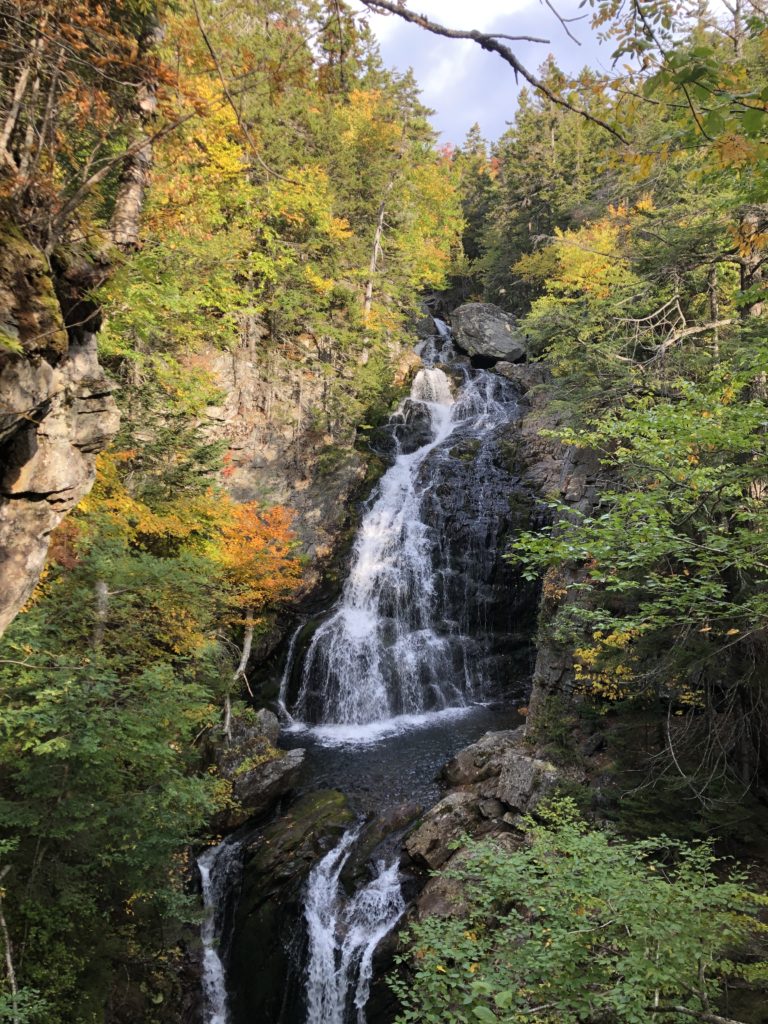 The weather at the base of the mountain was pleasant enough, but I knew from my experience on Mt. Adams the current conditions couldn't be trusted. I was better prepared this time with extra layers, a hat, and mittens.
The first section of the Tuckerman Ravine Trail follows a wide, well maintained path that appears fit to accommodate the crowds of hikers who come every year, especially during the summer months. The incline is certainly not nothing, but it's more of a steady burn than a big climb. Watch out for several paths and ski trails that peel off early, and definitely take the few extra steps to see Crystal Cascade. It's pretty darn beautiful.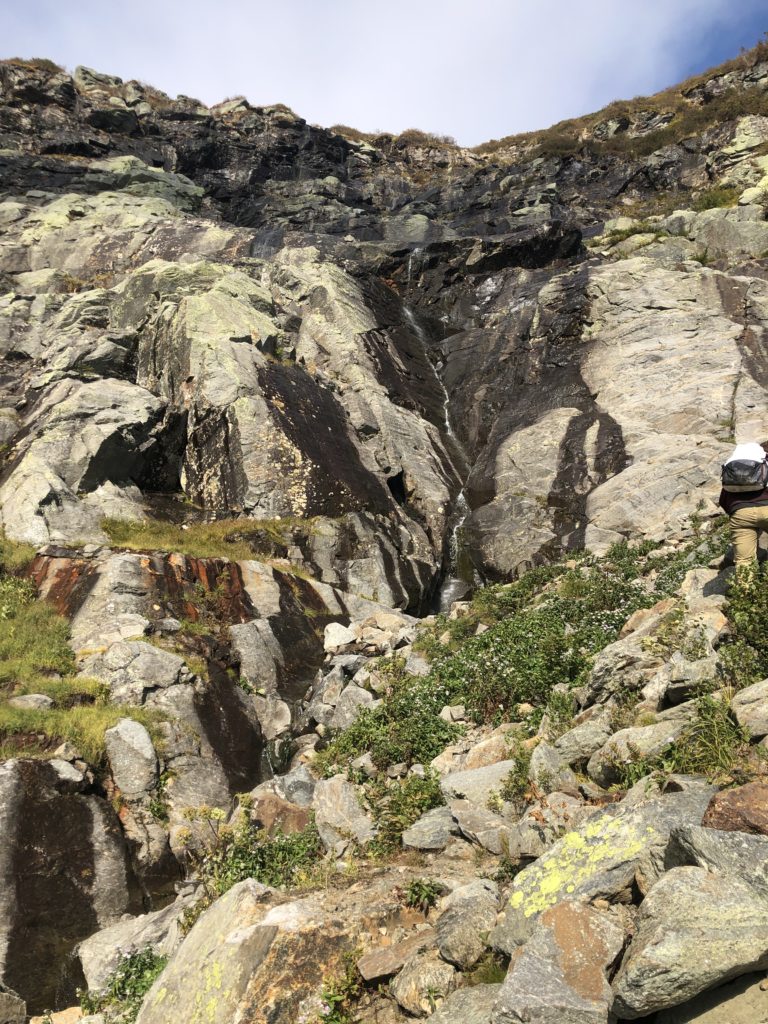 The relatively easy going trail (relative to what's ahead, that is) comes to an end around the two mile mark, where you encounter Hermit Lake and its several shelters and maintenance buildings. At this point you're standing at the floor of the ravine, and… wow. It is both daunting and exhilarating to look up at the beast you're about to climb.
The trail keeps to the right of the ravine and a stream runs from somewhere high above. It's a well-constructed path that leads you up the headwall. Key word here is UP. This is one of those climbs where you feel like if you lean back too far you might fall off the trail. It is a relentless, gruelling climb, but thankfully it's not too long. The ravine part of the climb isn't much more than a mile, and although there is some very treacherous terrain to be aware of (like steep drop offs and loose rocks), there are also places to pull off to the side and turn around. Do this, because behind you is a shockingly magnificent view.
Speaking of loose rocks, one of the significant dangers of the Tuckerman Ravine Trail is accidentally dislodging a rock and sending it tumbling down behind you where it could collide with another hiker. This trail is one of the busiest in the White Mountains, especially during the summer, so being aware of your fellow climbers is important. I actually found this to be one of the more challenging aspects of the trail. In the short time I've been hiking, I've become accustomed to being mostly alone, occasionally passing other people but never hiking in tandem. That's not how Tuckerman works. You have to stay cognisant of your surroundings at all times, and those surroundings include other humans.
Hiker term: Headwall
A precipice rising above the floor of a glacial cirque, or a steep slope forming the head of a valley.
Near the top of the headwall, there is a significant amount of debris and a ledgy slope that quickly transitions into a steep, rocky push to the summit. The route is marked by cairns and it's a good thing. By the time I reached the scramble, I was hiking in dense fog and everything around me looked like a gray moonscape. It would be very easy to become disoriented in this rock field. That said, because there is a clearly marked path to the top, hikers fall into a line of strenuous ascension for the last half-mile.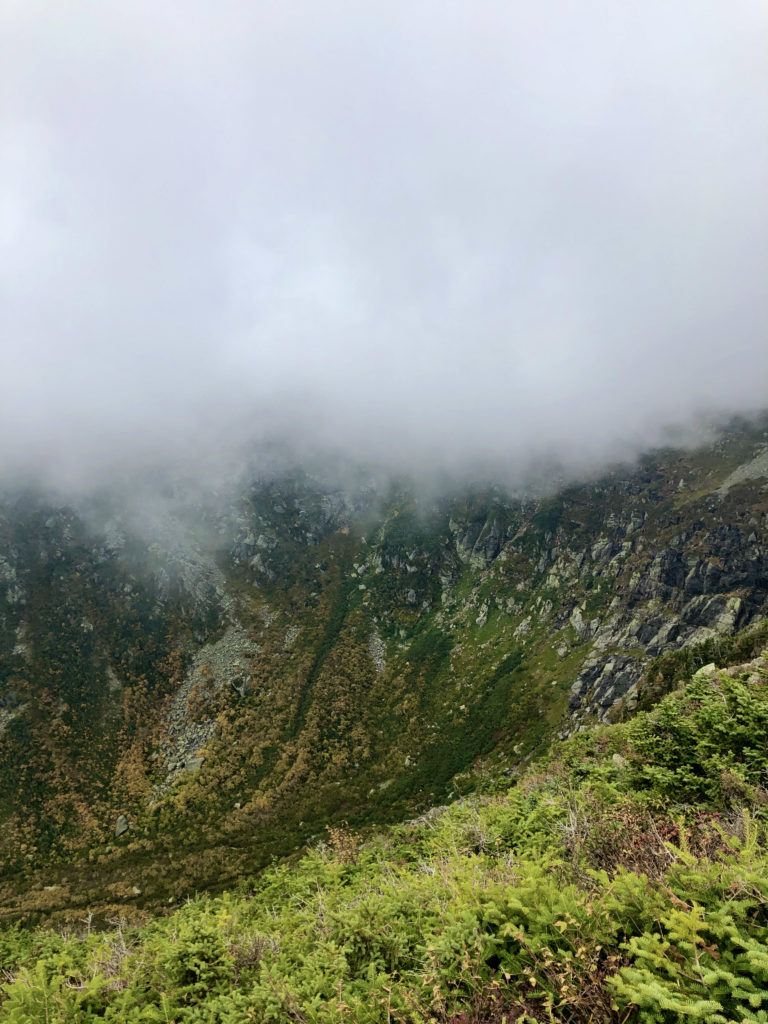 Not being able to see the iconic observation tower at the summit due to fog did keep me guessing about how many more steps I had to take. Without warning, I started to hear cars, and the trail suddenly merged with the Mt. Washington Auto Road for a few yards before you hit the lower parking area and the wooden stairs that lead to the state park, the cog railroad platform, and the summit area.
I overheard several hikers commenting on how strange it is to share the summiting experience with people who had driven to the top. Some were grumbling about it, like the motorized visitors didn't deserve the view. I was too busy looking for the coveted brown summit sign to think much about this debate. I found it, securely jammed into a pile of rocks, and asked a stranger to take my picture. I couldn't see anything but gray and white clouds, but I felt like I could see for miles.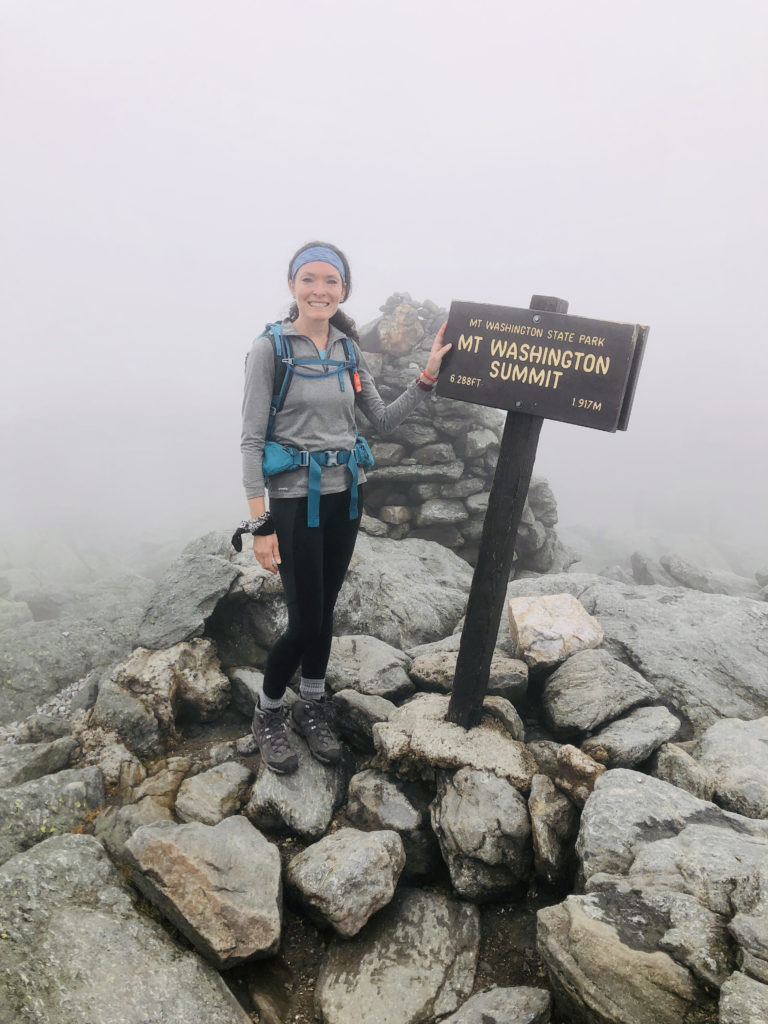 On my way back down to the parking area, a fellow observer—who had clearly driven up, based on what he was wearing—asked, "Did you climb up?"
"I did."
"How was it?"
"Hard," I replied. "But worth it."
He shook his head and said, "I wish I could do it."
He walked away to observe the fog from another vantage point, and I headed back to the trail. I was already getting cold, and it didn't help that my hair was soaking wet from the blanket of moisture in the air. I decided to descend via the Lion Head trail. I wasn't aware at the time, but according to the guide, it is a steeper, more challenging trail than Tuckerman Ravine. It's a mile and a half of scrambling and bouldering and lowering yourself down rock faces. That means on the way up, you're climbing rock faces. In fact, Outdoor Project says there are several faces slanting at angles close to 70 degrees, on which you need to have three points of contact with the rock and the strength to pull yourself up. Wowsers.
Sidenote, I'll be trying this route next summer, because it sounds thrilling.
I hiked down with a guy who had come up Lion Head, and I was grateful to follow his lead. The trail was significantly quieter than Tuckerman's, which was nice, and the views were stunning. It was a hard descent until we reconnected with Tuckerman Ravine Trail, and from there it was basically a Sunday stroll, all things considered.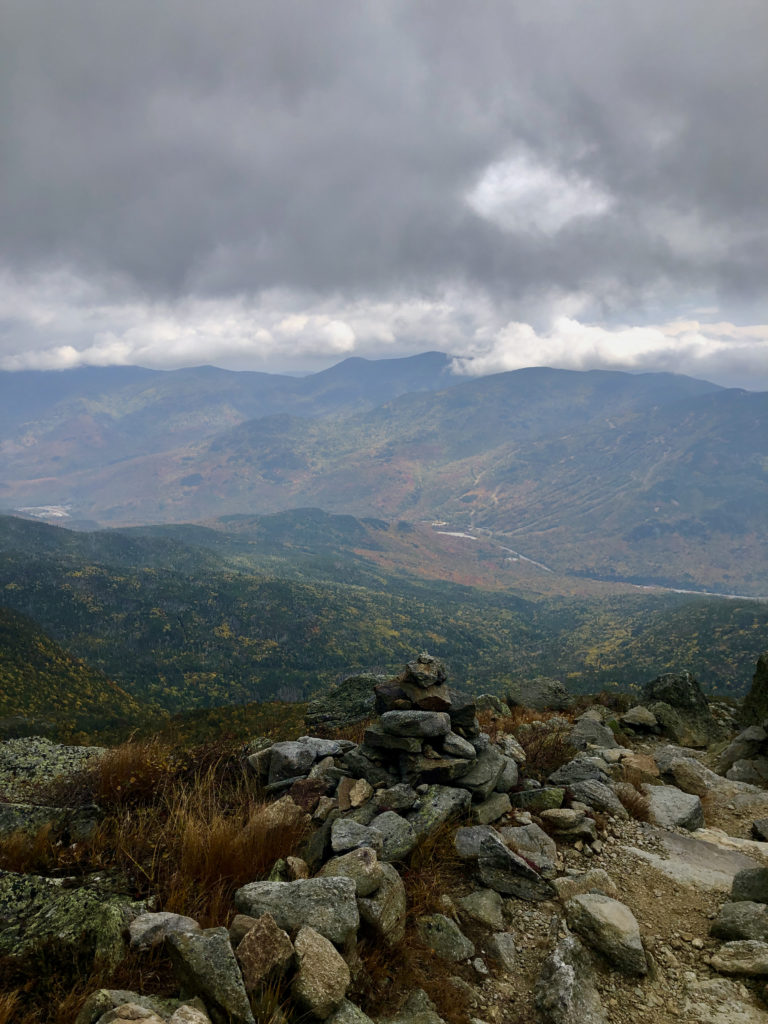 Back at the Pinkham Notch Visitor Center, I saw a car with a bumper sticker that said This Car Climbed Mt Washington. I checked the gift shop to see if they had an alternative This Booty Climbed Mt Washington sticker. They didn't, but it did get me thinking about the grumbling hikers again and the man who said he wished he could climb the mountain. I wondered why he couldn't. Maybe he doubted his ability. Maybe he had a very real physical limitation. Maybe he didn't have time. Maybe he couldn't afford the gear. Maybe he was terrified of heights. There were so many possible reasons. Did any of them make him less deserving of the view atop Mt. Washington? I don't think so. The view up there isn't anyone's 'right.' It belongs to the mountain. We are all just observers, no matter how we arrive at the summit.
So, to my fellow hikers who have gripes about sharing the view, my reply is: Be grateful. Grateful your body is able to carry you up this mountain, grateful for a magnificent view you had no part in creating and cannot control, grateful for an experience provided to you by the earth.
Summit lesson: Take nothing for granted, especially physical wellness. 
---
Mt. Washington: Tuckerman Ravine to Lion's Head Trail
| | |
| --- | --- |
| Total elevation: 6,288 ft | Elevation gain: 4,250 ft |
| Mileage: 8.5 miles | Alpine exposure: significant, unsheltered |
| Terrain: woods walk, extremely steep, rock steps, rock slopes, ledges | Challenges: scrambles, drop offs, bouldering, hiker congestion, loose rocks, poor visibility, wind, cold temps |
| View payoff: don't count on a view, fog is common | Dogs: allowed off leash until the state park summit, but I would not recommend it unless your dog is part mountain goat |
Recap: The first two miles are consistently strenuous but the terrain itself is not challenging. Mile three climbs the side of the ravine and is extremely steep without relief. Mile four is the boulder field that leads to the summit and is also unrelenting. Fog is common and the weather can change without warning. Bring layers, even if it's the middle of summer.