Mt. Hale 4054 ft | Zealand Mtn. 4260 ft
After a relatively easy—albeit foggy and damp—hike up Mt. Garfield, I spent the night at Sugarloaf Campground with my parents. They were planning a day hike to Franconia Falls the next day and had agreed to drop my car at the Lincoln Woods Visitor Center so I could thru hike across the Bonds.
The forecast called for rain the day I planned to hike Hale and Zealand, but not until afternoon. Again, I found myself in a position of no choice. I was finishing the NH 48 tomorrow, no matter what. I also reasoned that when I was in the 100 Mile Wilderness, I'd be hiking regardless of weather, since there was no way in the world I'd be holing up in a shelter all day until the rain passed. That would be a waste of time, and I'd be bored to tears.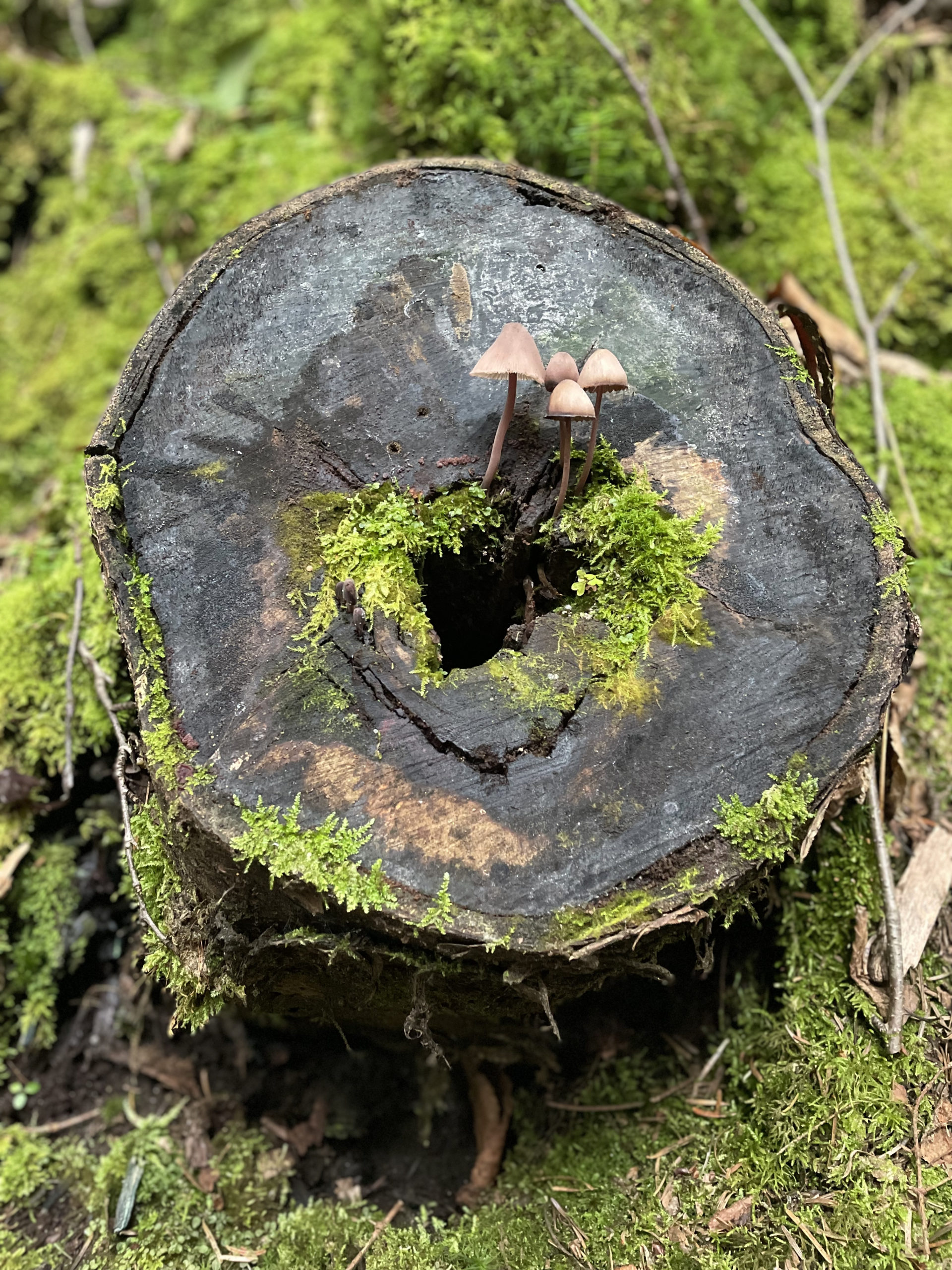 I was dropped off at the Hale Brook Trail on Zealand Road under cloudy skies. It was humid and warm and I was carrying an overnight pack, so the lack of sun wasn't a bad thing. Hale Brook Trail is a moderate climb with several easy water crossings and lots of interesting fungi along the way. Switchbacks aid the ascent, and the whole endeavor to the top is just over two miles. The summit of Mt. Hale is a large clearing with a big rock pile.
From the summit, Lend-a-Hand Trail descends easily toward the AMC Zealand Falls Hut. The footing is rough for most of the trip, but long sections of plank walkways help navigate the wetter areas. Even on a dreary day, this was a beautiful stretch of trail. There are lots of minor brooks and boggy areas and small cascades.
At the Zealand Falls Hut, I stopped for a bathroom break. The mist was moving steadily toward drizzle, and I knew rain wasn't far off. The temperature was warm, so I didn't bother with rain layers. I paused for a quick look at Zealand Falls on Whitewall Brook, which are beautiful, and then headed south on Twinway (also the AT).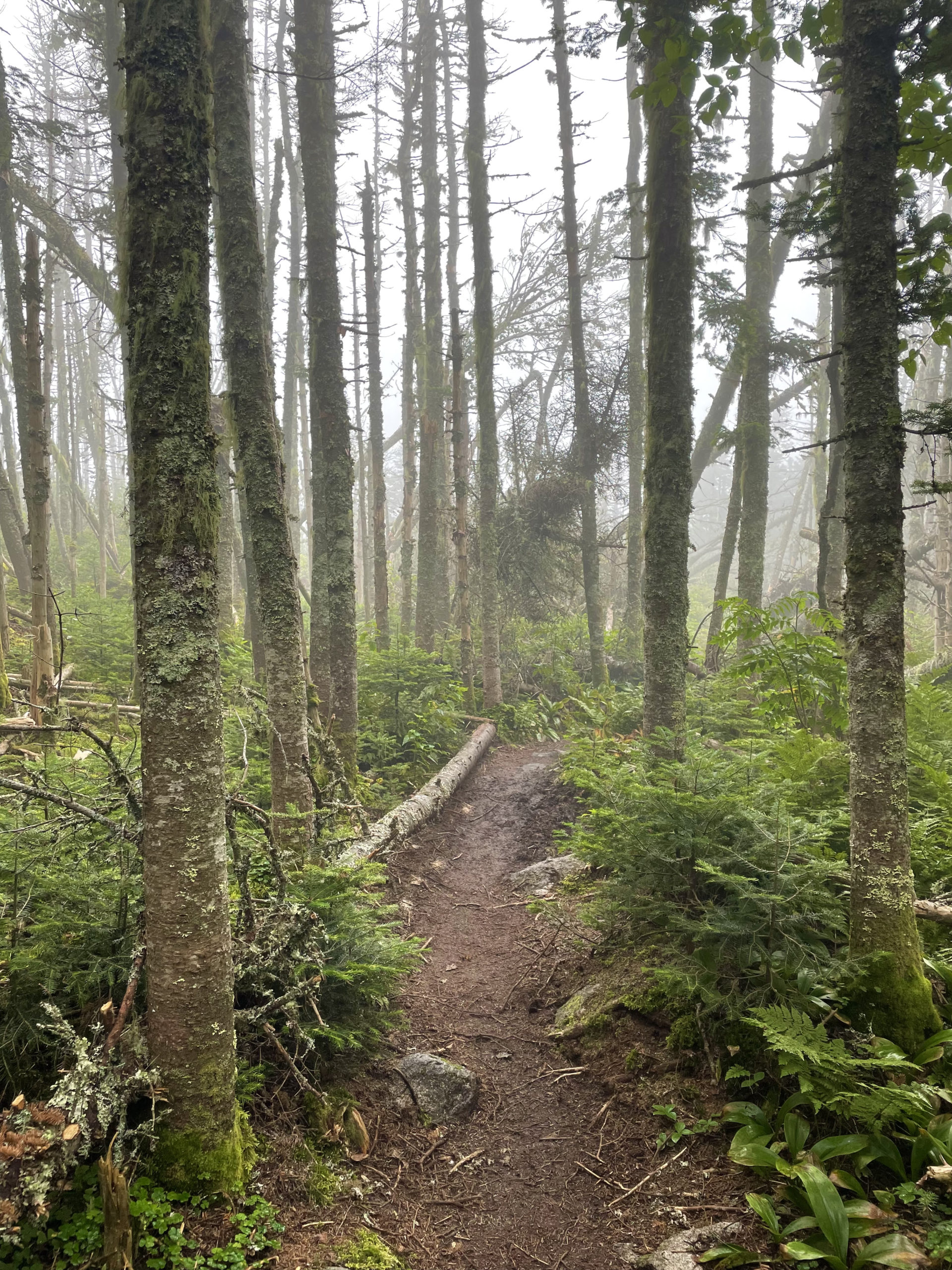 Twinway is considered an important ridge crest link along the north edge of the Pemigewasset Wilderness that connects the region's western mountains to the northern and eastern peaks. The trail has outstanding views and many outlook points. From the Zealand Falls Hut, Twinway climbs steadily up rocky footing for about a mile before making a sharp right turn. A loop side path leads to Zeacliff, from which the views are 'magnificent' according to the AMC guide. I can't confirm or deny this since my views were all foggy.
After Zeacliff, Twinway ascends a steep pitch via a wooden ladder and then levels out along the rough ridge of Zealand Mountain. A small cairn marks a side path that leads to the true summit, which is wooded and viewless. There is a very cool carved sign marking the peak, but otherwise it's pretty unremarkable.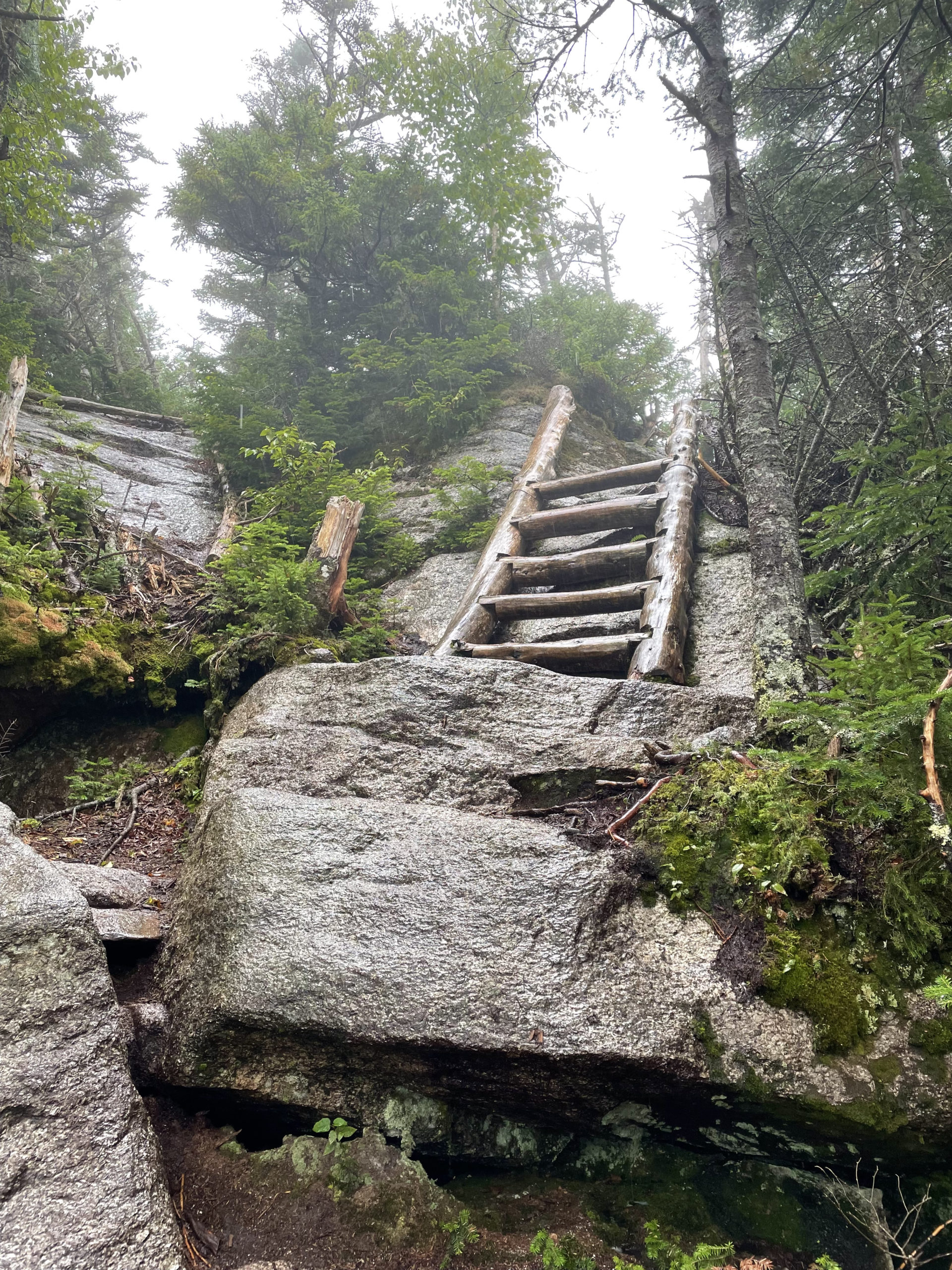 By this point in the hike, I was soaking wet. It wasn't pouring, but the drizzle had been steady and the humidity was high. The next stretch of trail would take me over the flat summit of Mt. Guyot. Flat, but entirely exposed and long. I was getting cold and I knew the summit would make me colder. I stopped to put on a raincoat and then realized if I did that, the inside of my jacket would be wet and unlikely to dry overnight, given how much moisture was in the air.
And this, friends, is why you put rain gear on before it rains.
I decided the only thing to do was haul ass across the summit. Once I got over it, the Guyot Campsite was about a half mile away, at which point I could change into dry clothes. Crossing Mt. Guyot was a bit like running into the abyss. All I could see was the narrow, rough trail in front of me, dense scrub on either side, and a wall of gray mist ahead. It was windy, wet, and—as predicted—very cold.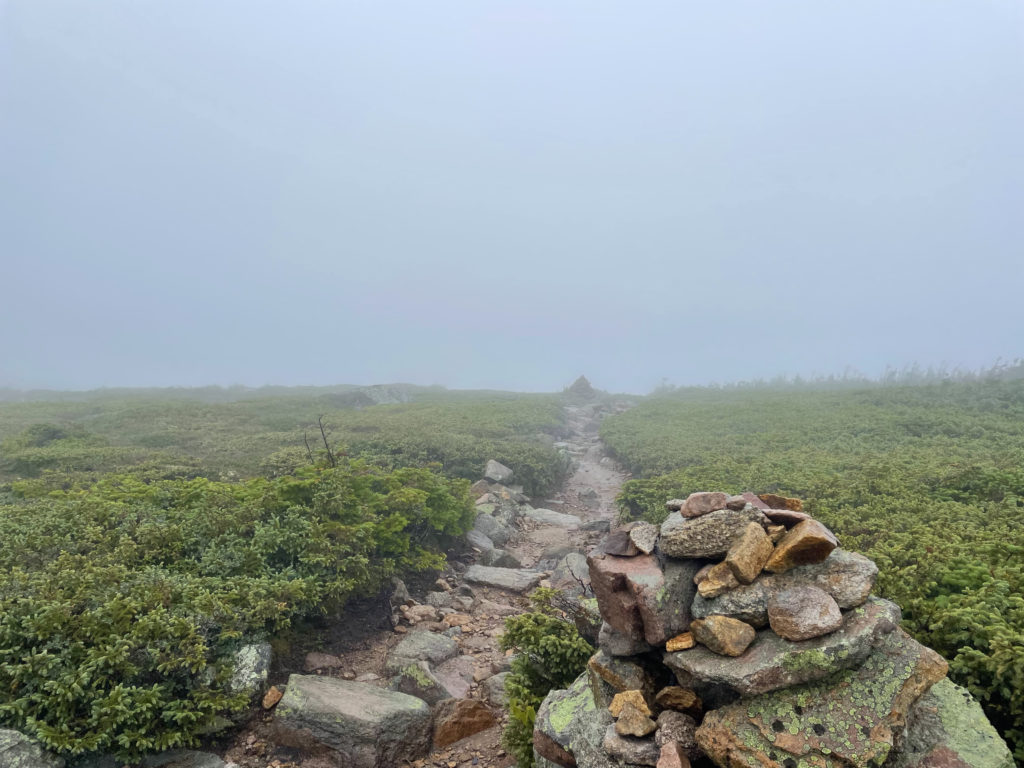 I hit the junction of Bondcliff Trail around 3pm and descended a little over a half mile to the spur leading to Guyot Campsite. Only one of the six tent platforms at the site was occupied. I had my tent with me but at that point the thought of setting up in the rain was incredibly unappealing. I headed for the shelter, which is a large, raised log cabin style building. With the sleeping loft, the shelter accommodates twelve people, although you could probably squish in a few more. It was renovated in 2019, so it's still very clean and new.
By the time I arrived, five other hikers were already camped out there. Three women from the Smoky Mountains, a man on the AT, and a woman completing a 'leisurely' Pemi loop. They were all in their sleeping bags, and the women on the Pemi had been there all day waiting for the weather to clear so she could see the view from the Bonds.
It took me a minute to process this. She'd been sitting in this shelter all day. I would be tearing my hair out. It was almost 4pm and I was already anxious about how I was going to pass the time before bed. More immediately pressing, though, was where I was going to change in the wide-open shelter.
"If you go around the corner of the porch you can change," the Pemi woman said helpfully.
On the porch, I stripped off my wet clothes and put on every article of dry clothing I had with me. Luckily, I had a book in my pack, so I got into my sleeping bag and read for an hour. At around 5pm, everyone moved to the cooking area to make dinner and the caretaker collected the nightly fee ($15).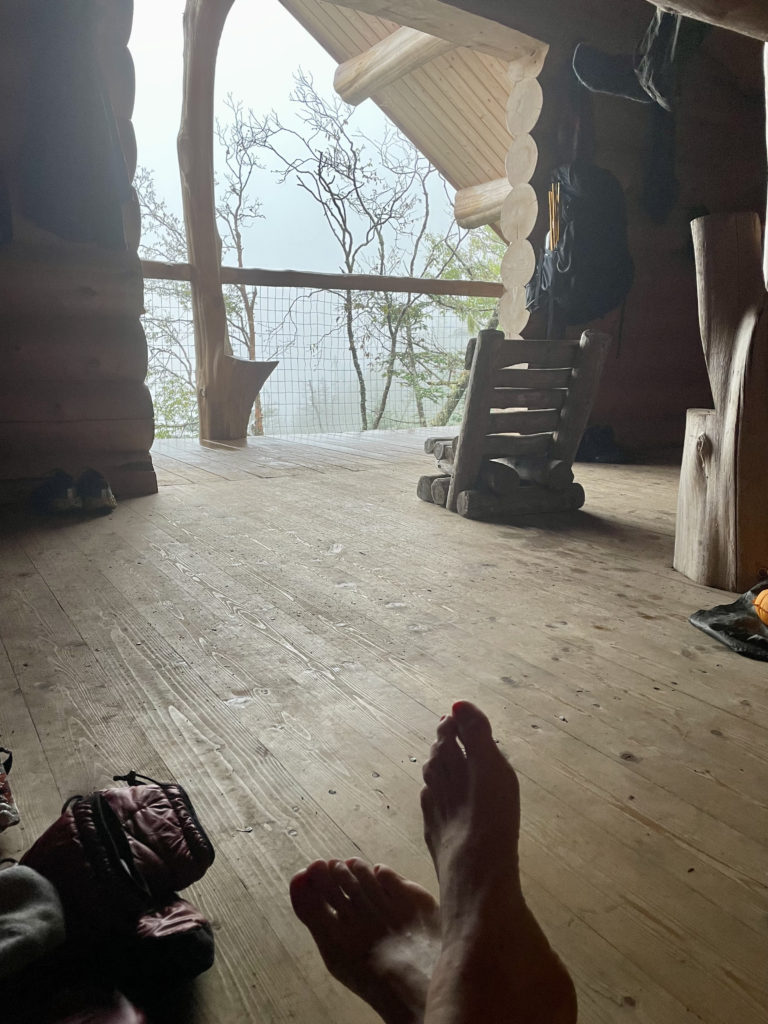 Feeling warmer and more social, I chatted with the three older women from Tennessee. They had been hiking together for years, all over the world. We talked about the 100 Mile Wilderness, which they had section hiked the year before. The year before that, they tried to hike it and gave up. They recommended Phil the Mountainman, a local legend and 100 Mile guru, for transportation and resupply… and extraction if necessary. Phil was already on my radar, and it was nice to hear a first-hand endorsement.
The couple in the one tent were hiking the AT southbound and said the 100 Miles were far more challenging than they'd anticipated. They explained that although the topography appeared relatively flat for most of the miles, the footing was extremely challenging. It had taken both groups close to ten days to complete the Wilderness.
Interestingly, I was unaffected by these reports. I'd done my research and studied my map. I knew it was going to be hard. There were no doubts in my mind, no illusions that it would be easier than I expected. I also knew it wasn't going to take me ten days. And I wasn't going to quit.
After dinner, everyone washed up, stowed our food in the bear boxes, and climbed into sleeping bags. By 6pm, people were asleep. I stayed up reading with a headlamp until about 8pm and then tried to sleep. It was my first time sleeping in a shelter with strangers. It wasn't bad, but I do prefer my cozy little tent.
Hiker term: Bear box
A locked metal container to store food inside. Many backcountry tentsites have these available for hikers. Bear boxes help block the scent of food and keep curious bears from finding snacks.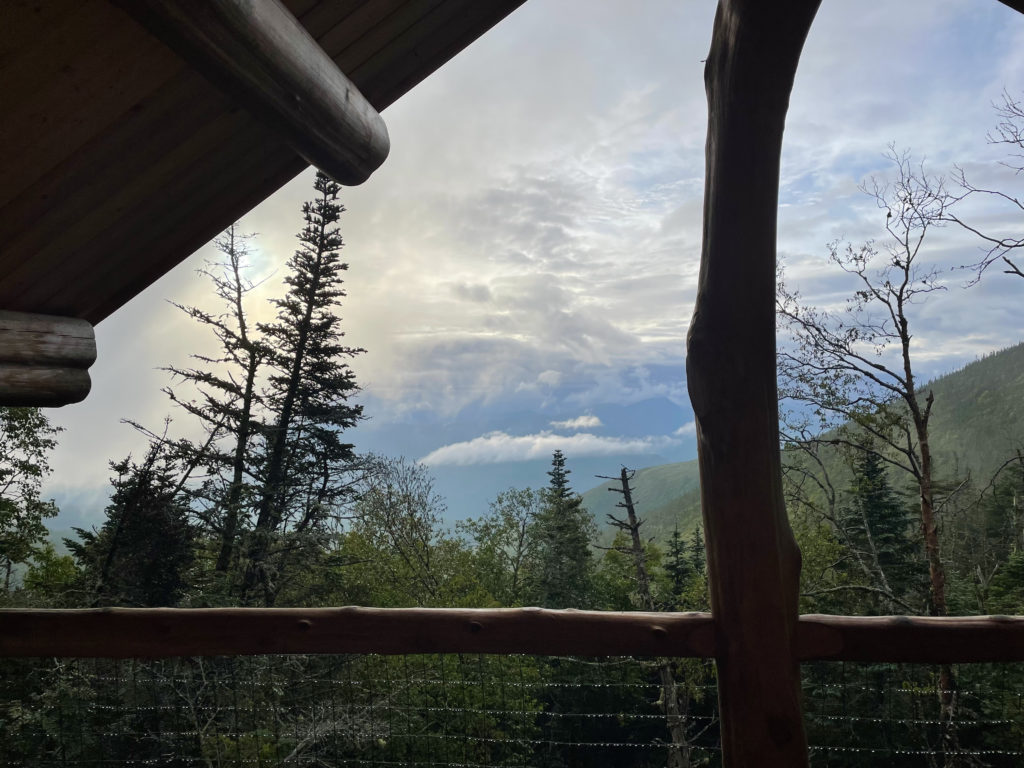 In the morning, everyone was up around 6 o'clock. The Pemi woman was still debating about the best time to hike the Bonds. She'd been trying to get a weather report through her Garmin In-Reach, but the cloudy skies were making reception a challenge. The clouds were breaking up, and I had twelve miles of hiking ahead of me. I was ready to hit the road, view or no view.
I packed up, wished everyone happy hiking, and went to tackle my final three NH 4000 footers.
Summit lesson: Prepare for challenges by gathering information, but remember that your experience will be uniquely yours and never an exact replica of another's.       
---
| | |
| --- | --- |
| Total elevation: 4054 ft & 4260 ft | Elevation gain: 3895 ft |
| Mileage: 7.7 miles one way, 8.8 miles to Guyot Camp | Alpine exposure: some |
| Terrain: woods walk, rough footing, ledges | Challenges: water crossings, ladder, exposure |
| View payoff: none at summits, views along the way | Dogs: yes (if they can manage the ladder) |
Recap: The hike to Mt. Hale is relatively easy for a 4000 foot peak. It would be a great summit to start the NH 48. Continuing on to Zealand Mtn. adds some challenge with steep sections and several water crossings. The scenery is beautiful and there is a nice break point at the Zealand Falls Hut. Twinway, also the Appalachian Trail, is a significant trail in the Pemigewasset Wilderness and has some incredible views, most notably Zeacliff. Both Hale and Zealand are viewless summits, so make sure to stop at the other outlooks along the way. If you've made it to Zealand, consider continuing to Mt. Guyot for views and an alpine experience. The Guyot Campsite is a lovely place to spend the night, just remember it is a very popular spot and often overfills, especially on summer weekends.