North Kinsman 4293 ft & South Kinsman 4358 ft
---
The Kinsmans are two of the western-most 4000 footers in the White Mountains, so from Portland this is one of the longer drives to the Whites. The trip requires a full traverse of the Kancamagus Highway, from Conway to Lincoln. I knew I'd be making this trip a lot over the summer, having left the Franconia Notch peaks for the second half of my 48. My plan was to wait for warmer weather and camp at least one night a week, tackling the western summits in two-to-three day hiking sessions.
So, yes, I intended to spend my summer driving back and forth from New Hampshire and hiking in between.
Luna joined me on this sunny morning in early June. We stopped at Hancock Campground on the western end of the Kanc and grabbed a tent site a few steps from the Pemigewasset River. Hancock has about twenty walk-in tent sites (sites you can't back your car into) for campers packing light… or those willing to shlep gear from the nearby parking lot down to the riverbank.
Hiker camping tip:
In a first-come, first-served camping situation, sites are not considered occupied unless you have a tent up. In other words, don't just leave a camp chair and take off for the day, even if you've put your payment envelope in the box.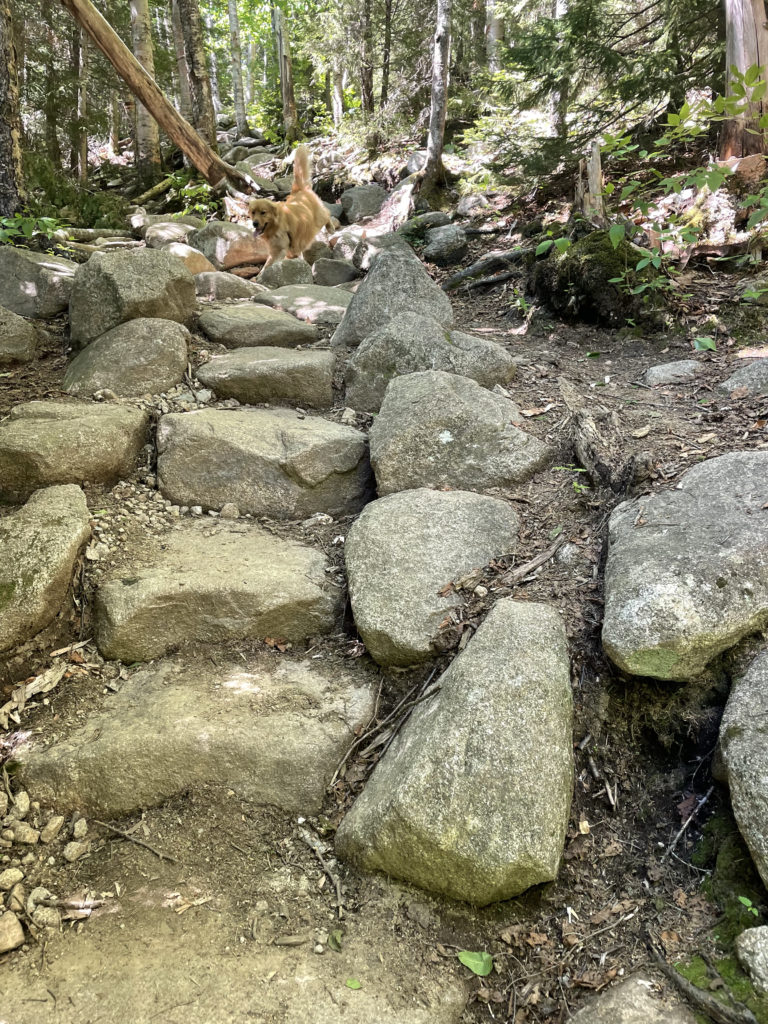 After setting up a tent to hold our site for later that night, we drove up I-93 to the Lafayette Campground, which is the starting point for a whole series of trails around Lonesome Lake and the AMC hut there. The Lonesome Lake Trail follows an old bridle path most of the way to the lake and utilizes a long switchback, making for a relatively easy first mile and a half. The hut offers a place to rest, eat, use a bathroom, and refill water before continuing on.
From the lake, we took Fishin' Jimmy Trail, a link of the Appalachian Trail, to pick up Kinsman Ridge Trail (also part of the AT). According to the AMC White Mountain Guide, this trail got its uncommon name from a well-known local character called Fishin' Jimmy (real name, James Whitcher) who lived in the Franconia area. Fishin' Jimmy Trail is steep and rough in spots, with wooden steps and carved stone to help manage the steeper ledges. There are several minor descents along the way and an intense section of climbing before a gradual stretch of trail leading to the Kinsman Pond Campsite.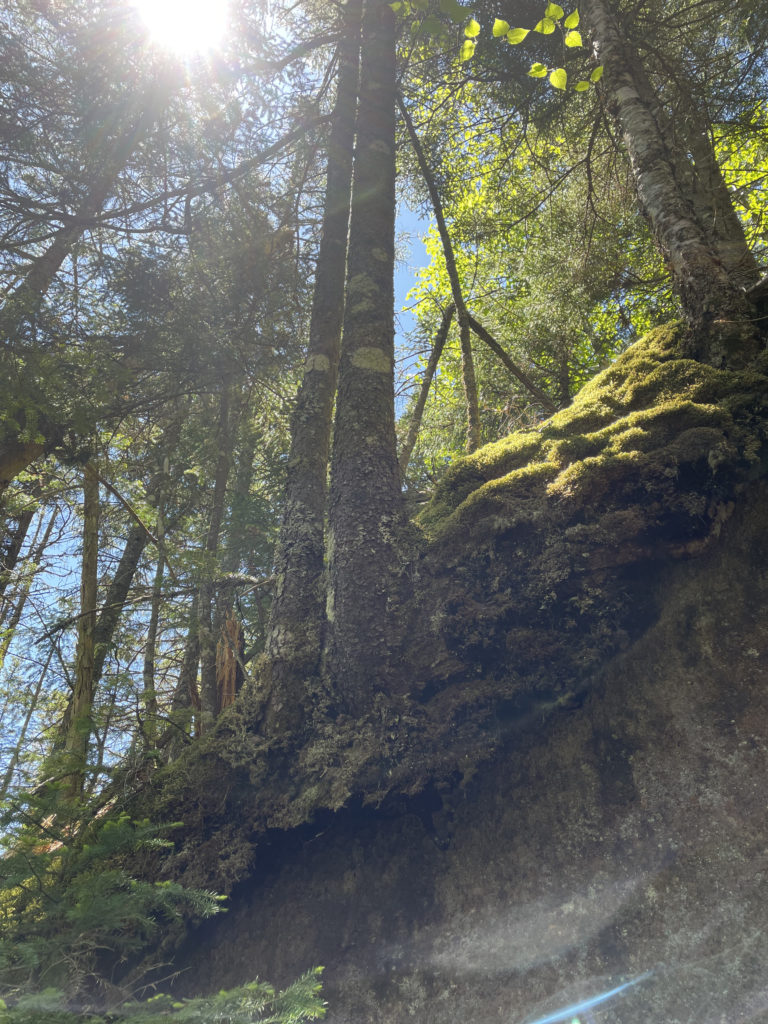 We took the short spur through the campsite, occupied mostly by AT hikers, and Luna went for a swim in Kinsman Pond. From the pond, Kinsman Ridge Trail climbs steeply over ledges and rock scrambles to the summit of North Kinsman, which isn't marked. There is an outlook just before the true summit with a fantastic view of the pond below, and a side path a bit further along the trail provides a view of Franconia Ridge. The one mile col between North and South Kinsman is rocky, scrubby, and steep in parts with some rock scrambling, but the summit is worth the effort.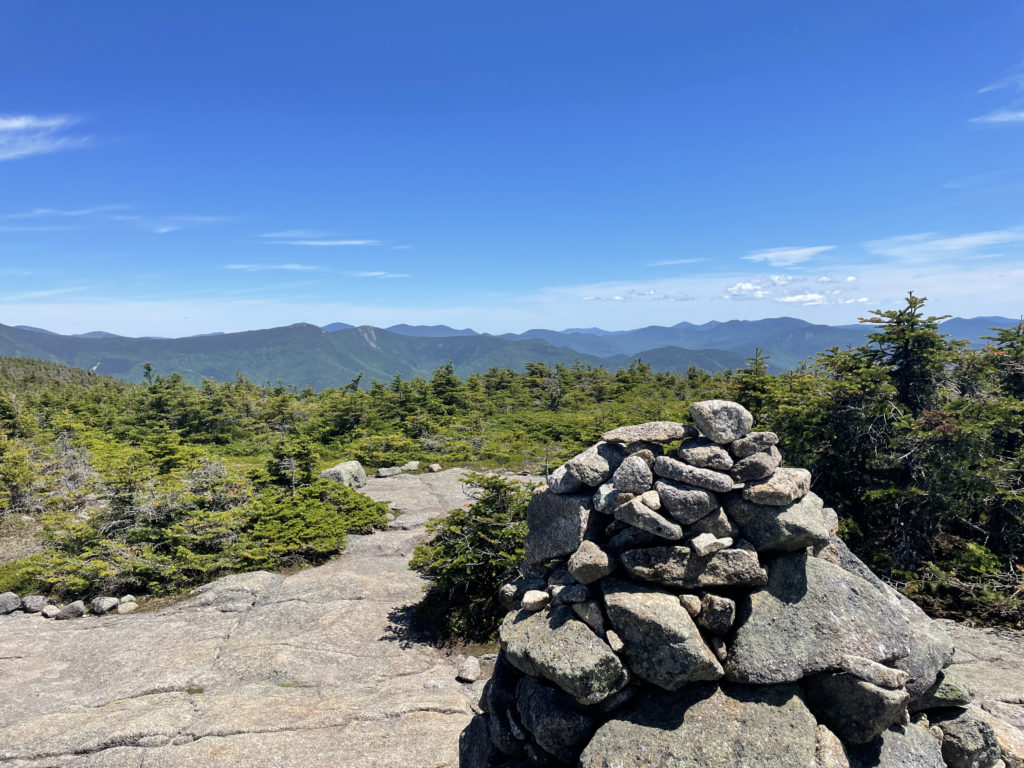 The top of South Kinsman is wide open with expansive views in every direction. Perfect for a bluebird day, but in poor weather, this peak would be a doozy. It takes the elements from all sides, and there isn't much shelter. The rocks at the summit are either small or flat ledge, so they don't offer a wind block like some of the higher alpine peaks. Luckily, Luna and I were looking for shade, not shelter. Luna found a little patch under some low pines and settled in for a rest while I ate lunch.
While we were at the summit, two hikers we'd passed earlier caught up to us and Luna went to say hello. One of them asked, "How did you train her to stay with you on the trail?" He had a puppy at home and he was hoping to hike with his dog soon.
I wasn't sure how to answer, other than to laugh and say, "She just doesn't want to be away from me."
I'm no dog trainer, but I shared what I could based on my experiences hiking with Luna. The most important command when hiking has to be recall. As I found out on Mt. Moriah, not everyone wants to be greeted by a dog on the trail. Your pup has to be able to leave other people alone and get off the trail to let hikers pass. Recall is also really important for safety, in the case of dangerous terrain or encountering an animal, whether it's a distracting squirrel or a pissed-off moose.
I also suggested high-value treats for hikes. Not your standard, dry, bite-size liver crackers. Something along the lines of cheese, chicken, or jerky, and make sure your dog knows you have it. Luna isn't a big eater on the trail, even when I bring her dog food, so having special treats is a good way to keep her energy up. I'm sure a dog trainer somewhere is reading this and rolling his or her eyes… but dogs need snacks too!
After Luna and I both had our treats and plenty of water, the descent was relatively uneventful. I did have to lower Luna down in two ledgy spots—luckily our new puppy friends were right behind us to help with the heavy lifting—and her paws were pretty sore by the end. I didn't realize how much ledge there would be on this trail, and it definitely did a number on Luna's paw pads. She was ready for a car snooze on the way back to Hancock Campground.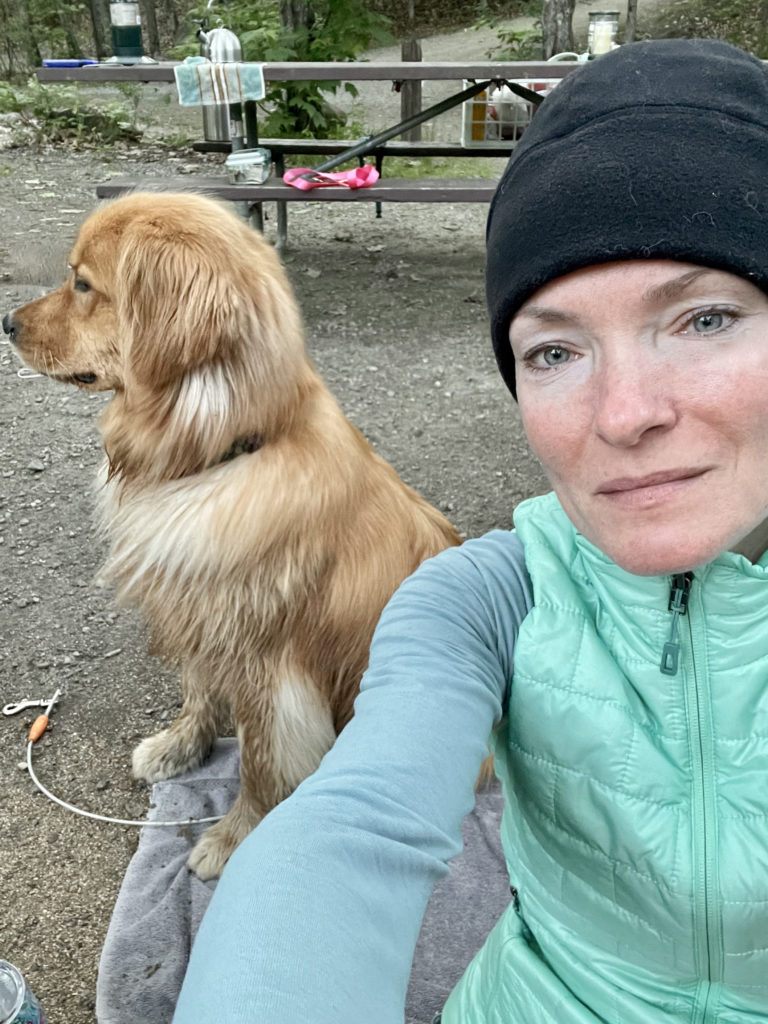 Summit lesson: My dog is a people-pleaser (she is, after all, a Golden Retriever). She will walk forever if she thinks that's what I want, so it's up to me to pay attention to her physical needs... including sore paws, dehydration, and hunger!
Having an exhausted pup worked out well; this was Luna's first camping trip! Being such a people-dog, she had to meet everyone camping in the tent sites nearby. Once she'd made sure they were all friends, she was content to rest under the picnic table (safe space) until it was time to get into the tent. Having a site so close to the river worked out well too; it meant Luna couldn't hear every twig snap or rustle in the night. My Big Agnes UL2 was the perfect size for Luna and me; she started the evening next to me and eventually made her way to the foot of the tent.
The next morning we were up early, ready to take on the smallest of 4000 footers, little Mt. Tecumseh!
---
| | |
| --- | --- |
| Total elevation: 4,293 ft & 4,358 ft | Elevation gain: 3,248 ft |
| Mileage: 9.4 miles | Alpine exposure: yes, on south peak |
| Terrain: steep sections, wooded trail, ledge, scrambles | Challenges: slippery ledges when wet |
| View payoff: beautiful in all directions | Dogs: yes, be careful of paw pad wear |
Recap: The Kinsmans turned out to be one of my favorite hikes in the Whites. Trekking this trail on a beautiful, sunny day certainly didn't hurt, and I think the experience would be far less enjoyable if there was any moisture on the ground. A large portion of the trail is ledge — i.e. very slippery when wet. The AMC Lonesome Lake Hut and the campsite at Kinsman Pond offer places to stop for a rest, water, and a swim on a hot day. If you bring a pup, make sure to keep an eye on his or her paws. Luna's were pink and sore from all the exposed rock, although that didn't stop her from chugging up Mt. Tecumseh the next day!