Mt. Tecemseh 4003 ft
---
I wasn't expecting much from the shortest of New England's 4000 footers, but Mt. Tecumseh turned out to be a lovely surprise. I'm tempted to tag it in Small Adventures as well as 4000 Foot Hikes because I found it to be an easy, pleasant hike and well-suited for anyone new to hiking in the White Mountains.
Easy, however, is a relative term. More on that shortly.
Luna and I headed to Mt. Tecumseh (pronounced ti-kuhm–suh) the day after hiking the Kinsmans and camping on the western end of the Kancamagus Highway. From Hancock Campground, it was a quick trip down I-93 to Tripoli Road. This seasonal road is closed in the winter (gated and unplowed), so put this peak on your warm weather list unless you want to add a few miles each way to get to the trailhead. Or, plan to access the trail from the other direction, starting your hike at Waterville Valley Ski Area.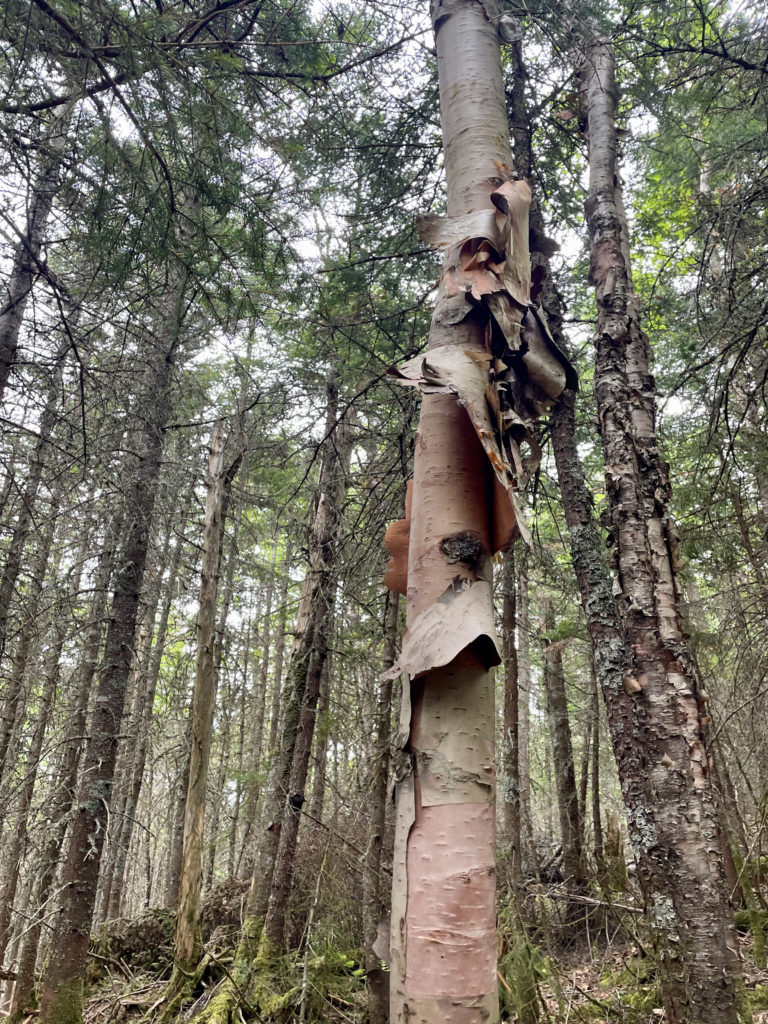 Mt. Tecumseh via Mt. Tecumseh Trail is one of only a few trails designated as 'moderate' on the list of 4000 footers. At just over 3 miles to the summit, the majority of the distance is relatively easy footing at a gradual—albeit unrelenting—incline. There are roots and rocks to navigate but no big scrambles. The crossing of Eastman Brook comes up shortly after leaving the parking lot, and the AMC guide says it can be difficult in high water. There are several other minor water crossings, but nothing that requires shoe removal.
The forest is remarkably dense for most of this hike, with incredible amounts of moss and very few large rocks to navigate. Mt. Tecumseh Trail follows an old logging road up the north slope of the mountain until it reaches the first knob on the ridge leading to the summit. At this westernmost knob, a side path offers a restricted view of Mt. Moosilauke from a blowdown area. From there, the trail passes over two more knobs and the lower saddles in between. The last rise is often confused as a false summit, particularly because there is a significant descent after it. The trail ascends again at approximately 2 miles, very steeply over rocks, to reach the real summit.
Hiker term: Saddle
Literally the shape of a saddle, it is the area that is high and broad at each end and narrower and lower in the middle and typically connects two peaks. Check out this wiki entry for a helpful image.
The final push to the top is no joke, but it only lasts about a ¼ mile. From the peak, there is a lovely 180 degree view north and slightly east. After climbing back down the steep top, the lack of big rocks makes the descent very easy.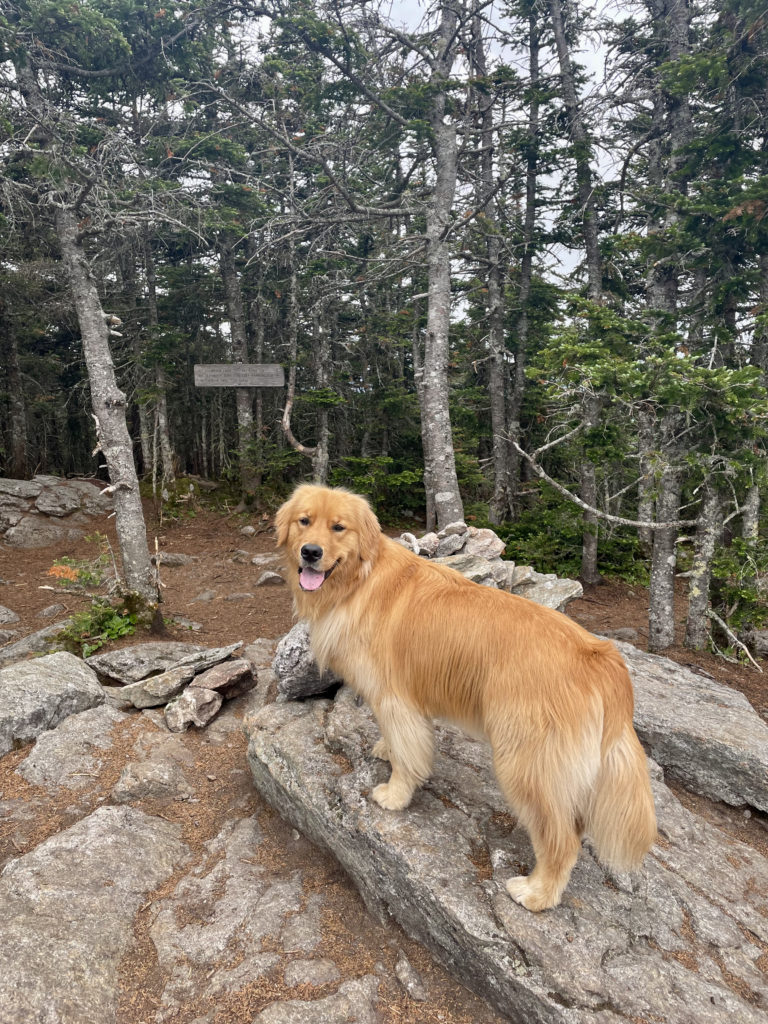 Now, about the word 'easy'…
Several AllTrails reviewers felt this trail was harder than they expected. Others said it was a breeze, the easiest of all the 4000 footers. In some cases, those who found it difficult seemed angry at other reviewers who called it easy, as if the 'easy' reviews were misrepresentations that had led to a bad experience for the 'hard' reviewers. Most who found it challenging cited the consistent incline and the hard climb at the top as the source of difficulty.
My hiking buddy Ben would say to this, 'Read maps, not reviews.'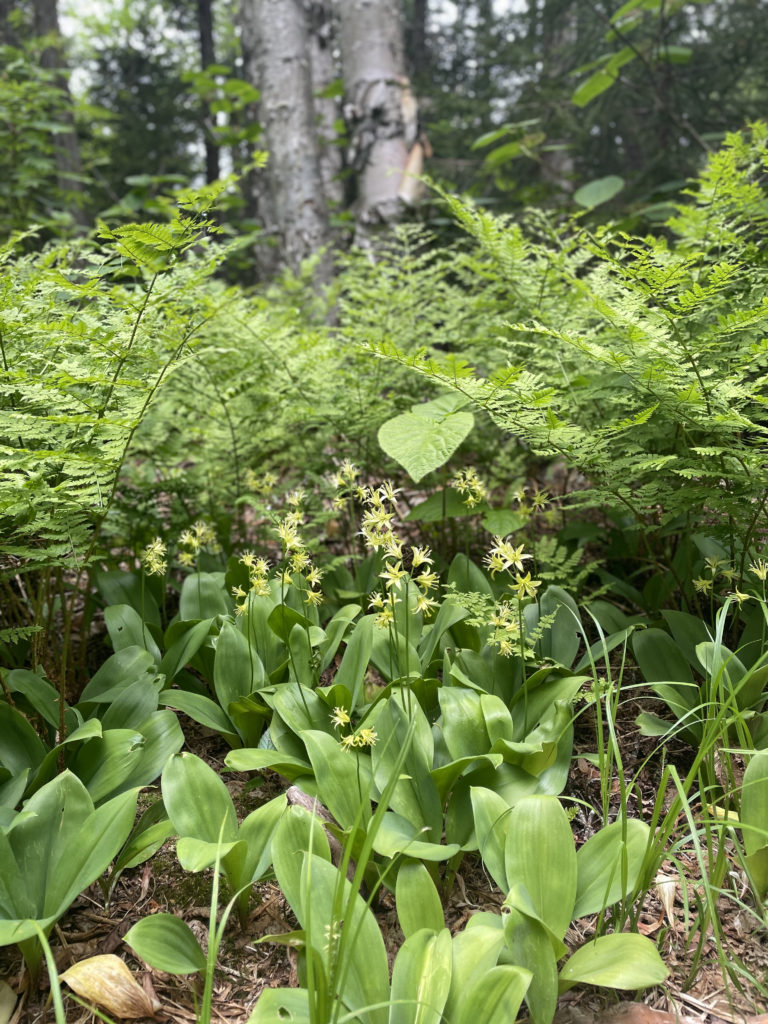 I would say, read both. Of course, reading maps is only helpful if you understand topography (those curvy lines on the map around the peaks). Once you're able to read the topo, you can determine how steeply the trail climbs based on distance and elevation and decide for yourself how hard it's likely to be. As for reading reviews, I'm a big fan of the Appalachian Mountain Club's trail guides. They're incredibly detailed, unbiased, and potentially life saving (like when they tell you NOT to descend a slide if it's wet). Unlike Ben, I also value online reviews because they're usually current. That's where you find out how high the water crossing is, if there's snow or ice on the trail, or (true story) if there's an angry hornet's nest in a stump you're going to pass.
From the wide variety of opinions on AllTrails about Mt. Tecumseh, I can surmise two things: For experienced hikers, this trail is easy. For new hikers, this trail is hard.
It's that simple.
Neither opinion is right or wrong, and all the crowdsourced reviews on AllTrails are accurate according to that hiker.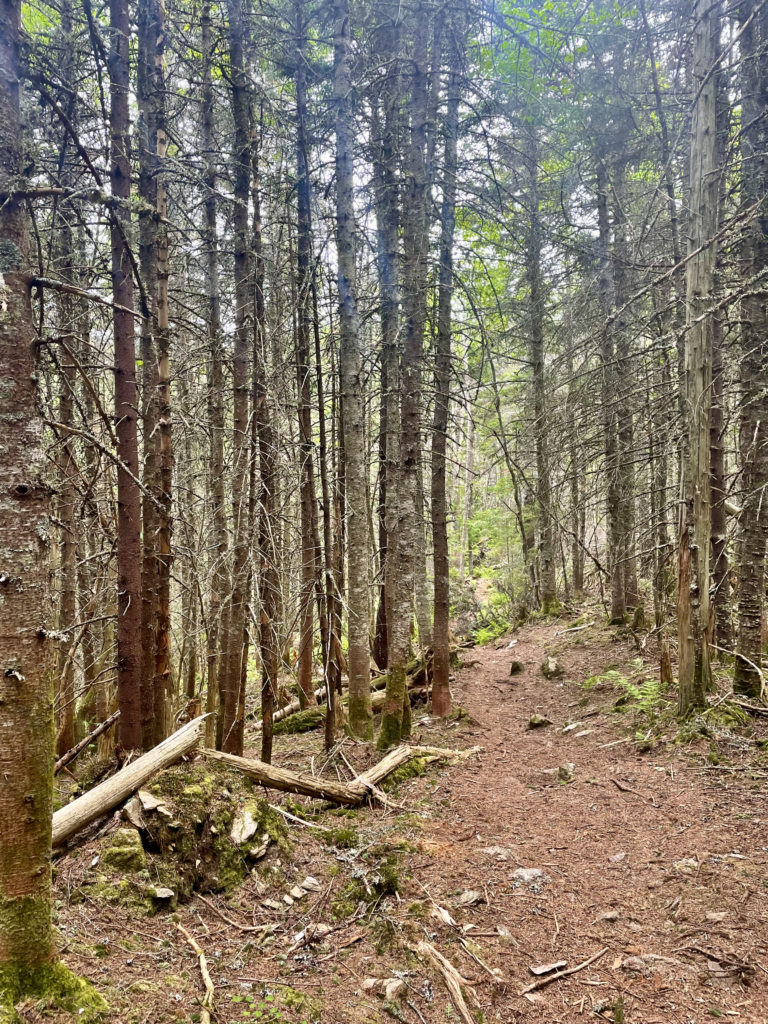 For new hikers reading (and feeling frustrated by) reviews calling this trail easy, it's important to keep in mind that this is a 4000 foot mountain, and the only way to get to the top is up. Personally, I think this is a great peak for anyone who wants to try a 4000 footer. The terrain is varied and challenging in some spots, the constant ascent is indicative of many other trails in the Whites, and the steep push at the end is a tiny taste of what awaits you on the really big mountains. If you get to the top and feel exhilarated, try something higher. If that last push felt like torture but you still want to hike, try a mountain with a lower elevation until your endurance improves. If the whole journey was a miserable experience, maybe hiking isn't your thing.
The moral of this story is to take any review with a healthy grain of salt. You should never pin your hopes (or worse, your plans) on public reviews alone. Maps are neutral and so are professional resources. Do your homework before you go and look at online reviews (including this blog!) as pieces of your hiking preparation checklist. And as always, never start a hike without a map, compass, layers, water, and snacks.
Summit lesson: Every hiker's experience on a given trail is different. Personal physical differences and things like weather, trail conditions, and gear all affect how we feel about a hike. Keep this in mind when looking at (or offering) trail reviews. 
---
| | |
| --- | --- |
| Total elevation: 4,003 ft | Elevation gain: 2,385 ft |
| Mileage: 6.2 miles | Alpine exposure: no |
| Terrain: wooded trail, roots, rocks | Challenges: water crossing, steep section |
| View payoff: 180 degrees, surprisingly good | Dogs: yes, great dig hike! |
Recap: Even though it is the shortest of the New England 4000 footers, Mt. Tecumseh offers a nice variety of terrain and a surprisingly stellar view. The ground is rocky and rooty but good footing can be found, and the surrounding forest is dense, mossy, and fairytale-like. The trail ascends steadily, steeply in a few sections but mostly at a moderate pace, until the summit. The final climb is very steep and rocky, but also quite short (about a ¼ mile). Because there are no big ledges or scrambles, you're able to move quickly on the descent without fear of slipping on (or off) the rocks. At a relatively short 6 miles, this out-and-back trip can be completed in a morning or afternoon, potentially after or before another, bigger hike.