Mt. Passaconaway 4043 ft
---
Old Speck was a great success for Luna, so I decided to bring her along to Mt Passaconaway. We left early, just after 6am, and we were parked at the Ferncroft parking lot by 7:45. This is a space designated for hikers and adventurers accessing the many trails that take off from this point. There is also a porta-potty and a map of the area.
To reach the trailhead of Dicey's Mill Trail, we had to walk along Ferncroft Road. It's a flat, gravel road that only serves the handful of houses on this fringe of the Sandwich Range Wilderness. There's an old house in a clearing and a lovely, weathered barn on the right just before the road becomes a logging road and enters the woods. The Wonalancet River runs along on the left side of the trail until the route swings right and becomes significantly steeper.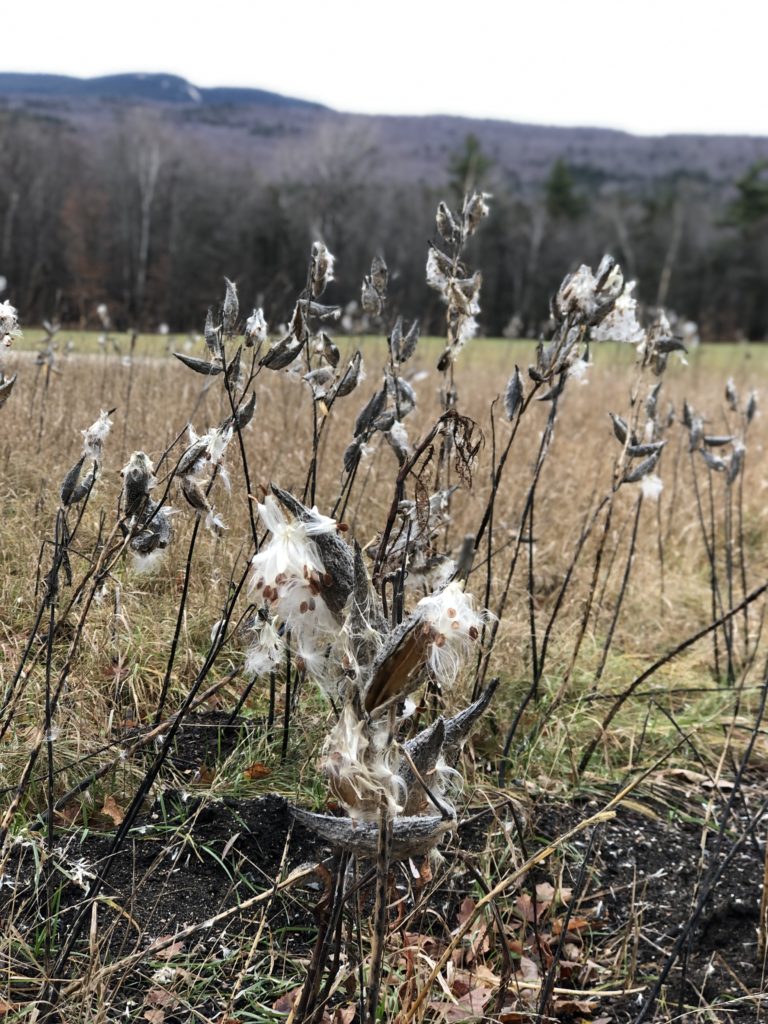 Luna loved every minute, especially all the mud on the ground. I had to give her butt a few boosts in the steeper sections, mostly because there was some ice that made it tricky for her to find traction. We crossed a branch of the river after about two miles, and it was easily traversable by rock or downed log. A long section of ascent followed as Dicey's Mill Trail hugged the edge of a ridge, but the grade was moderate. I took advantage of the sure-footed path and scoped out some truly fantastic trees. This was my first time discovering an elephant tree. Two of them, actually, right next to each other. I've found others since, but these two were by far the best. I also found a golden birch, which solidified my birch obsession. I could fill an Instagram account with nothing but birch trees, and no two would look the same. I love the reveal of the peeling bark; secret colors hiding themselves from the world until their protective layers are stripped away. There's a metaphor here, no?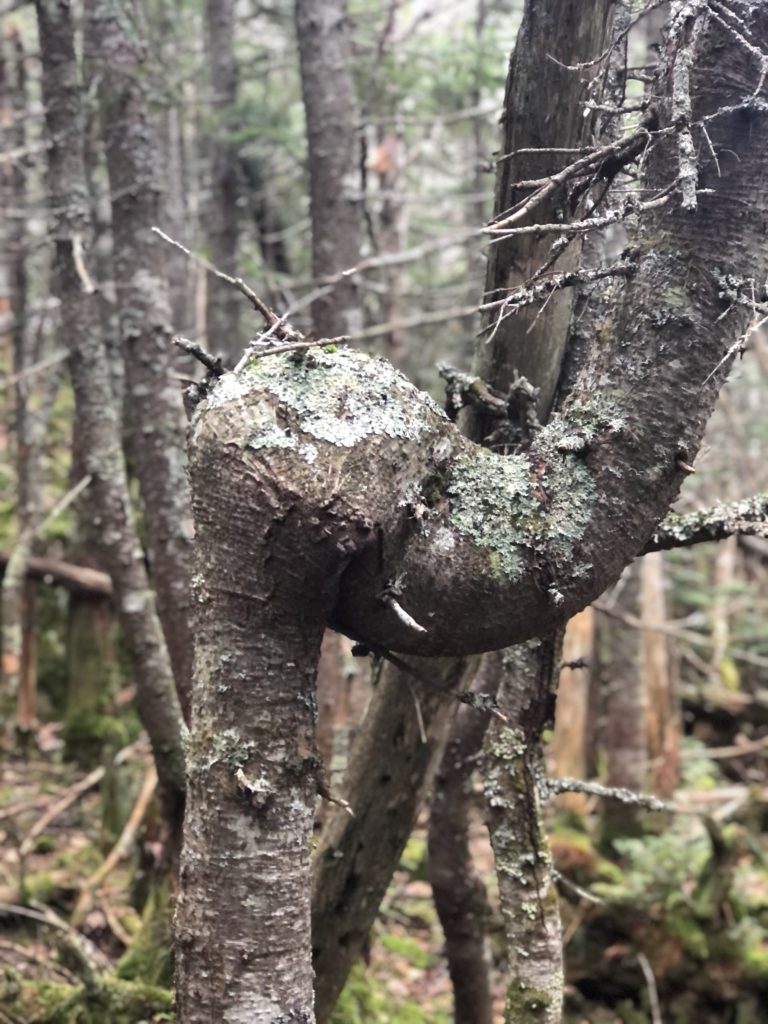 After the elephants and the steady climb, there's a rougher, wetter section of trail that leads over a small brook. The last half-mile or so is moderate, thanks to wide switchbacks, followed by a short, steep section that leads to the summit. The *actual* summit of Mt. Passaconaway is wooded and unremarkable, but there are spurs that give views to the north, northwest, and east. It took Luna and me 2 hours, 45 minutes to reach the top. We enjoyed a quick photo-op and headed back. The day was overcast and chilly, so it wasn't a good time to linger. The trek down was uneventful, and I spent most of the time looking at trees and leaves and other forest treasures. We reached the car at 12:30, making it a 4 hour, 45 minute round trip.
Hiker term: Switchbacks
These are zig-zag routes across and up a steep hill. They help reduce the elevation grade by creating a longer, less-steep route.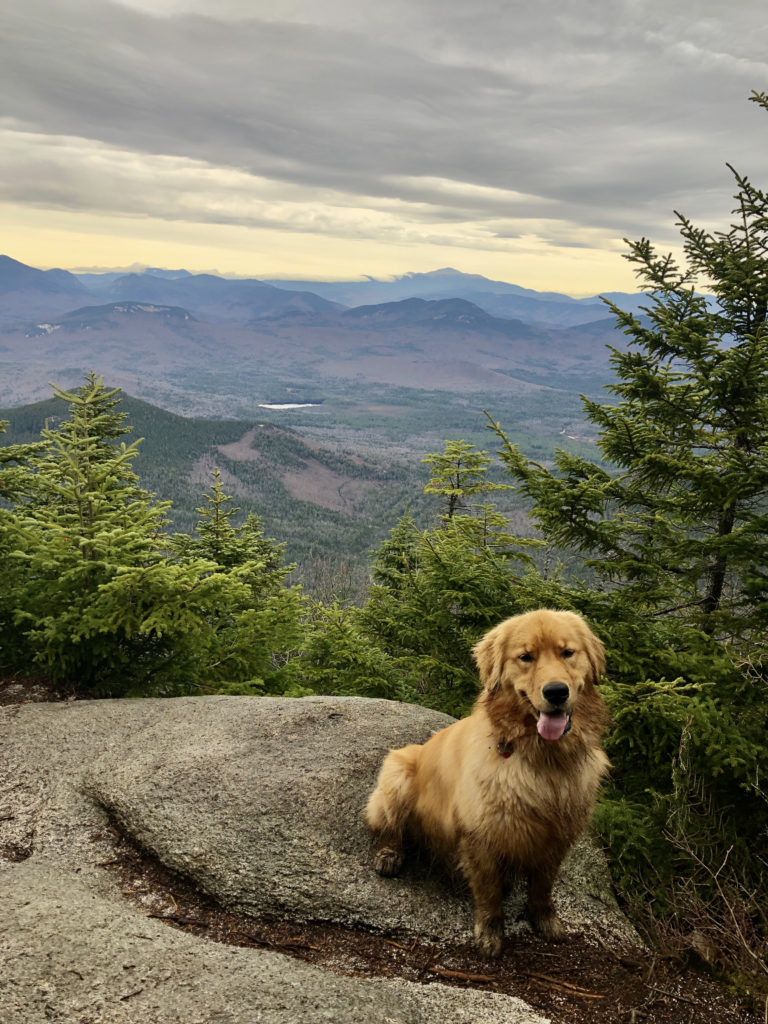 This hike, I determined, was fine. It was pleasant, there were several nice views (albeit not a singular, 360-degree, blow-your-mind summit view), and it was a great adventure for Luna, which always makes me happy. I recommended it to my parents—who are in their late sixties, hike often, and are in excellent physical shape but sometimes struggle with balance on steep grades—and I think I'd give it a green light for kids, too. If I were giving my two cents to a more experienced hiker or one tackling New Hampshire's 4000 footers, I'd say group Mt. Passaconaway with Mt. Whiteface. It can be done in a loop, starting and ending at Ferncroft.
As I thought about how I might have done this trip differently, I realized my hiking goals were starting to take shape in a more concrete way. I didn't just want to hike the NH48. I wanted to hike all sixty-seven 4000 footers in the Northeast: 48 in New Hampshire, 14 in Maine, 5 in Vermont.
Why? Well, as a Mainer, it feels wrong not to include my home state. And if I'm including Maine, why not go for the trifecta? I love northern Vermont, especially the mountain streams and farms. My parents lived in the Northeast Kingdom for almost ten years, but I haven't been back since they moved (except for one 40th birthday party during which the majority of my time was devoted to floating in a pool on a blow up unicorn… certainly a different kind of outdoor adventure).
Also… why the heck not?
It's been awhile since I've set a goal for myself that was all about, well, me. Usually my goals have to do with generating income for my family, or being a better parent, or keeping the house more organized, or meeting the dog's needs. See the theme here? I bet all the moms out there do. So often we set goals for ourselves that are really about other people. Sure, I benefit from more money, a well-behaved child, less clutter in the kitchen, and a happy dog. But who benefits if I complete the 67 New England peaks in, say, a year?
Me, and me alone.
Okay, there are fringe benefits. I'll probably be a happier person (bene to all those around me), and I'll be creating an archive of information for others who want to hike these mountains (hello, blog readers). On the days I hike, though, someone has to step in to do all the mom things. And there are so… many… things. These things have kept me from setting personal goals for years, for a myriad of reasons ranging from I don't deserve the time to myself to my child won't eat a single vegetable while I'm gone.
I'm here to tell you, I do deserve the time (so do you) and children can exist on cereal for three meals a day. Adult partners can too, FYI. For me, this realization boiled down to a classic parenting hack: Pick you battles.
Battle option one: Suffer unrelenting mental stress, emotional fatigue, and general discomfort.
Battle option two: Accept the brief discomfort of others while putting yourself first once a week.
No-brainer. Option one is a war you'll never win. Option two is the first victory in a strategic series of battles that will make you a happier, healthier person. That's how you win the war.
67 peaks. 365 days.
Summit lesson: You are stronger than you know. 
---
Mt. Passaconaway: Dicey's Mill Trail
| | |
| --- | --- |
| Total elevation: 4,043 ft | Elevation gain: 2,877 ft |
| Mileage: 8.7 miles | Alpine exposure: none |
| Terrain: woods walk, switchbacks, rough footing | Challenges: steep sections, wet ground, water crossing |
| View payoff: some views off spurs | Dogs: Yes, a great dog hike! |
Recap: This hike is pleasant and pretty. The grade is constantly moderate with several very steep sections that don't last too long. It's a great challenge hike for anyone looking to increase distance without adding a lot of technical terrain challenges. Be sure to take all the spurs to see the views.