Mt. Garfield 4500 ft
Half way through August I was down to my last six New Hampshire 4000 footers. I still had the five Vermont summits to finish and just two weeks before I left for Monson to start the Hundred Mile Wilderness. Eleven 4000 footers in fifteen days seems like a lot, but at this point I'd been hiking 1-3 times a week for three months. And, I was driven by a goal, which always makes things seem more rational. I decided to finish the remaining six NH peaks in a three-day window, including one day hike and one overnight through hike.
Mt. Garfield is one of the few 4000 footers whose summit can be reached by a trail considered to be moderate in difficulty. The footing is rocky and rooty in places, but for almost five miles, the trail follows an old road used to access the former fire tower. The only very steep part is the short pitch before the summit.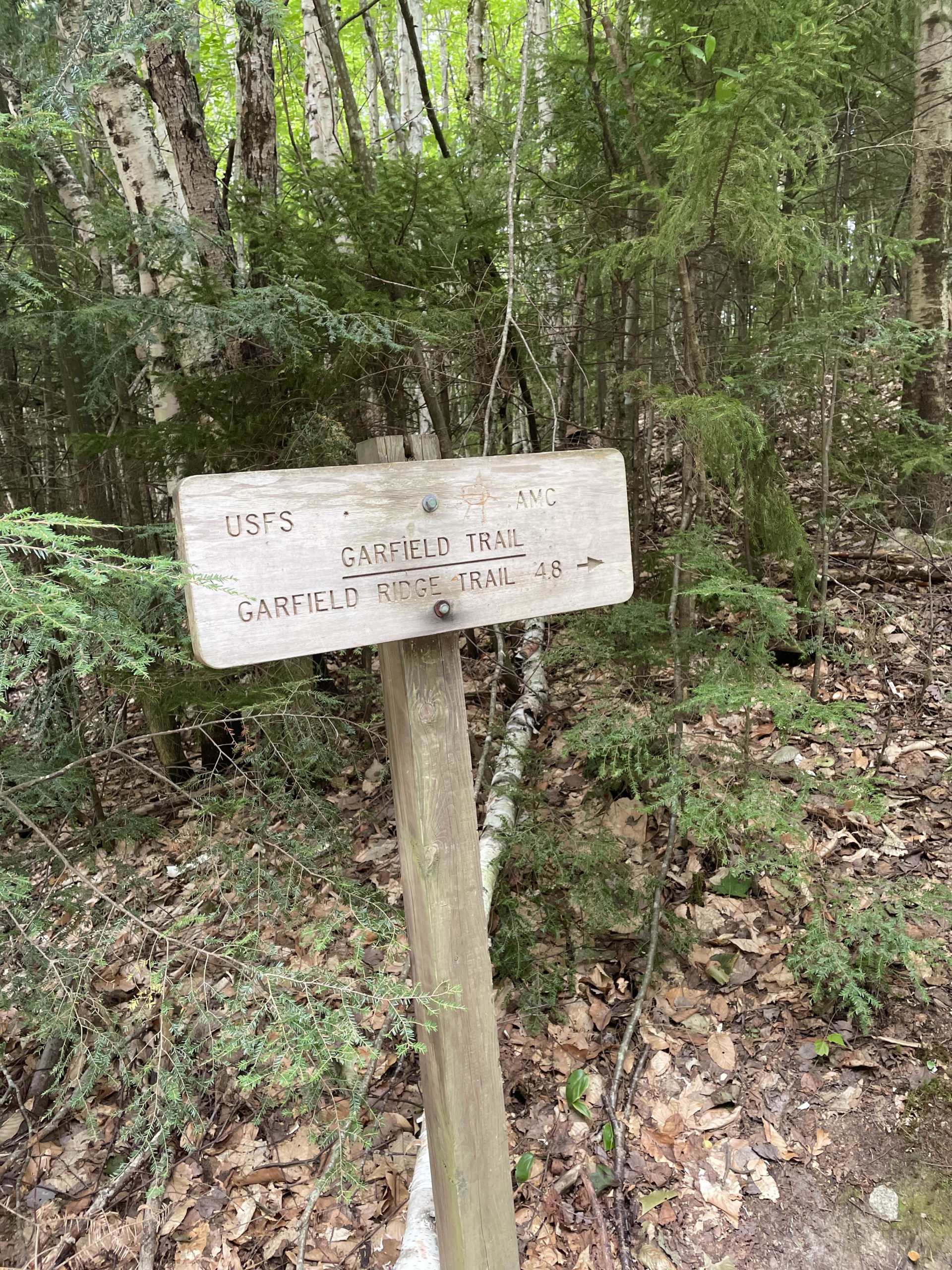 Garfield Trail begins in a parking lot on Gale River Loop Rd, which is a seasonal road. Off-season parking is available on Rt 3, and the road walk adds 2.4 miles to the hike. After climbing an embankment, the trail follows the South Branch of Gale River. There are several water crossings in the first three miles, but none are difficult. The AMC White Mountain Guide says if the water is very high, you can bushwhack up the east side of the river and use the snowmobile trail bridges to cross. Then bushwhack up the west side to rejoin the Garfield Trail.
The trail ascends gradually through the woods, and about half way up, crosses a ridge that was once burnt over. It has since filled in with birch trees and high-elevation conifers, but is still referred to as Burnt Knoll. It's an interesting mix of growth and worth stopping (or at least slowing down) to appreciate.
As the elevation begins to gain, long switchbacks sweep back and forth up the ridge to the junction of Garfield Ridge Trail. The steep, rocky section below the summit requires some scrambling over ledges, but it's a very manageable climb. Although I was there on an overcast day, a few peeks through the clouds revealed an exceptional view.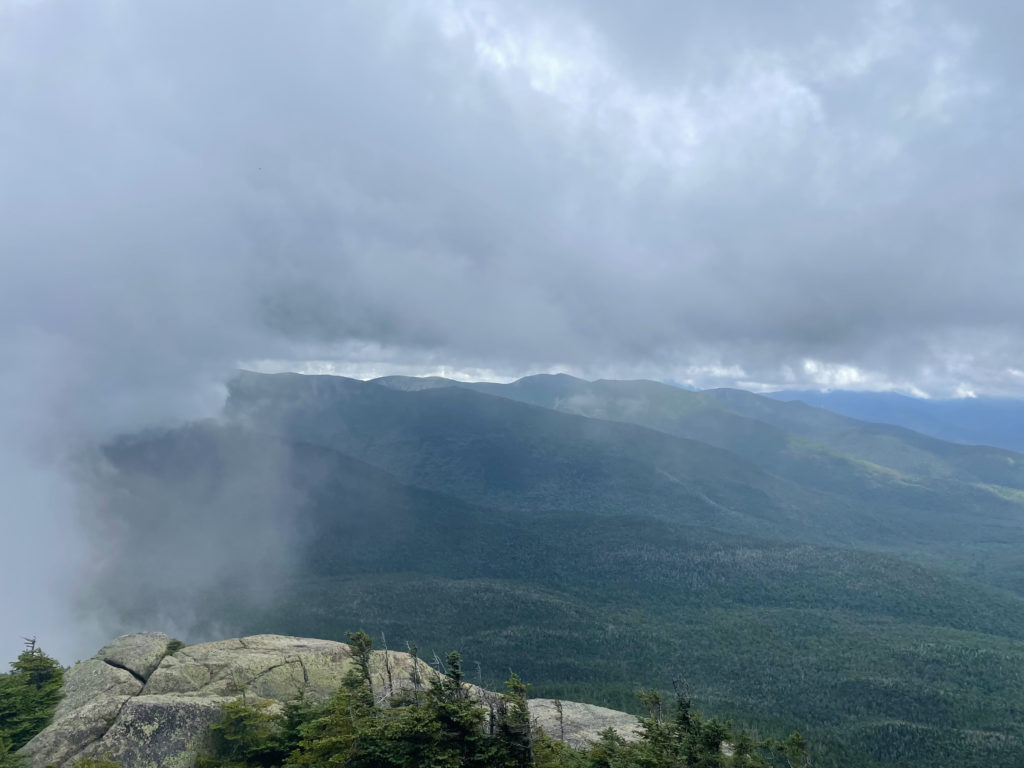 The remains of the old fire tower foundation are a unique feature on this summit. Remnants like this, in varying states of dismantlement, can be found on peaks throughout the White Mountains. The prominence of these outlooks increased drastically after 1903, which is historically referred to as 'the year New Hampshire burned.' Over 500 forest fires blackened a quarter million acres in NH that spring, including over 10% of the forests in the White Mountains. It was a very dry season, debris from extensive logging operations littered the forest ground, and fire was still a primary source of heat and fuel. These factors combined with ineffective detection and poor communication systems allowed fires to get big before they were reported.
During the summer of fires, multiple inns and hotels in the area were threatened, and detecting fires became a priority. According to the White Mountain History website:
The Mount Pleasant Hotel Company built the first lookout in the White Mountains around 1904 on the already blackened summit of Mount Rosebrook. The log structure overlooked the Zealand Valley and Bretton Woods and probably stood only 20 feet tall. It was guy wired to boulders to keep it from blowing over. A telephone line provided communications to the hotel and the lookout was on duty during times of need. A system of hiking trails provided access to the lookout.


whitemountainhistory.org
Many similar towers followed, some funded privately and others subsidized by the state. In 1911, President Taft signed the Weeks Act, authorizing the Federal Government to cooperate with states in fire control efforts. This act was followed by a significant boost in fire lookout and telephone line construction. The fire towers were stationed with men until WWII, when a shortage of male labor sent women up the mountains to the towers. The female workforce scanned for fires, but they were also trained as aircraft spotters for the war defense effort.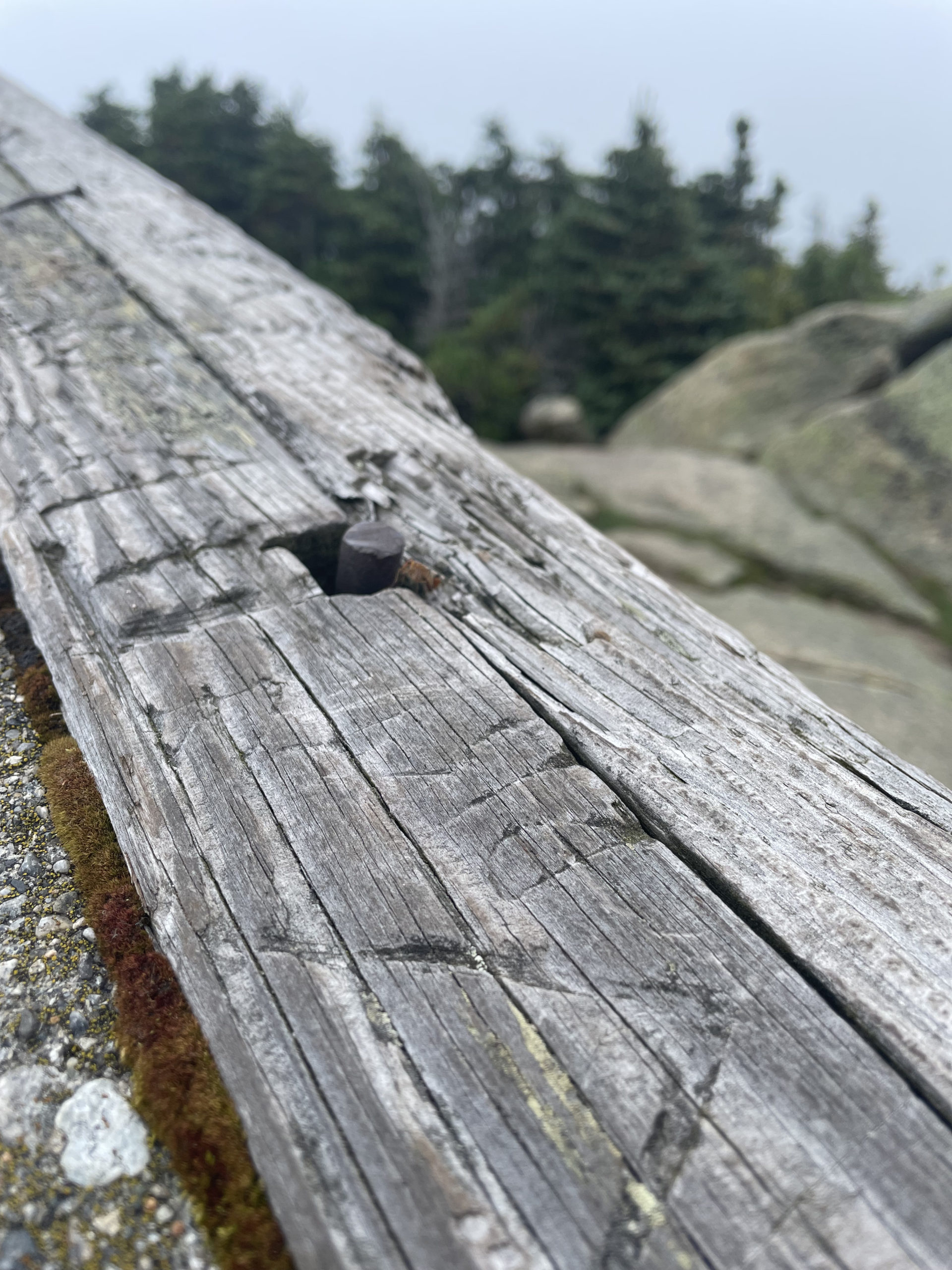 After WWII, the White Mountain National Forest phased out or removed many of its towers in favor of airplane fire detection patrols. Only three federal lookouts remain: Kearsarge North, Smarts Mountain, and Mt. Carrigain, although none are in active service. They function mainly as education resources and recreational destinations.
Mt. Garfield would be a great starting point for a hiker who wants to try out a 4000 footer. The final push to the summit gives a taste of the rock scrambling and alpine exposure that accompanies many of the higher peaks. The distance is also on par with many 4000 foot hikes, but the moderate nature of the trail is appropriate for less experienced hikers. The fire tower foundation is a bonus landmark and a fun talking point. Would you have taken a job as a mountaintop fire scout during WWII?
I sure would have.
Summit lesson: Digging deeper into the past can transform a hike into a fascinating history lesson and a 'what if' conversation starter.      
---
| | |
| --- | --- |
| Total elevation: 4500 ft | Elevation gain: 2988 ft |
| Mileage: 9.6 miles | Alpine exposure: significant |
| Terrain: woods walk, rough footing, scrambling | Challenges: water crossings, short scramble |
| View payoff: outstanding | Dogs: yes |
Recap: Garfield Trail is a lovely, moderate trek through the woods. Long switchbacks make easy work of the elevation, with just one short, steep, rocky push to the summit at the very end. An old fire tower foundation is an interesting summit highlight, and the views are outstanding. Garfield is a great way for a beginner to experience a 4000 footer without taking on a trail beyond his or her ability.