Bald & Speckled Mountains 2116 ft
Let it be known that there are seven Bald Mountains in Maine and seven more in New Hampshire, plus all the Bald Ledges, Crags, Pates, Faces, Knobs, and Caps. There are a bunch of Speckled Mountains as well. I was heading for an entirely different hike (Speckled Mtn in Stowe, Maine) until I realized Rt 113 closes in the winter, making the drive from Portland 2.5 hours on back roads. So, I did a quick search for a trail within an hour and a half of Portland and found this gem.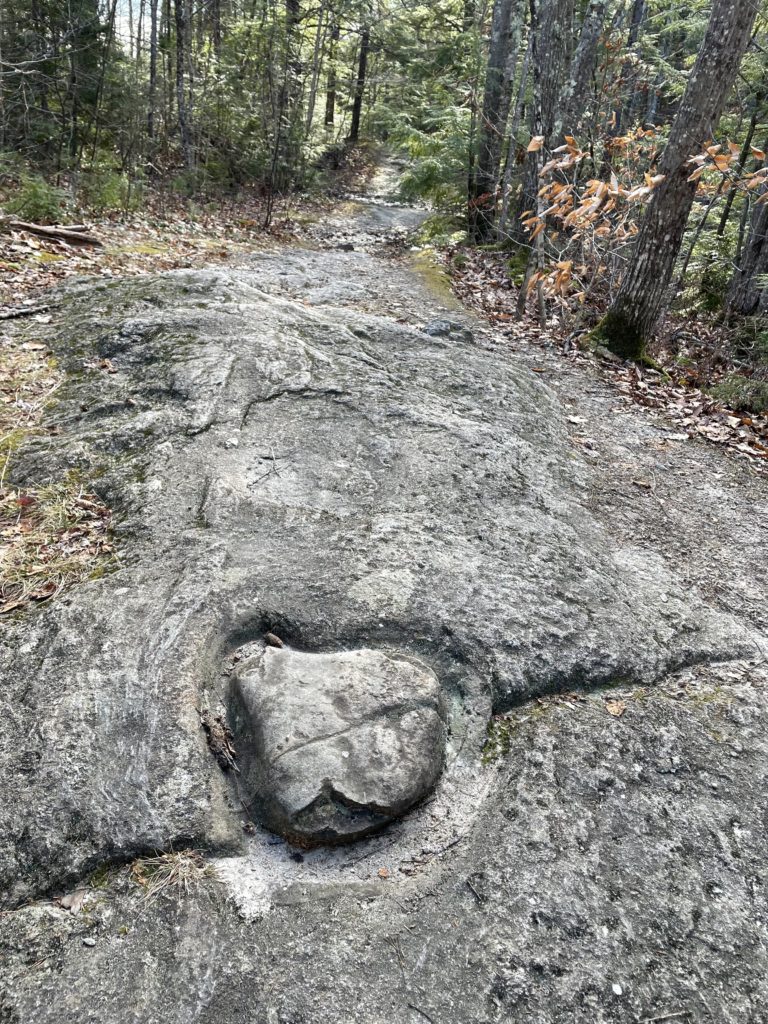 Bald Mountain Trail begins at a small parking area. I didn't realize when I chose this hike that it is also the approach trail to Shagg Crag, a popular rock climbing area. I'll be back for that activity another day. The trail follows an old road into the woods and gradually uphill until it reaches Little Concord Pond. There it makes a sharp right and climbs over rocks, then levels out near the ridge crest. A short loop trail (yellow-blazed) takes you across the summit ledges. There are beautiful views of Mt. Washington, the surrounding peaks, and a string of power-generating wind mills.
The Bald Mtn. Loop Trail brings you back to the junction of Speckled Mtn. Trail, leading 1.3 miles to the summit of Speckled Mtn. The trail initially descends steeply into a col and crosses a small stream, then crosses a blazed survey line (not to be confused with a blazed trail). Coming up from the col, the terrain is steep and wooded, traveling through mossy forests and over rocks. My hiking partner said, "It feels like the mini-Whites" because the landscape was so varied and really magical.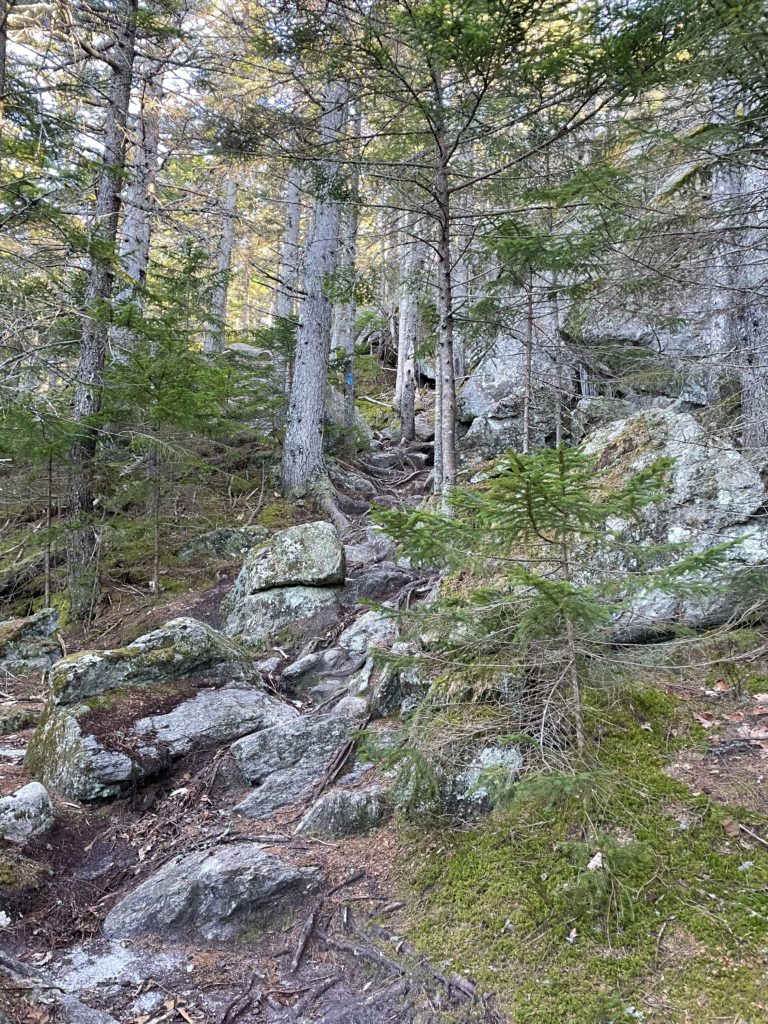 Near the top of Speckled Mtn., the trail crosses several sections of ledge and steep rock. There were sheets of ice over the trail in this section, the kind of ice that even micro spikes can't really manage well. There was a bushwhack option through the woods to get around the worst of the ice, but it still required scrambling over (slightly less icy) boulders. At the summit there was more direct sun exposure, and therefore, less frozen ground.
A metal pole marks the top of the summit at 2,183 feet. The views are to the west, and they are spectacular. Mount Washington's snowy cap was obvious in the distance, along with nearby Sunday River, and three wind parks. The east side of the peak is wooded and protected from the wind.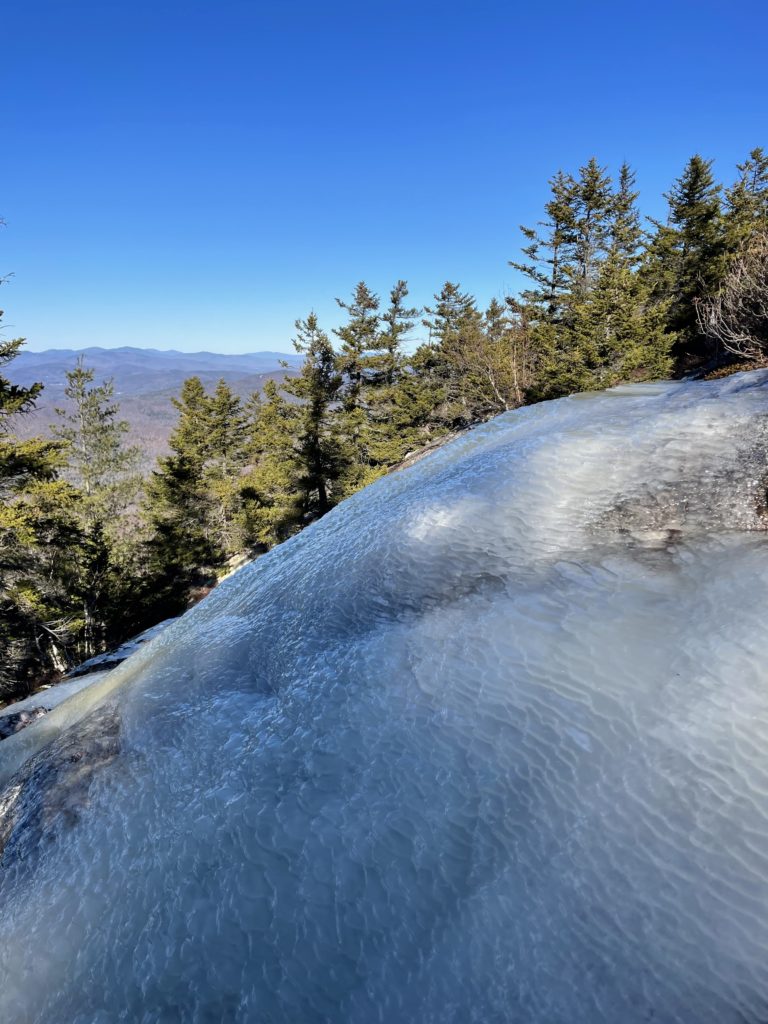 On the way down, we located the side trail that leads to Shagg Crag. It isn't super well-marked, so make sure you've looking for it (I was keeping an eye on AllTrails as we moved).
Wowwww what an awesome rock face.
There is a substantial amount of gear here, including bolts, quick draws, and top anchors. We found three stick clips left behind for extra protection before you even get on the rock. The crag is south-facing, so the granite was sunlit and warm in the afternoon, even on this cold day. There are a lot of 5.12+ climbs here but also enough 5.7-5.10 to keep any climber happy. Like I said. Another day.
---
| | |
| --- | --- |
| Total elevation: 1680 ft & 2116 ft | Elevation gain: 1601 ft |
| Mileage: 4.7 miles | Alpine exposure: minimal |
| Terrain: woods walk, rocks, ledge, ridge, scrambling | Challenges: steep, slick/icy when wet, exposure at top |
| View payoff: outstanding | Dogs: yes, some scrambling required |
Recap: This hike is a hidden gem! With an incredible variety of terrain, outstanding views, and enough elevation to make you sweat, it is a perfect conditioning hike for avid hikers or 'next step' trip for new hikers who are ready to push a little harder. Thanks to its relatively short distance, it is also a great winter hike; you don't have to start before dawn to finish before dusk. If you're interested in rock climbing—or just enjoy looking at stunning faces of granite—take the side trail to Shagg Crag and check it out!