Mt. Hancock 4420 ft | South Hancock 4319 ft
---
I was pretty excited to hike the Hancocks, in large part because the trailhead is on the Kancamagus Highway. Any trip down the 'Kanc' is special for me. It brings me back to childhood camping trips with my parents. We always camped at Jigger Johnson Campground, with the iconic Swift River running behind the sites. I spent hours playing in that freezing mountain water, blissfully unaware of any of life's complexities or burdens. Without knowing it, I was setting the groundwork for intense nostalgia that would come back to me in my adult life.
It's a complex thing, nostalgia. The Greek compound of the word brings together two meanings—homecoming and pain. In the early days of the word, it was even considered a medical condition, characterized as a form of melancholy. Modern explorations of nostalgia tend to be more positive, noting that it can encourage social connections and give existential meaning to one's life, among other things. Wikipedia offers this definition, which hits on something important: "Nostalgia is associated with a yearning for the past, its personalities, possibilities, and events…"
Possibilities. That's the one that lights me up, though I don't think I could have put my finger on it before stumbling upon the Wiki entry.
Being in the White Mountains and on the Kanc elicits a nostalgic feeling of safety, family, adventure, and opportunity. It reminds me of a time in my life when anything was possible. I mean, that's childhood in a nutshell, right? The idea that you can do anything, be anyone, go anywhere. In adulthood, these feelings have a way of quietly stepping aside to make space for the 'shoulds' and 'have tos' that tend to accompany jobs, relationships, families, homes, and adulting in general.
And then suddenly you're old(ish), holding your third glass of wine on a Tuesday night while you cook your third family meal of the day because it's an effing pandemic and your family is home ALL THE TIME and you're constantly wondering what the hell happened to all those possibilities and you're desperate to just be alone in the woods like when you were eight and no one needed you, but instead you're drowning in your own home like every mother in America.
Or was that just me?
Yeah, I didn't think so.
I've lived nostalgia and its accompanying ache. Most of us have. But here's the good news: those lost possibilities I was mourning? They weren't actually lost at all. They were alive and well, just waiting to be rediscovered.
Guess where I found them? Right back in the woods where I left them.
Now that we're all caught up on the meaning of nostalgia and my COVID identity crisis, let's get back to the Kanc.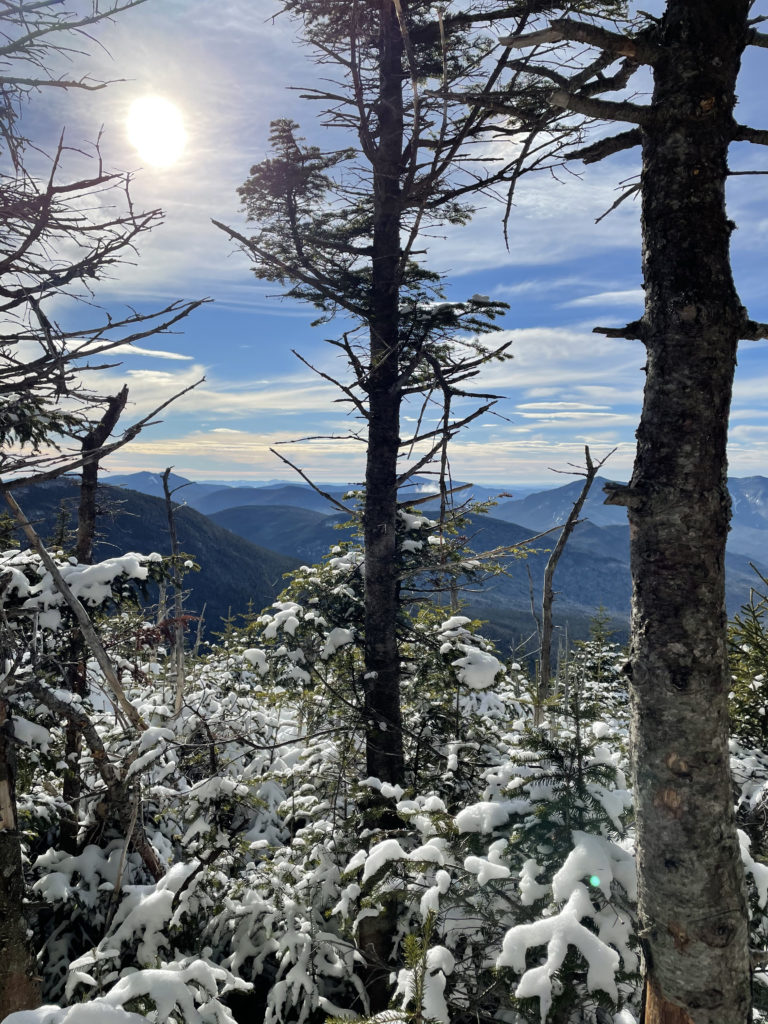 Most of the National Forest campgrounds close for the winter, so the traffic on the Kanc is nearly non-existent. It's a great time to see places like the Swift River's Lower Falls, a beautiful series of waterfalls and pools… and also the most popular attraction on the Kanc during the summer months. It's technically closed in the winter but it's visible from the road in its natural state, without swimmers and sunbathers and picnicers. Don't get me wrong, Lower Falls is super fun in the summer too. It's just a very different experience.
About three-quarters of the way across the Kanc (which travels 34.5 miles between NH Rt 16 and I-93), you come to a true hairpin turn. Tight and skinny, just like a bobby pin. At the head of the pin, so to speak, you come to the Hancock Overlook where parking is available for several trails. For obvious reasons, road parking is prohibited on the hairpin. From the parking lot you will cross the Kanc (it's well marked) and drop down a bank to pick up the Hancock Notch Trail. The footing here is good, thanks to an old logging trail, and the conditions stay fairly consistent and moderate for almost two miles. There are multiple minor water crossings, snowy at this time of year, before the intersection of Cedar Brook Trail.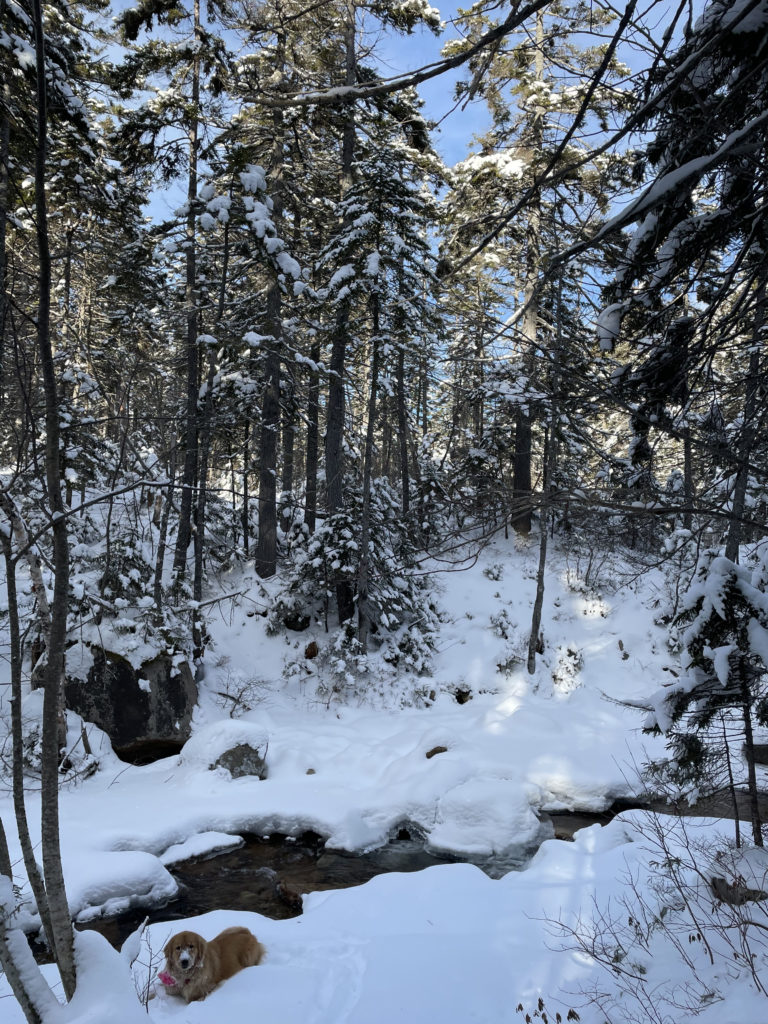 A quick trip up Cedar Brook Trail leads through pine forests and hugs the edge of the North Fork. According to the AMC White Mountain Guide, this trail once made five (yes, five) crossings over the North Fork, all potentially difficult, in under one mile. This makes zero sense to me—just pick a side of the water and stay on it! Apparently, the powers that be agreed. There is now just one relatively uneventful crossing, the other four having been bypassed by an alternate route.
Shortly after the crossing, Hancock Loop Trail veers off to the right and follows another old logging road. The trail traverses the North Fork again and begins to climb steeply. The AMC guidebook warns the upper section of the trail leading to the south peak is badly eroded and loose underfoot, so tackling this trail in the winter may have been unintentionally wise. The tail was snow covered and packed down. Not that it helped with the incline, but with MICROspikes it was just a matter of driving my toes into the slope to find traction. A beautiful view of Mt. Washington and the Presidential Range was visible through the trees.
Hiker term: Blowdown, Windsnap, and Windthrow.
Windthrow refers to trees uprooted by wind. Windsnap is when the trunk snaps but the roots stay in the ground. Blowdown refers to both windthrow and windsnap.
The summit of South Hancock is mostly wooded, but there is a 180 degree view a few steps off the trail. It was a beautiful day, and the woods were magically snowy, so I wasn't wanting for things to look at. After passing the summit, we started across the ridge toward the north peak. It's a broad, wooded ridge with moderate ups and downs and lots of views through the trees. There were some blowdowns to navigate around and the wind was whipping over the ridge. I was very glad this was a protected traverse, not an exposed one.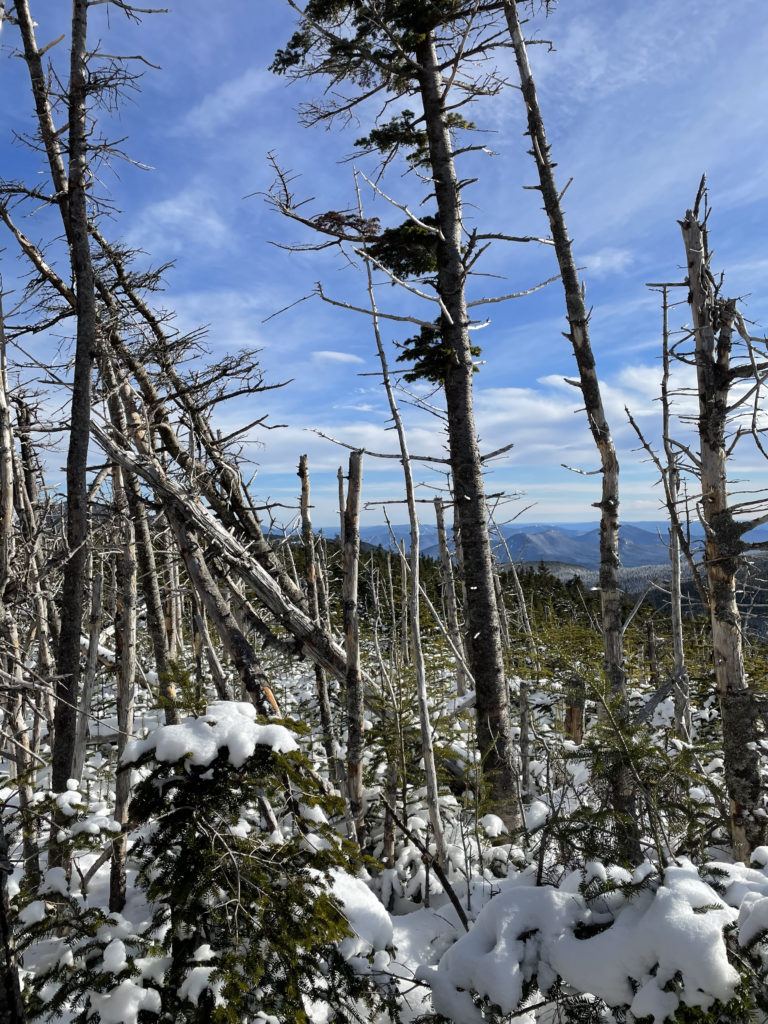 The trek to Mt. Hanock's wooded summit is just shy of a mile and half. A side path leads to a ledge with a southern view of the Sandwich Range. After a short break for pictures, Luna and I headed down the north link of the loop, which was very steep in parts. I hugged the edge of the trail and did a lot of tree-grabbing to keep myself from sliding. Once we rejoined Hancock Notch Trail, we cruised along and finished the hike in just under five hours.
While I can't speak to the conditions of the trail without snow cover, this was a really nice hike. Although some sections were quite steep, there were also plenty of moderate stretches to balance it out. It was also a great hike for Luna, who loves water crossings as much as I do.
Summit lesson: Let nostalgia guide your back to forgotten possibilities. They'll be exactly where you left them. 
---
Mt. Hancock & South Hancock: Hancock Notch Trail to Hancock Loop Trail
| | |
| --- | --- |
| Total elevation: 4,420 ft, 4,319 ft | Elevation gain: 2,574 ft |
| Mileage: 9 miles | Alpine exposure: none |
| Terrain: woods walk, old logging road, steep sections, ridge traverse | Challenges: wind on ridge (sheltered), loose rock, water crossing, sliding on descent (in winter) |
| View payoff: through trees | Dogs: yes, technically leash required |
Recap: This is a mostly moderate hike with a few very steep sections. During the snow-free months, there may be some erosion to deal with. The ridge traverse is unique, with great views through the trees and the benefit of shelter from the wind. There is an open ledge view but no epic summit views, however, the forest setting and North Fork are beautiful.