Mts. Field 4340 ft | Willey 4285 ft | Tom 4051 ft
---
The Avalon Trail got my attention because it hits three 4000 footers—Field, Willey, and Tom, plus Mt Avalon—in one big loop. The trailhead starts at the AMC's Macomber Family Information Center (aka Crawford Depot) on the west side of Rt 302. It's worth mentioning that this depot is a tourist HUB (all caps for a reason) during the summer season. I went on the very chilly last day of December and the lot was fuller than I expected. I suppose it was during winter break, but still. In the warm months, parking could be a challenge. On this 10 degree morning I had no trouble finding a spot. It was also 7:30am, still relatively early for off-season hikers.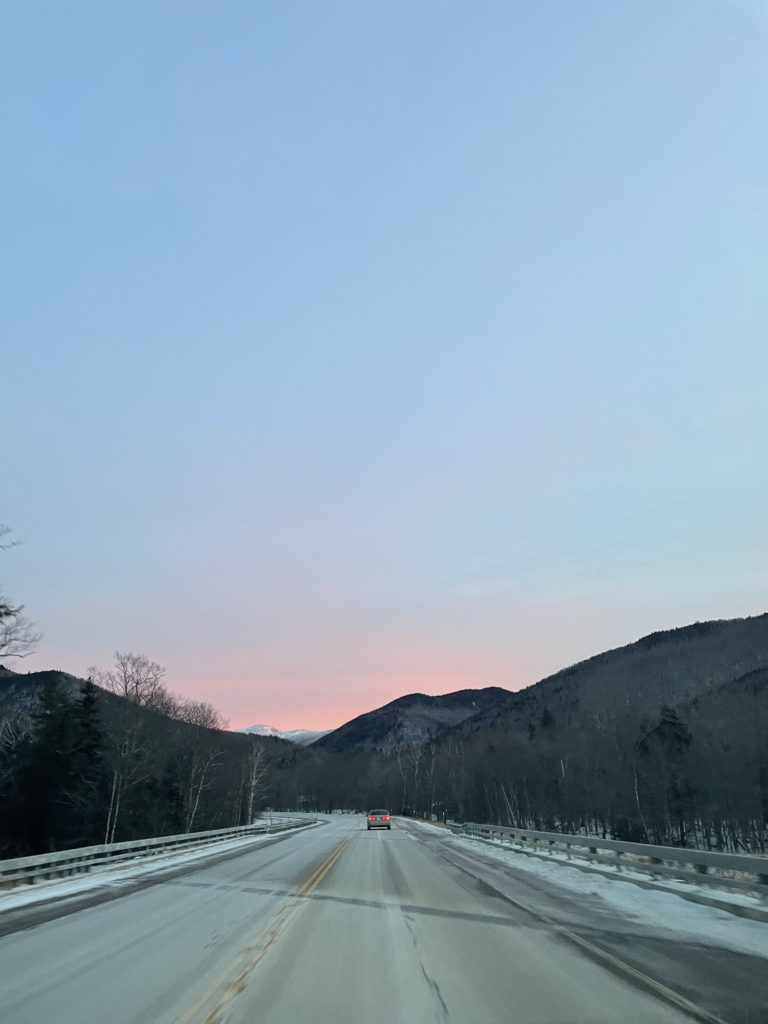 The Avalon Trail is reached by crossing the railroad tracks (another summer note: these tracks are active). Shortly after entering the woods, the trail crosses Crawford Brook. From where I was standing, there was no obvious way across. No dry way, that is. I walked along the bank, up and down, and found no better options. I spent almost ten minutes trying to determine a course.
Directly in front of me was a narrow log suspended over the water. It couldn't have been more than six inches wide in the middle. It led to another clump of logs in the center of the brook, and those connected to a string of rocks. There was enough debris to stay above the water, but only if I kept my balance. I didn't have trekking poles, so I scouted around for a stick. I chose one the size of a small tree. I didn't know how deep the water was, so I erred on the side of long and sturdy. I felt like a gondolier, only I was the boat and the driver. I made it across and left my oar on the side of the trail for my return.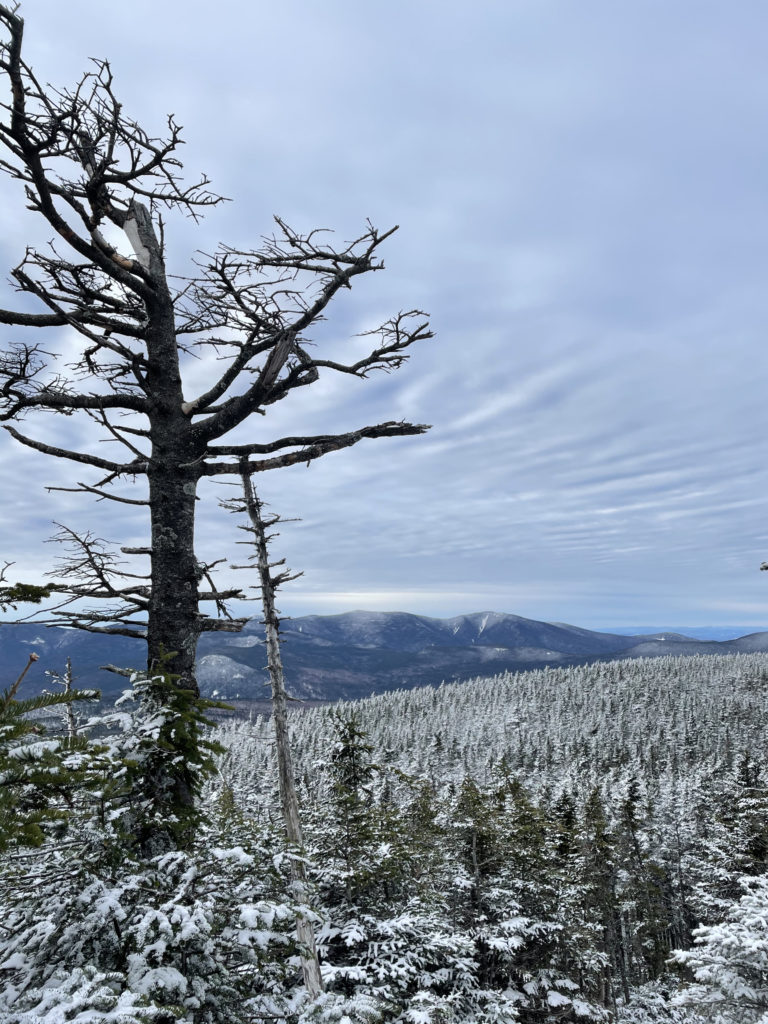 The trail is moderate for about a mile, following along Crawford Brook through a beautiful, snowy forest. A-Z Trail veers off to the right while Avalon heads left and begins to climb steeply (and relentlessly) to reach the Mt. Avalon peak (3442ft). Be sure to take the side path just before the summit for a fantastic view. It is a very steep scramble, but it's only 100 yards and definitely worth it. Beyond Mt. Avalon, the trail crosses a flat ledge and climbs easily through a switchback before becoming steep and rough again. The path here is narrow, especially with the snow-laden spruce branches, but there are lovely 'peak-a-boo' views to the northeast.
One not-awesome thing I discovered on this hike is that water freezes.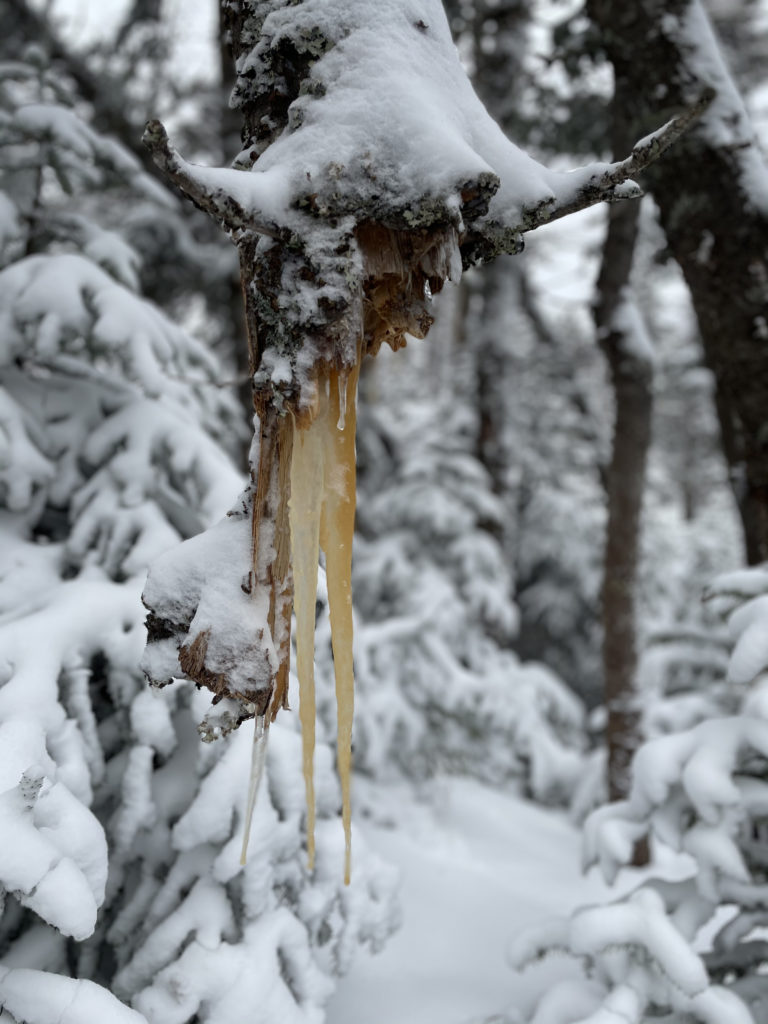 Kidding, I knew that, but somehow I didn't make the connection to the water in my hydration tube… which froze within thirty minutes of setting out. I tried sticking the mouthpiece in my jacket pocket to keep it warm, but the tube still froze. When I wanted to drink, I had to pull the mouthpiece off and suck the ice out of the tube so the water could flow again. This was a real pain in the ass, and I had to keep forcing myself to stop and do it.
Winter dehydration is a real thing, with some serious science backing it up. When we're cold, our blood vessels restrict to conserve heat, and this can reduce the feeling of thirst. Most people are actually more likely to become dehydrated in the winter than during the hot summer months, especially when exercising, because there aren't as many warning signs (like thirst and sweating). So, I de-iced regularly and drank extra when the water was flowing… and vowed to figure out a better solution for my next cold weather hike.
Hiker hack:
Don't underestimate winter dehydration and consider an insulated tube if you're using a hydration system.
Back to the trail… just before the intersection of Willey Range Trail, Avalon levels off for an easier finish. I took Willey Range Trail to the right and reached Mt. Field a few steps later, marked by a rock cairn. A short side path leads to a partial view (less impressive than the Avalon view). From there, the trail climbs steadily for a mile and a half before reaching Mt. Willey.
I met a hiker passing me on the way up who advised me to go past the summit about 40 yards for the best view. Going beyond a summit, especially to descend in the wrong direction, feels so counterintuitive to me. But I did it anyway, and there was the same hiker, admiring the view! And it was a stunning view, including Big W and friends in all their snow-topped glory. I also noticed my hiker-friend had some fleecy-looking fabric wrapped around his hydration tube and mouthpiece so they wouldn't freeze. Genius jerryrigging.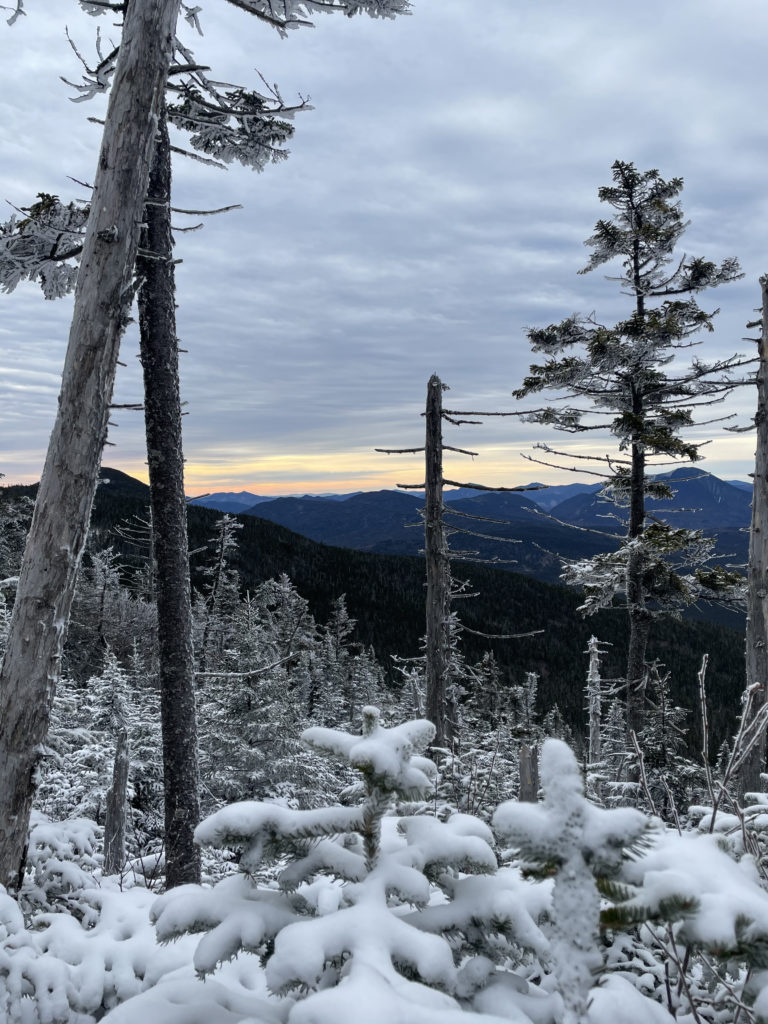 From the Mt. Willey summit, I followed Willey Range Trail back past Mt. Field to reach the intersection of A-Z Trail. This stretch of Willey Range Trail has a few steep sections but is mostly moderate, traveling through snowy pine forests that feel like something out of a fairytale. Snow has a way of absorbing all sound in the woods, and the quiet on this day was powerfully calm. I continued on through the peaceful tunnel of winter until I turned onto A-Z and then the Mt. Tom Spur to reach Mt. Tom's summit, the third of the 4000s on this hike. The summit was uneventful, which was fine since I was ready to be descending.
A-Z Trail is steep, with the Crawford Brook bubbling along the north side of the valley. It's only a mile stretch before you reconnect with Avalon Trail for the final mile back to Crawford Depot. At the brook crossing, I found my trusty oar and balanced my way across, returning to my car at 1:30 for a grand total of six snowy hours.
Summit lesson: The quiet of a snowy forest has a soothing, clarifying, meditative affect... not unlike therapy, only free. 
---
| | |
| --- | --- |
| Total elevation: 4,340 ft | 4,285 ft | 4,051 ft | Elevation gain: 3,461 ft |
| Mileage: 10 miles | Alpine exposure: limited, sheltered |
| Terrain: woods walk, steady incline, scrambles, pine forests | Challenges: very steep sections, difficult water crossing |
| View payoff: via spurs, best is just beyond Mt. Willey | Dogs: on leash |
Recap: This hike started with a very tricky water crossing. It may be easier during the summer month when the water is lower. The trail is a lovely variety of terrain, including moderate grades, very steep sections, and beautiful forests. There are many wonderful views through the trees as you move along the ridge between peaks and a nice stretch of bubbling brook to travel along as you descend.