Carter Dome 4832 ft | Middle Carter 4610 ft | South Carter 4430 ft
---
After completing several hikes of the out-and-back variety, I wanted to try a loop. The Carter loop actually hits five peaks (Carter Dome, North Carter, Middle Carter, South Carter, and Mt. Hight), although only three of them are listed as 4000 footers. Ironically, Mt. Hight has the best view of them all, but it doesn't reach the prominence requirement to be on the 4000s list.
The parking lot for this trial is right off Route 16 at the Nineteen Mile Brook trailhead. Unfortunately, completing this hike in a loop involves trekking along Rt 16 for over a mile to reach the southern Imp Trail. I knew this when I chose the loop, but I wasn't fully prepared for how fast cars (and large trucks) whip past on this road. I walked about a half mile and spotted a sign on the right for Camp Dodge Road. I'd read something about a shortcut here on AllTrails, but I'd also read that the shortcut wasn't open, and that even if it was, cutting through the camp was frowned upon. I decided to take my chances. It was off season and I figured worst case scenario, I'd get sent back to Rt 16.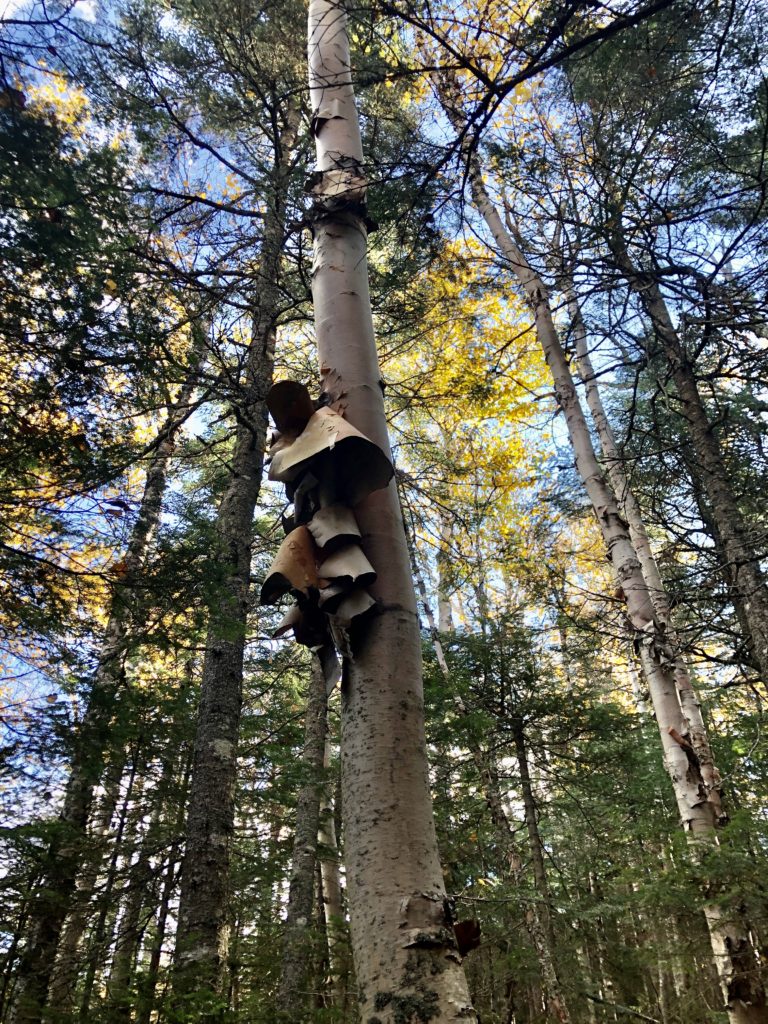 What I didn't know at the time was that Camp Dodge had recently undergone a significant renovation after being closed in 2017. The camp has been a hub of trail stewardship since it was built in 1935 as part of Roosevelt's New Deal programs. Now it houses the seasonal staff and volunteers who maintain the Appalachian Mountain Club trails and backcountry campsites. The AMC website has some fascinating info about this place, including that it was used to house conscientious objectors and provide alternative work in exchange for military service during World War II, and that the U.S. Army used the property to test cold-weather gear for the Korean War.
Fascinating history aside, I was able to pass through the camp compound unimpeded, and even received directions to the shortcut from a friendly staff member enjoying her coffee on one of the newly constructed porches. The trail appeared to be an old cart path or logging road and it was a flat stretch to the intersection of the Imp Trail. I learned later from a hiker I encountered on the trail that I should have walked just a little further (probably another ¼ mile) and hopped on the northern leg of Imp because it passes the Imp Face cliff, which has an outstanding view of the Presidential Range. I'll come back for that another day. As it was, I took the southern trail and I'm not gonna lie… it kinda sucked.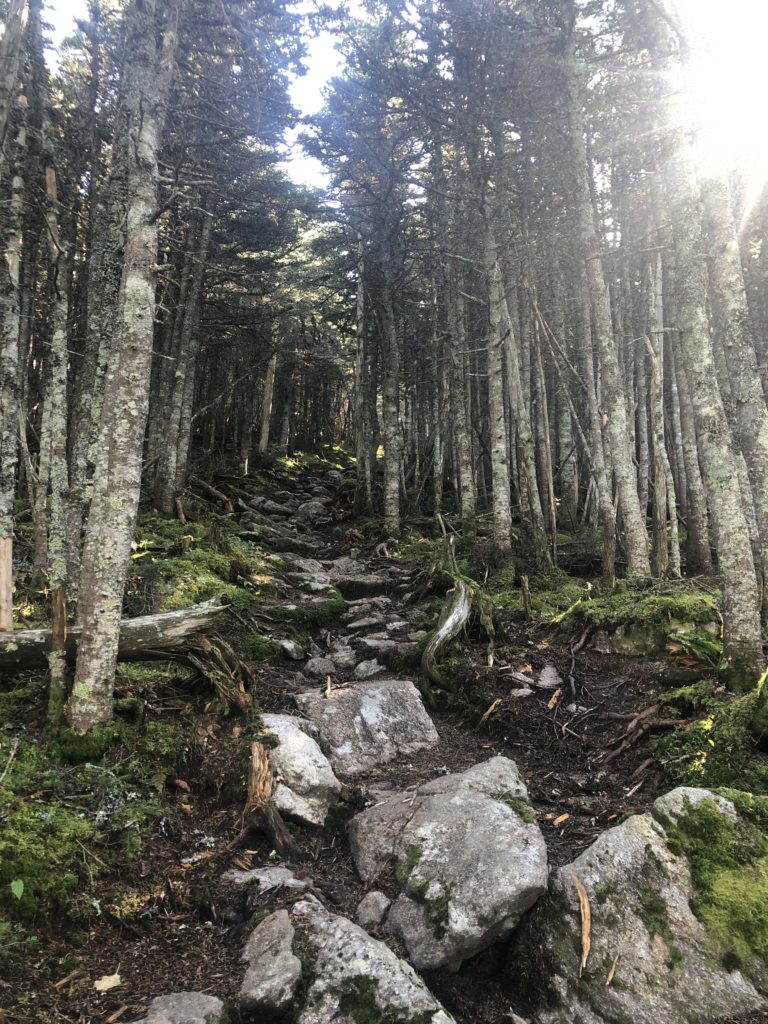 I mean, hey, I love hiking and I tolerate most conditions pretty well. Even when I'm not loving it I'm still loving it. But something about this trail just pissed me off. It can best be described as a monotonous uphill slog. It wasn't steep enough to be steps and it wasn't flat enough to be a woods walk. The AMC guidebook describes this section of trail as a 'rocky old logging road' and I'd say yep, that's accurate. The footing was inconsistent, rough, and unreliable. It didn't help that it went on like this for three dang miles, even after I connected with the North Carter Trail (also an old logging road). I was actually thrilled when the trail turned sharply left and started to climb steeply to the intersection of the Carter Moriah Trail.
From here, I took a left over to North Carter, where there was a view of the Wild River Wilderness to the east. The outlook is actually before the summit, which is wooded, like both the Middle and South Carter summits. The stretch of Carter Moriah Trail from Middle to South is relatively flat and actually descends in parts. There is no view to speak of, and the most interesting part of this section of trail, in my opinion, are the numerous ramps constructed to cross soft, boggy, muddy ground. It was here that I realized my hiking boots are not waterproof. I can report that walking in soggy socks is a special kind of awful.
Hiker term: Prominence
To qualify for the 4000 footer list, a peak must rise 200 feet above (aka in prominence) any ridge connecting it to a higher neighbor.
After passing the intersection of trails at Zeta Pass, I followed the Carter Moriah Trail about a mile up a steep, rocky section to the summit of Mt Hight. The bald, windy summit has the best views in the Carter range. You don't have to hit this peak to reach the next 4000 (Carter Dome), but it is worth the extra steps. The trail isn't super well marked up there, and the AMC guide warns that in poor visibility, 'great care' must be taken to stay on the path. I had a gorgeous day and no problem finding my way to the top of Carter Dome, less than a mile south. It's another unremarkable summit, and I kept plodding along the moderate descent toward Carter Notch. After about a mile, there is a wooden sign pointing to a view on the left. I climbed up to see it, and it was definitely worth it, particularly on this loop without many great overlooks.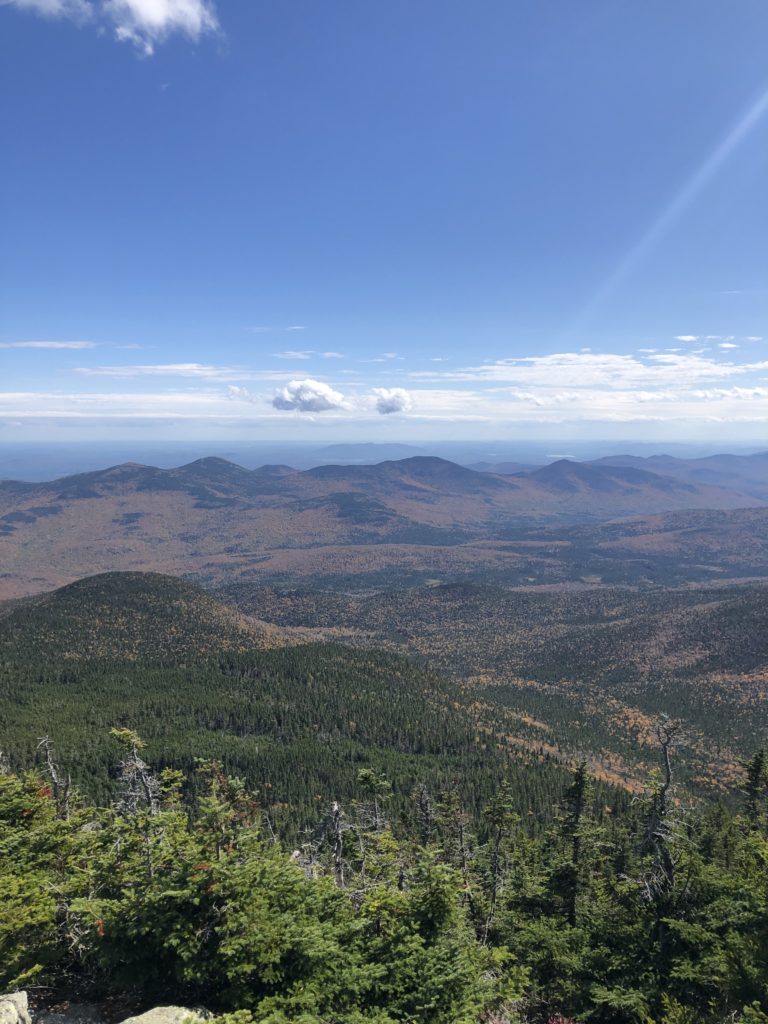 From the overlook, the trail descends steeply… like, it's reeeeally steep. There's some questionable footing and a dramatic drop to the left, until you hit rock steps leading to the bottom of Carter Notch and the shore of Carter Lake. The Carter Notch Hut is a few long strides to the left, but due to Covid, I doubted it was open so I didn't visit. It was also at this point I realized I had already hiked 9.5 miles and still had nearly 4 miles to go on the Nineteen Mile Brook Trail. I had a small moment of panic. I was tired. It was almost 3 o'clock. I had a hunch I was about to ascend again to get out of the notch. I was ready to call it a day. But here's the thing: the only choice I had was to keep going.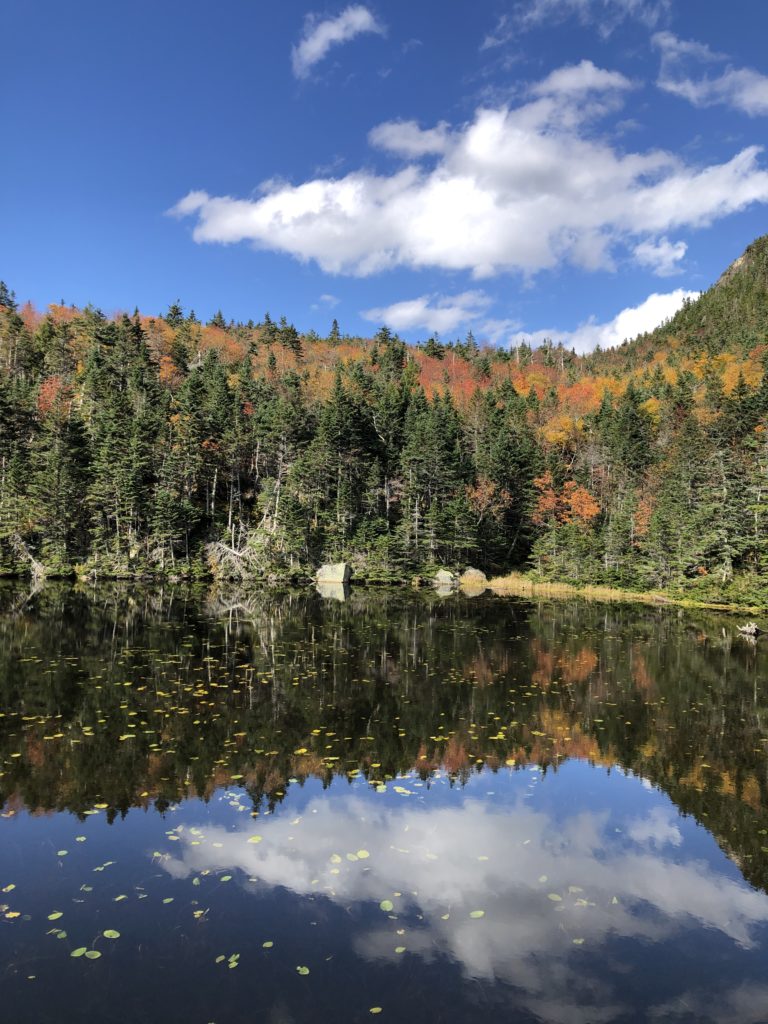 This is one of (many) things I love about hiking. The mental component, that is. You set out on a trail, and at a certain point, there's no turning back. Sure, you could shelter in place if you had to, but that would be extreme. What I was faced with was a desire to give up with no way to actually give up. It's the kind of situation that forces you to dig deep, physically and mentally, and forge ahead.
The good news about the remaining four miles of trail was that it ran along Nineteen Mile Brook, which was beautiful. There is something inexplicably magical about forest streams. The sounds they make, the way they navigate the rocks, and pools they form. It was a perfect distraction and mood-booster during my final push. The trail made multiple water crossings along the way, many with bridges, before ending back at Rt 16.
If you're not on a mission to bag the 4000 footers, I'd highly recommend hiking up Nineteen Mile Brook Trail to Carter Notch or even pushing on to Mt. Hight. The brook is worth seeing and Carter Lake is a beautiful spot for lunch. For now, I'm happy to have the Carters behind me.
Summit lesson: Not every hike will be your favorite, but every one will make you stronger if you dig deep. 
---
Carter Dome – Middle Carter – South Carter: Imp Trail to North Carter Trail to Carter Moriah Trail to Nineteen Brook Trail
| | |
| --- | --- |
| Total elevation: 4,832 ft – 4,610 ft – 4,430 ft | Elevation gain: 4,586 ft |
| Mileage: 13.3 miles | Alpine exposure: minor, except for outlooks |
| Terrain: logging road, rough footing, boggy, wet, steep scrambles, water crossings | Challenges: loose rocks, wet bridges, steep descent, distance |
| View payoff: Not great, unless you hit Mt. Hight | Dogs: Allowed, but it's a long one |
Recap: The first three miles of this hike are mentally challenging. The terrain is monotonously uneven and rough but not necessarily hard. The boggy ridge across the summits is fun and different because of all the log bridges. There are no views to speak of unless you make the detour to Mt Hight (do it!), and the descent to Carter Lake is very steep and bouldery. If you're looking to put in some distance and don't need an epic view at each summit, this is a good one.