Pleasant Mtn 2006 ft
If you're a hiker who lives in Southern Maine, you're probably accustomed to driving close to (or more than) two hours to find a big mountain to climb. From Portland, we head west to the Whites, north to the ski slopes, and even farther northeast to Katahdin. At just 2006 feet, Pleasant Mountain is often overlooked by hikers looking for big payoffs. The truth about this little peak—actually the tallest in southern Maine—is that with nearly 2000′ in elevation gain, its ups aren't much less than some of the smaller 4000 footers.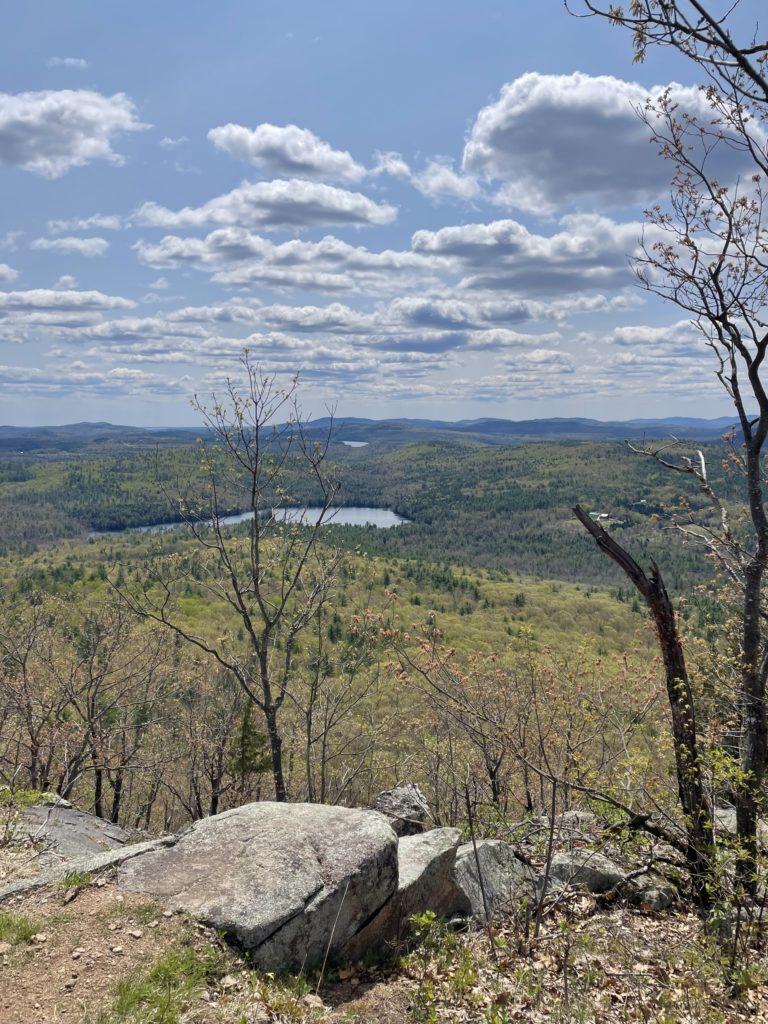 Pleasant Mountain and its smaller peaks stretch between the towns of Bridgton and Denmark, Maine, with trails starting on both sides. Southwest Ridge Trail is the longest at 5.8 miles round trip. It follows a moderate but steady incline all the way to the Southwest summit (1900 feet), then descends briefly before climbing up to the main summit (2006 feet). There is a significant amount of exposed ledge on this route, so use caution when wet.
The main summit of Pleasant Mountain has outstanding views to the west. Mt. Washington and the Presidential range are clearly visible on most days, as well as the closer foothills and lakes between the Maine and New Hampshire border. There is an old fire tower at the top, one of 70 that remain on mountaintops across the state. Built in 1920, these towers were manned by watchmen up to six months of the year to spot forest fires while they were still small enough to be extinguished.
Since then, experts' understanding of forest fires has changed:
Ecologists have since discovered that this practice of fire suppression is often more harmful to an ecosystem than periodic burns. Occasional small fires clear the forest floor of debris without spreading to the branches of live trees. If debris is allowed to accumulate, it fuels a larger, more harmful fire (crown fire), especially damaging in arid climates like those of the southwestern U.S.

maine.gov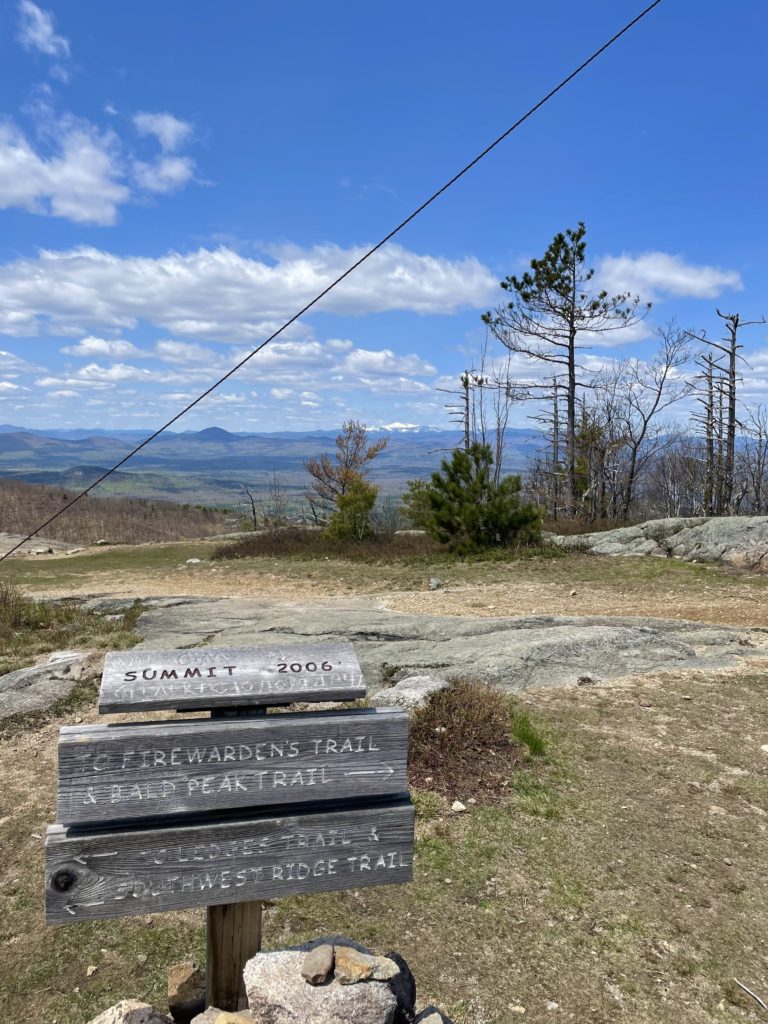 The fire tower and main summit can also be reached via the Balk Peak Trail, which begins on the Bridgton side of the mountain. This route is a mile shorter than Southwest Ridge Trail (4.8 miles out and back) with almost exactly the same elevation gain, meaning it is much steeper, gaining nearly 1400 feet in one mile. This trail feels more like the lower portions of many routes in the White Mountains, with lots of rocks and big step-ups. At .7 miles up from the trailhead, Sue's Way heads off to the right. This 1.3 mile side trail takes hikers to the top of Pleasant Mountain Ski area (formerly Shawnee Peak) and connects with North Ridge Trail, which brings you back to Bald Peak Trail at the 1 mile mark, just shy of Bald Peak (1932 feet).
Sue's Way is sneakily aggressive, with some steep, rocky sections, slick ground cover, and a narrow rock channel to navigate. You're definitely not saving yourself any effort by adding this route, but it's fun to see the top of the ski mountain, and the North Ridge Trail travels though a really beautiful area of pitch pine forest and exposed ledges.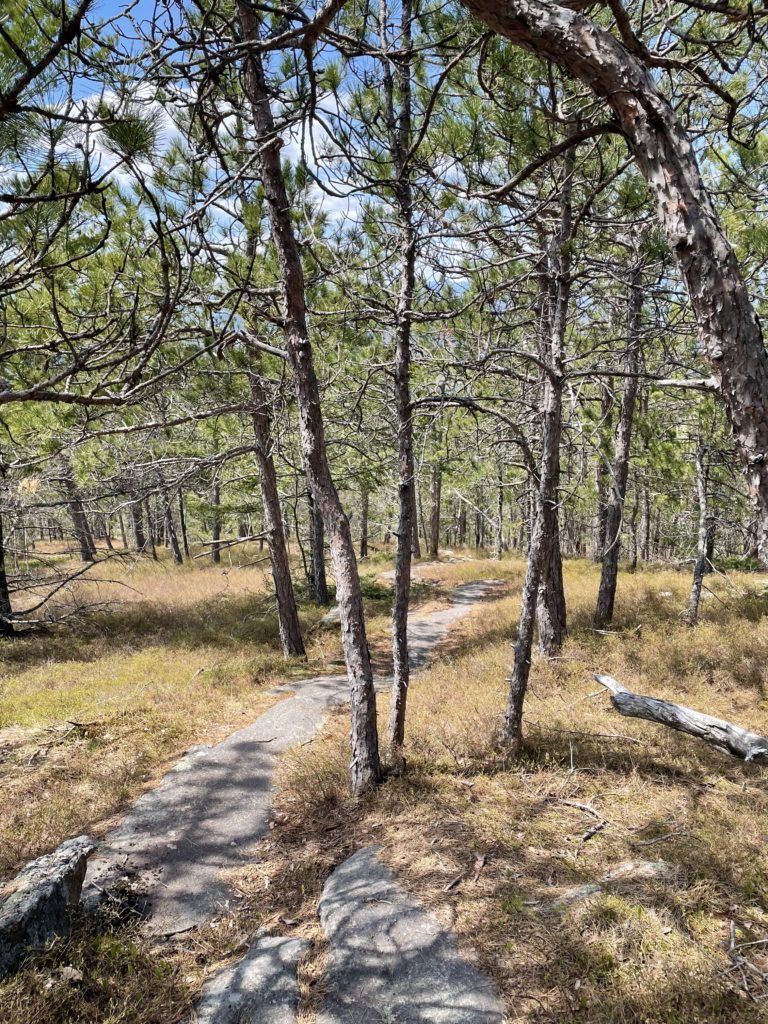 From Bald Peak, a relatively flat ridge leads 1.2 miles to the Pleasant Mountain summit. There are periodic views from both sides of the trail, lots of sunshine, and a nice breeze.
This is perfect conditioning hike to get back into the swing of things before the summer. The snow is usually gone by late April or early May (at higher elevations it hangs out on the trails until June), and it's easy to get to from anywhere in southern Maine. If you really want to make the most of Pleasant Mountain, park at the Denmark Road trailhead and take Southwest Ridge Trail across the summit, all the way to the Bald Peak Trail trailhead on Mountain Road in Bridgton. Then backtrack for a 10.6 mile hike that's just shy of 4000′ in elevation gain. Add Sue's Way and North Ridge Trail and you're at 11.6 miles. That's no small hike.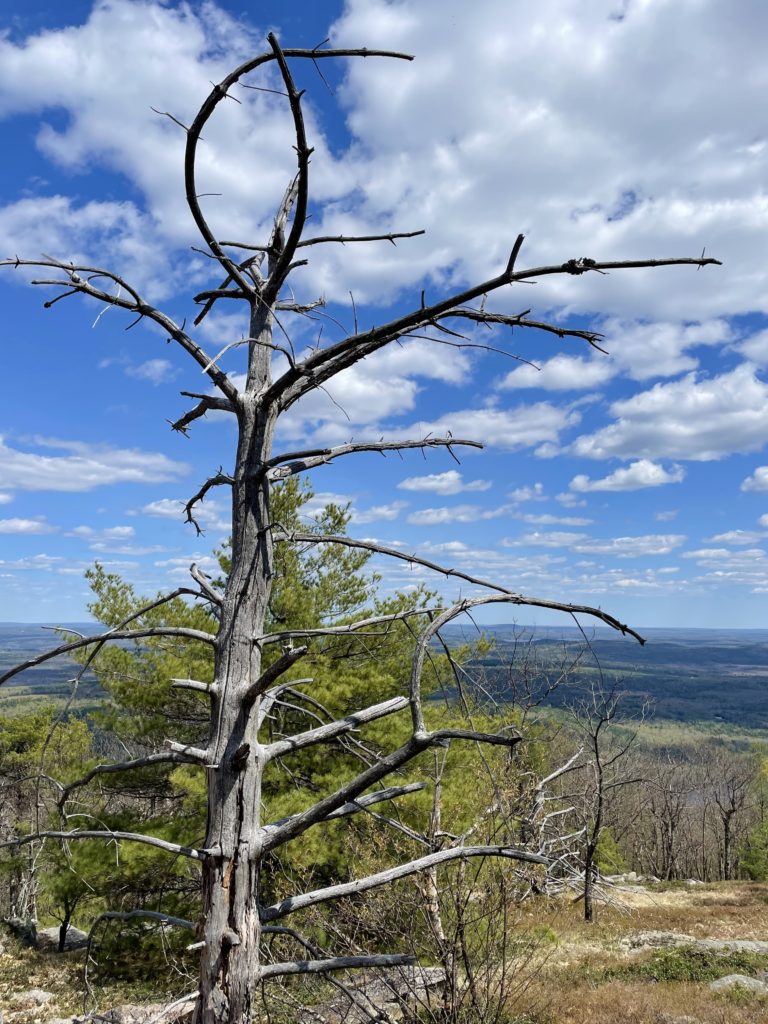 ---
| | |
| --- | --- |
| Total elevation: 2006 ft | Elevation gain: 1985 ft |
| Mileage: 4.8-5.8 miles | Alpine exposure: not alpine, but open at summit |
| Terrain: woods walk, rocks, ridge, exposed ledge | Challenges: steep parts, slick/icy when wet, some exposure at top |
| View payoff: outstanding | Dogs: on leash |
Recap: Pleasant Mountain and its range stretch between Denmark and Bridgton, with trailheads on both sides. Southwest Ledge Trail (west side) and Bald Peak Trail (east side) are both moderately challenging and offer excellent views on the way to the top. Exposed ledge, ridge traverses, and some steep sections make both trails interesting and varied. At the main summit, hikers can easily see Mt. Washington and enjoy the open, ledgy area for lunch. This is a popular mountain, so be prepared for company along the way!