South, Middle & North Moat Mountains 3250 ft
The hike to South and Middle Moat Mountains holds a special place in my heart. This was the very first solo hike I completed in August, 2020. I distinctly remember reaching the first real view from a ledge on the trail at about two miles. I was bent slightly forward, holding my sides, ribs heaving under my hands while I tried to catch my breath. When I got to South Moat and then Middle Moat, I was in a state of total awe over the views. I was also completely gassed. But the views won the day, and less than a month later I started hiking the 4000 footers.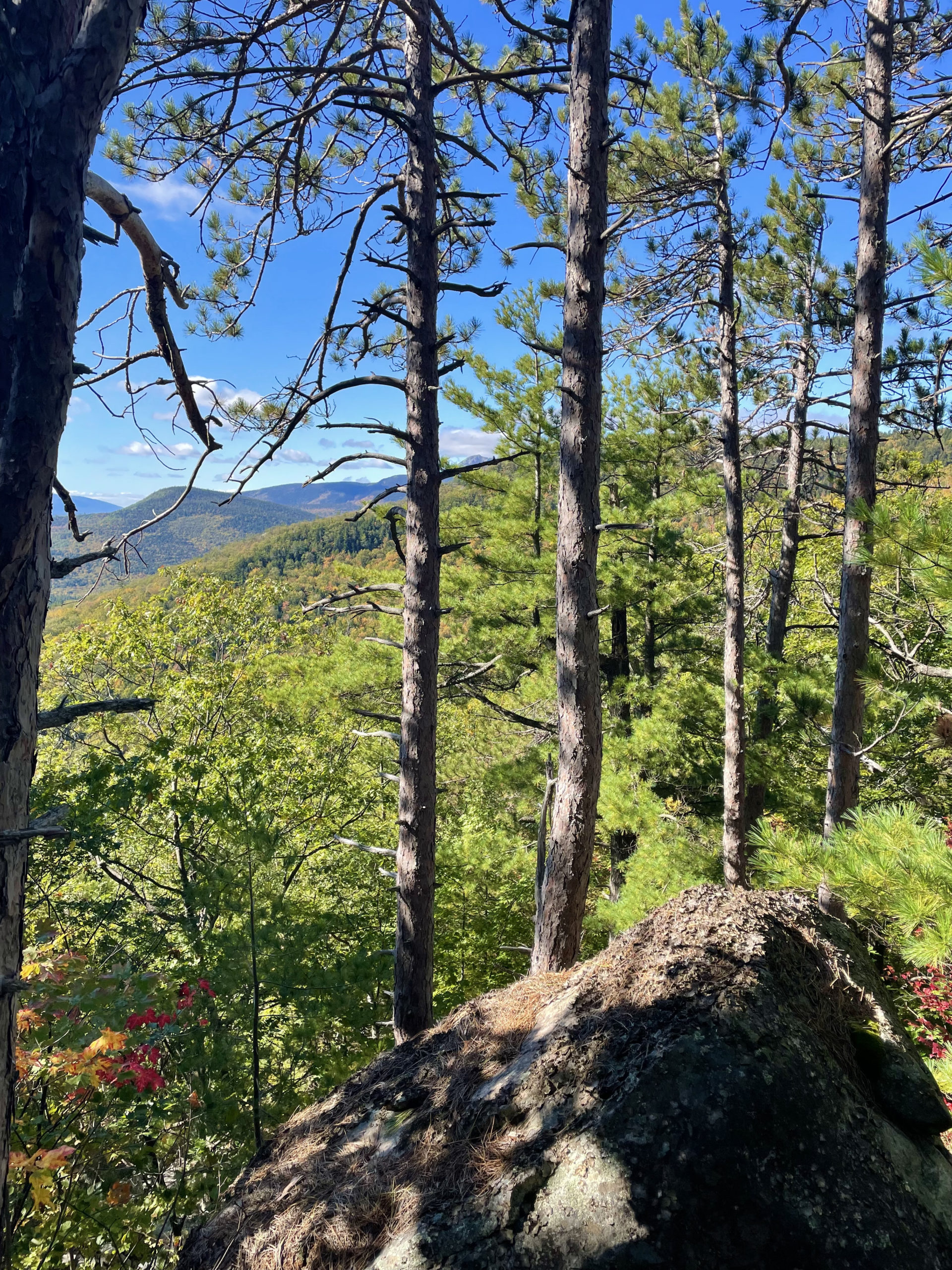 I'm not currently working on a list and I just finished the 100 Mile Wilderness, so I'm in the somewhat unfamiliar (and lovely) place of being able to hike whatever I feel like hiking. I chose the Moats on a sunny Thursday in late September for several key reasons: I didn't want to drive all the way to Franconia Notch. I wanted a view. I wanted to bring Luna. I'm still working on regaining mobility and strength in my ankle after breaking my heel in May, so I was looking for a long(ish) hike without a huge elevation gain. The Moats checked all the boxes!
The drive to the southern end of Moat Mountain Trail on Passsaconaway Road is an hour and a half from Portland, and there was only one other car in the lot when we arrived around 9am. The trail begins with an easy woods walk and crosses two small brooks (one via a bridge) within the first mile. The grade remains moderate but after about a mile and a half, every step involves rock of some kind. By the time you reach the first outlook at two miles, you've already climbed a significant rock pile and managed rough footing. The outlook is also the first major stretch of ledge on the trail, and the views are worth pausing for. You can easily make out the rocky summit of Mt. Chocura to the south and the ridge leading to Middle Sister.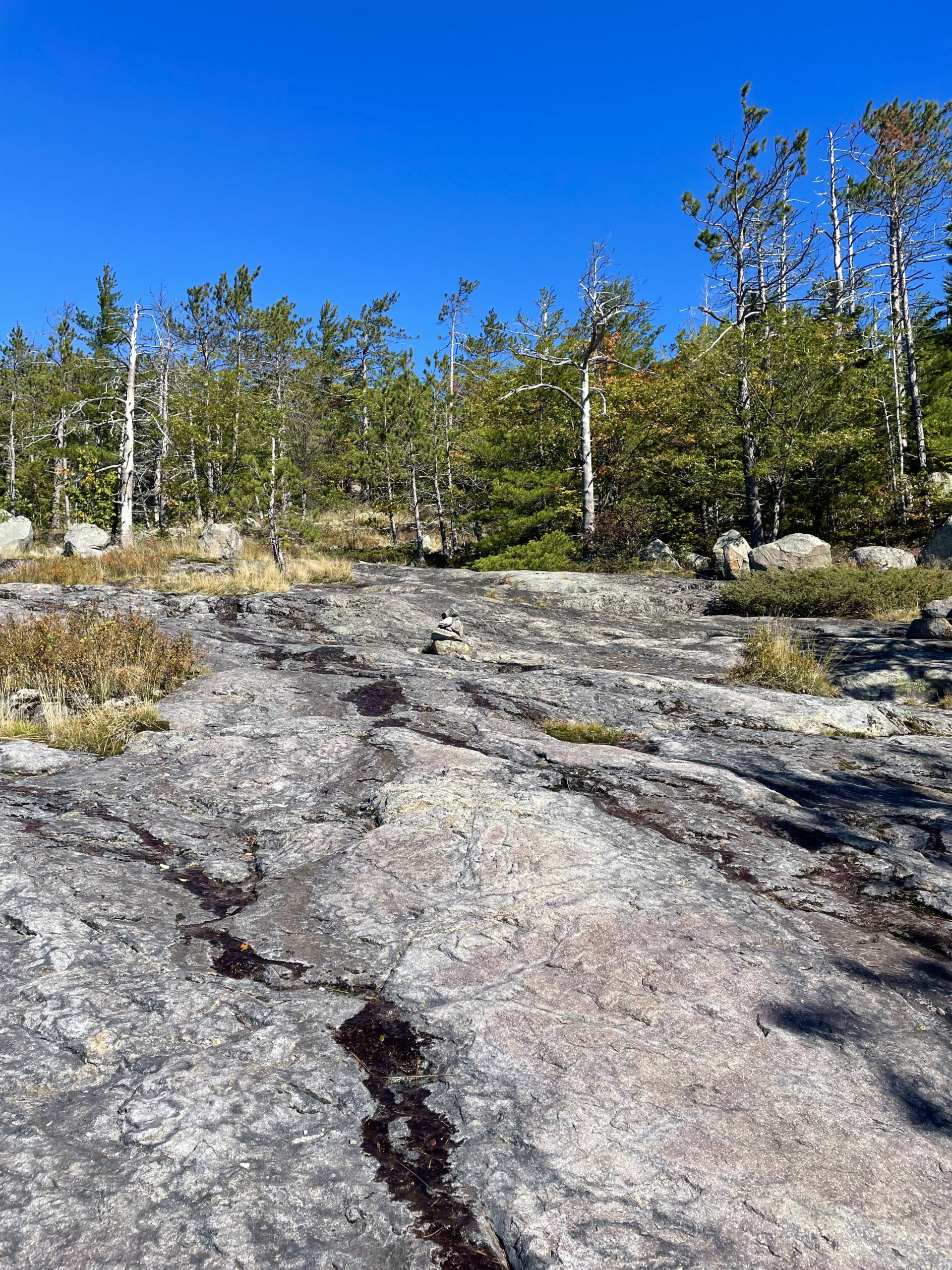 After the first outlook, it can be tricky to find the trail. Look for yellow blazes on trees and on the ledge underfoot (many are faded). Don't forget to check behind you if you can't immediately find a blaze! The South Moat summit is reached at 2.6 miles, and the views are outstanding. You can basically see the entire White Mountain Forest, with Mt. Washington to the north.
All three Moat summits are very exposed, so we didn't linger in the wind. After traversing the south summit, the trail dips into a wooded col. It then climbs back up to Middle Moat and follows a beautiful stretch of ridge covered in alpine vegetation and offering continued, unobstructed views. From this middle summit, Moat Mountain Trail enters a major col and travels through a spruce forest, over a few minor shoulders, and then climbs the steep cone of North Moat. This section of trail requires some real scrambling (Luna needed a boost) and crosses several more ledges. The top is worth all the effort, with views in every direction.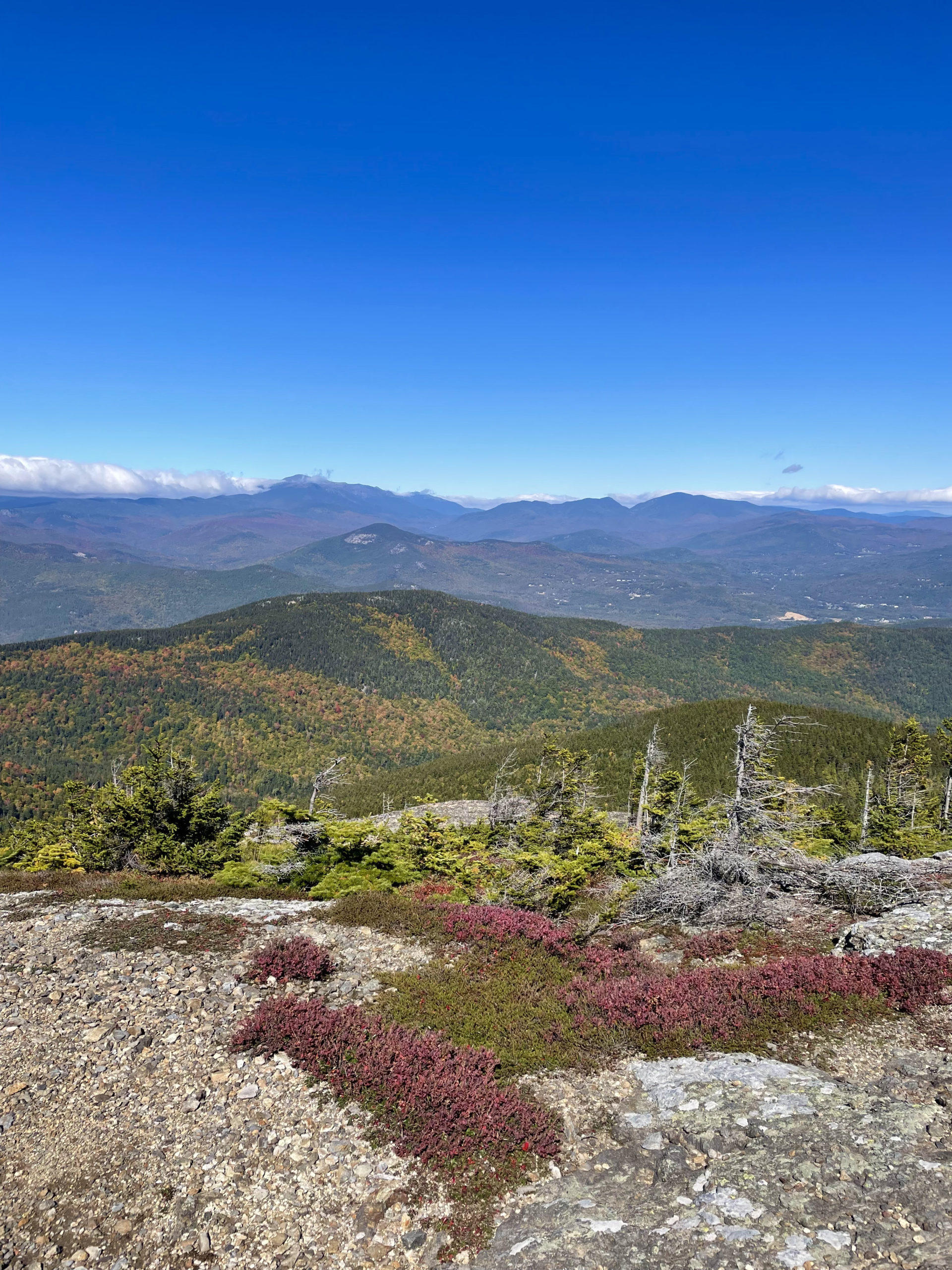 I think this would be an amazing winter hike on a sunny, calm day. Any significant wind would make it very cold and potentially difficult to follow the trail due to snow drift. I'd also avoid this one in damp conditions since eighty percent of the hike is on rock, and I imagine the ledge would be especially treacherous when wet. This is a great hike for dogs, but only if they're paw pads have been conditioned to rough footing. Luna's were pretty worn down and sore by the end, although you'd never know it from her happy expression.
This is a hike I'll revisit many times, I'm sure. It checks all the right boxes: perfect distance for a legit conditioning workout, close to Portland, varied and difficult terrain (but not uncomfortable), and outstanding views. Check it out soon while the fall colors are in full effect!
---
| | |
| --- | --- |
| Total elevation: 2717 ft, 2756 ft, 3137 ft | Elevation gain: 3553 ft |
| Mileage: 10.8 miles | Alpine exposure: extensive |
| Terrain: woods walk, rocks, ledge, ridge, scrambling | Challenges: steep, slick when wet, exposure |
| View payoff: outstanding | Dogs: yes (but be careful of paw pad wear & tear) |
Recap: The Moat Mountain Range is a beautiful ridge connecting three summits, all with incredible views. This hike is challenging, with significant scrambling and traversing over exposed ledge. However, the long and varied trail between peaks makes this a very manageable trek, with nice breaks of forest and flat stretches. Truly some of the best views in the Whites!