100 Mile Wilderness | Appalachian Trail
I woke up on the bank above East Chairback Pond and saw the view I hadn't seen when I set up camp in the dark the night before. Earlier that morning I'd heard the ultra runner jog past my tent. Shortly after, I heard his partner breaking down camp and following him out. I was out of my tent by six, so I imagine their morning had begun at sunrise. The rain had cleared, the sky was blue, and across the pond I could see Chairback Mountain. The water was glass calm and birds kept coming in for wet landings across the surface.
While I made coffee, I hung my tent, ground tarp, and rainfly over a clothesline, hoping to dry them out a bit before packing. Things were still damp when I rolled everything up, but I had an extra large ziplock bag for exactly this reason.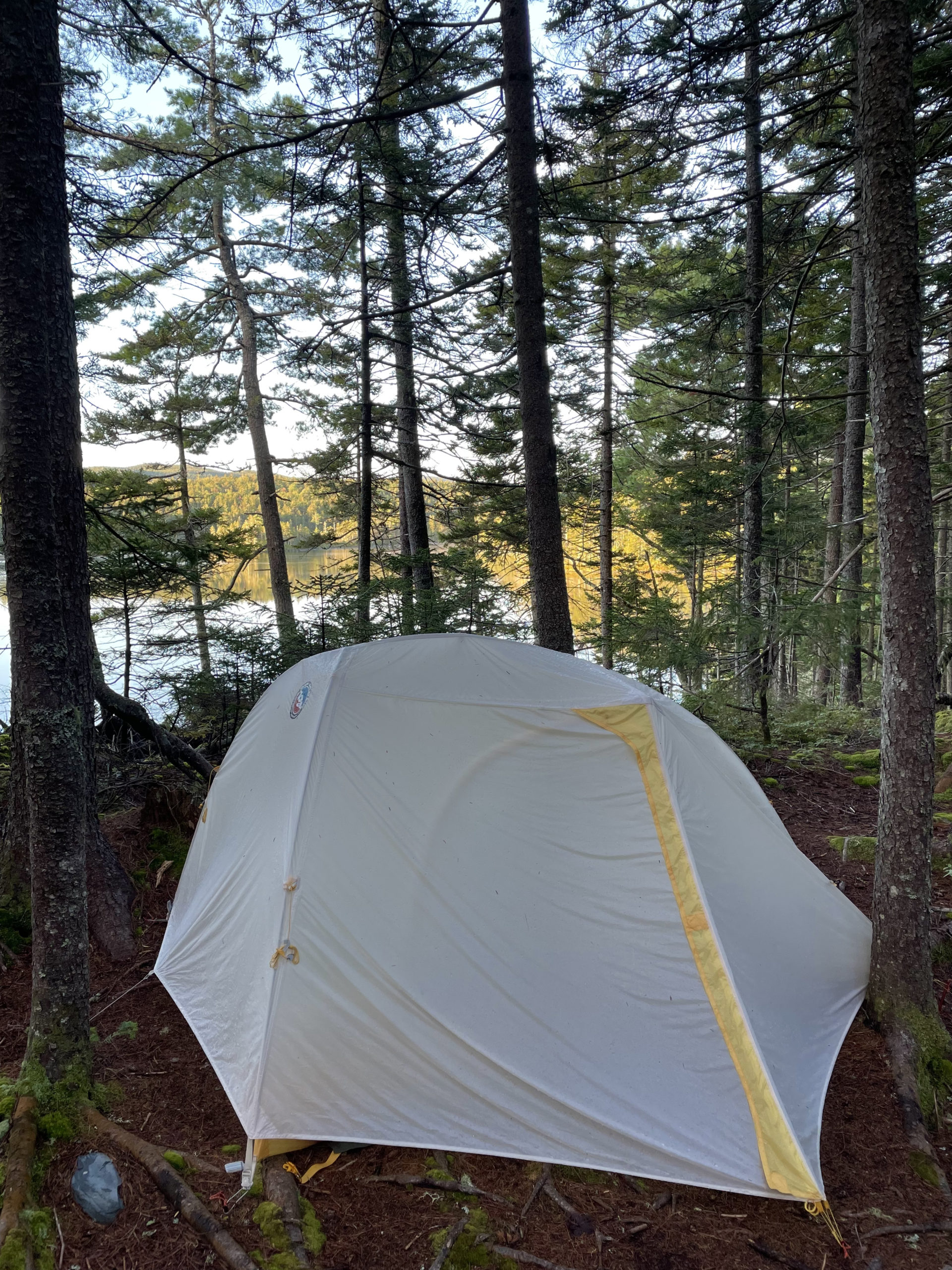 I left camp, which involved a steep climb back up to the trail, and headed north. I crossed my first logging road, the Ki Road, a half hour later. This junction is the first option Phil offers for a food drop, and I felt happy about my decision to only utilize the 50 mile drop. It felt too soon to be resupplying, even though it would have saved me some weight.
Not long after the road, I came to the West Branch of the Pleasant River, a crossing that requires fording. At high water, I've read it can be difficult. I took off my shoes, strapped on Tevas, and waded across. This area around the AT is part of the Ki-JO Mary Forest, a popular spot for camping, hiking, and adventuring. It's one of the few places in the 100 Miles where you encounter day hikers, most of whom are heading for Gulf Hagas. I had already visited the 'Grand Canyon of Maine' earlier in the year, but if you haven't, it's worth taking the Gulf Hagas Cutoff trail to see this incredible site.
On the opposite side of the river, a ridge runner was waiting to greet hikers. These folks are employed by the Maine Appalachian Trail Club to monitor busy sections of trail, aiding and informing hikers of upcoming conditions and potential challenges. In this case, the ridge runner let me know there would be no water between the Carl A Newhall Lean-to and the Logan Brook Lean-to, a seven mile stretch including four significant peaks. I could prepare by filling up at the stream before the next lean-to. She also took my trash, a service offered only to thru hikers. It didn't weigh much, but I was happy to unload it.
At the stream, I encountered three thru-hikers whom I would end up seeing regularly for the duration of my trip. A younger man and woman and their dog named Couch, who carried his own pack, as most trail dogs do. I also met Grampa Fuzzy, a man who became a fixture in my journey. Grampa was tall, thin (he later told me he'd lost forty pounds on the trail), and had a fantastically wild white beard.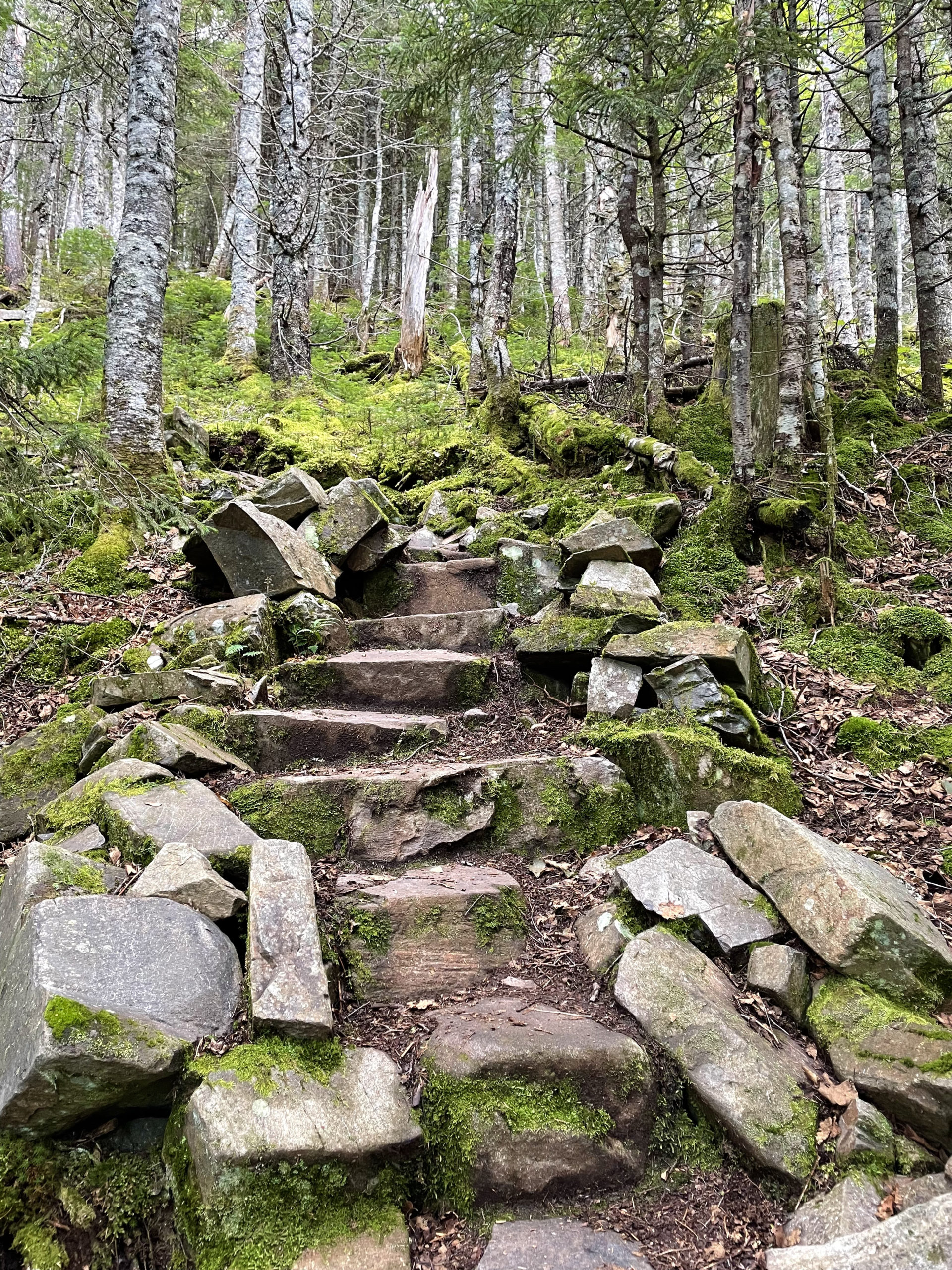 After the water fill up, the climbing began. The White Cap Range covers four peaks: Gulf Hagas Mtn (2690 ft), West Peak (3178 ft), Hay Mtn (3250 ft), and White Cap Mtn (3654 ft). Although these peaks are significantly higher than those in the Barren-Chairback Range, they were also significantly easier to climb. Maybe I was used to my pack weight (still about 25 pounds). Maybe the terrain was smoother (unlikely). Maybe the up-downs between the summit were less (hard to say). One thing is for sure, though. This stretch was made easier by the incredible work of the MATC trail crew. I have never seen such a meticulously-constructed, well-maintained stretch of trail, particularly the stone staircases. It was like walking upstairs in a house, only in the woods. Miles and miles of stone steps. I felt like I stair-climbed my way over this range.
I spent about a mile hiking with Couch and his two humans. In my journal, I wrote, they move FAST! As my friend Ben says about AT hikers, 'They're not looking at their feet. They're looking ten steps ahead.' I kept up with them until we started ascending Hay Mtn, and then they took off. I met them again at the top of White Cap Mtn, where they had stopped for a break.
The views from the peaks were incredible, particularly from White Cap. Mountains, forests, and lakes as far as the eye can see. From an outlook on the north side of the summit, you can see Katahdin. It is the first view of the ultimate destination, and it's amazing how close it seems and how far it really is (about 60 miles).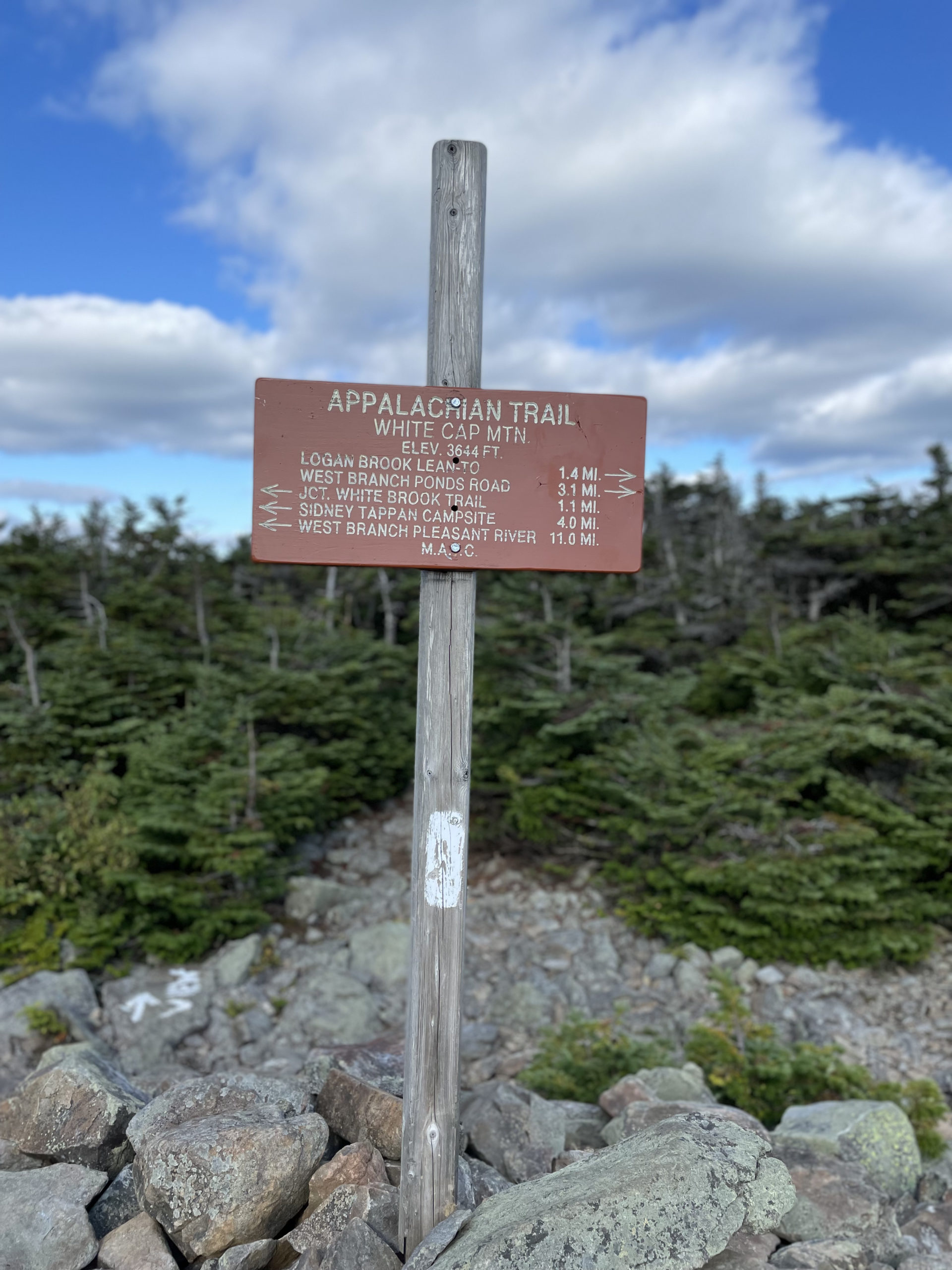 Descending the range, which ends at White Cap, was a breeze, thanks again to the efforts of the MATC and their miles of stone steps. Logan Brook Lean-to was just over a mile from the last summit, and when I reached it at 5:30, it was full. Meaning the lean-to was maxed out and the obvious tent sites were occupied. I managed to find a tight clearing in the woods near the water source and set up on a slight incline. I found out the next day there were overflow sites a little way up the trail, but I didn't feel like pressing on without that knowledge, so I made the little space work. Grampa Fuzzy arrived even later than me and somehow managed to squeeze his tent in next to another hiker.
When I was heading to the privy, I noticed a small, rock-filled pouch tied to a paracord hanging from a tree limb. I asked Grampa Fuzzy about it, and he explained it was so he could haul up his bear canister without having to throw the rock over a limb after dark.
I, like many hikers, had been sleeping with my food in my tent. Not bear-buffet style, obviously. It was in a scent-proof bag in the bottom of my closed pack with some smelly clothes on top. Most thru hikers I spoke to who had seen bears had encountered them in the south, so hauling food into a tree was a worthwhile effort in those areas. Black bears in Maine tend to be very afraid of people and don't often get into backcountry camp food, unless you are blatantly irresponsible in storing it.
The overnight conditions were windy, which was perfect for my damp tent. I collected water in my collapsible bucket and washed out socks and underwear, hoping the wind would dry them too. Then I spent some time worrying about my progress. My goal for this point in the hike was to be at the East Branch Lean-to, 3.6 miles further along. The next day (day 4) was my resupply, and based on where I was starting, I needed to cover at least 19 miles to get the food. I had enough supplies for one extra day if I didn't make it… but I was pretty determined to make it.
---