Gauntlet Falls, Katahdin Iron Works, Gulf Hagas
---
In the middle of Maine, just south of Baxter State Park, there is a place called the KI Jo-Mary Forest. Nearby, a three-mile long gorge cuts through more than 100 vertical feet of slate in the remote Maine woods. Never heard of these places? I hadn't either, until a friend asked if I wanted to go see them.
Hmm, let me think. A beautiful, wild, massive forest with primitive campsites and a natural wonder known as the Grand Canyon of Maine?
Yes, please, I want to see that.
The KI Jo-Mary Forest is a region of 175,000 acres of privately owned forest. The owners share common undivided interest, meaning each owns a percentage of every acre, rather than wholly owning certain areas. It is a working forest where timber is harvested by multiple commercial entities. Also within the land's boundaries are over 30 miles of the Appalachian Trail, the historic Katahdin Iron Works, the Hermitage old growth forest, and the Gulf Hagas Reserve. The owners of KI Jo-Mary, Inc. contract with North Maine Woods, a forest recreation management company, to oversee recreational activities and share the land with the public.
We contacted the North Maine Woods office to reserve a site. All the campsites here are primitive; there are no rangers, water or power hook ups, supply stores, or cell service. There are outhouses, and the sites are large and private. Campers are permitted to utilize fallen trees for firewood (for fires in designated steel fire rings), and our camping neighbor had his chainsaw out for just this reason.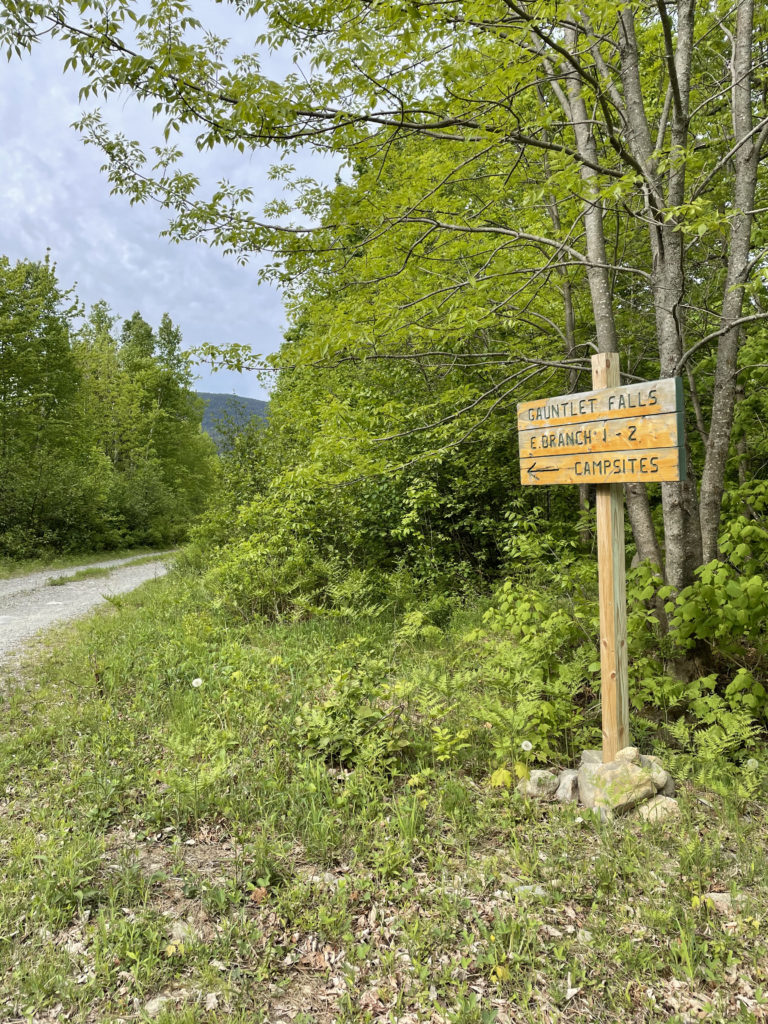 Our site was situated on the edge of the East Branch Pleasant River, just north of Gauntlet Falls. The river and the falls here are beautiful, with smooth, flat rocks for exploring and plenty of places to hop into the water (it wasn't warm enough when we were there). I was also told fishing for brook trout in the pools below the falls is common and the fish are plentiful.
Camping tip: Burn at your own risk
Per Maine law, it is illegal and punishable by a fine to have an unauthorized fire (i.e. outside a provided fire ring) or to leave any fire unattended.
After setting up camp, we were off to see the Grand Canyon of the East. This National Natural Landmark is accessed via the KI Road, our first stop was at the Katahdin Iron Works (KI) Checkpoint and the adjacent state historic site. An ironworks operated here from 1845-1890, when it was home to a busy community and commerce center that could be reached by railroad. An old ironworks kiln and a furnace still stand.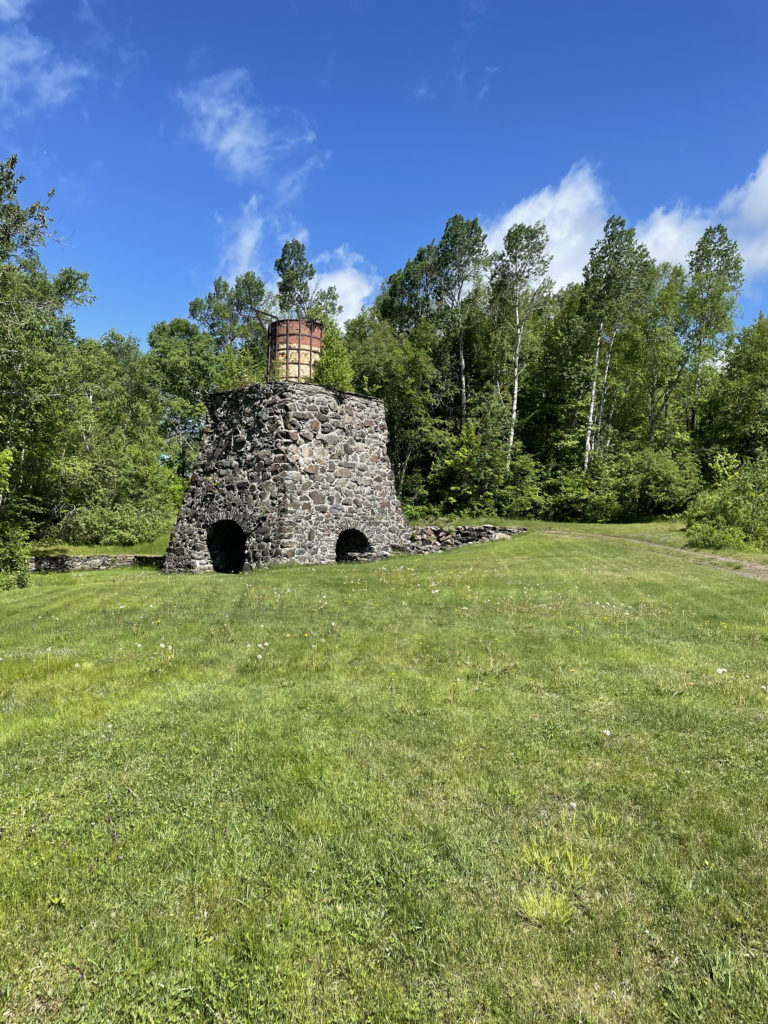 From there, we traveled further west on KI Road and parked at the Gulf Hagas Parking Area, .2 miles from the West Branch Pleasant River. The first order of business was to ford the river. It was easy; the water came just above ankle-depth. The guide brochure we were given at the checkpoint reports at times the water can be knee to thigh deep, so caution is advised. On the other side we briefly picked up the Appalachian Trail and walked through The Hermitage, a 35-acre grove of large Eastern White Pines preserved by The Nature Conservancy. It is one of the few remaining stands of virgin old growth forest in New England.
Near Screw Auger Falls, we turned onto the Gulf Hagas loop trail. The full loop is approximately eight miles, but several cutoffs allow for a shorter hike. The guide also warns of rugged climbing and considerable exertion along the route. I didn't find this to be the case, but at the checkpoint an employee relayed several recent incidents of people becoming lost, hurt, exhausted, or dehydrated and requiring rescue (not easy in this remote area) because they were unprepared. Like any hike, regardless of the terrain or duration, make sure to bring plenty of water, food, and warm layers.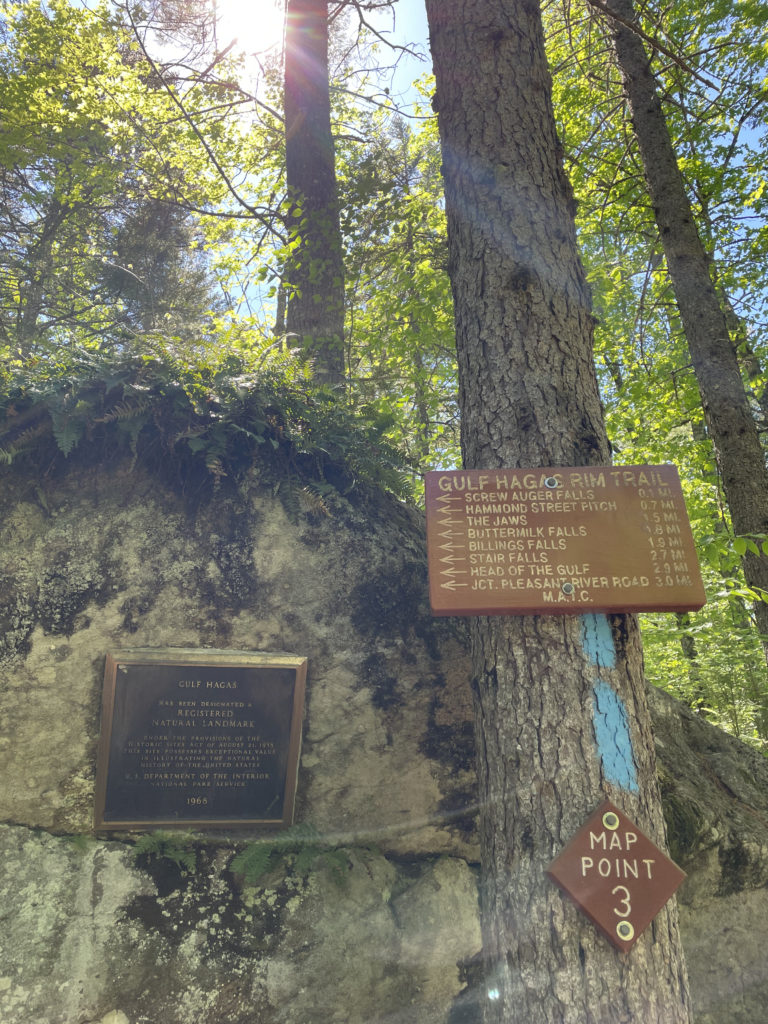 We hiked half the loop, which included incredible views of the canyon and many beautiful waterfalls. The gorge was so deep and imposing that it was difficult to photograph in a way that truly captured its size. Then again, pictures rarely do justice to the most beautiful things we see in nature.
After our hike, we were required to check out of the forest (the North Maine Woods team keeps close track of who enters and exits the trails). The black flies were out in force at the campsite, but once a fire was burning they stayed away. After a bit of exploring around Gauntlet Falls and nearby Mud Gauntlet Falls, we had a quiet night, resting up for the next adventure: hiking North Brother in Baxter State Park.
With Baxter almost always at capacity during the summer season, KI Jo-Mary offers a viable alternative camping option for those looking to get close enough to day hike in Baxter without staying in the park itself. More on the endless complexities of Baxter State Park in another post…
---
| | |
| --- | --- |
| elevation: 1,660 ft at the highest point of the trail | Elevation gain: 954 |
| Mileage: 8 miles (can be reduced to 4 miles) | Alpine exposure: none |
| Terrain: wooded trail, roots, rocks, steep drop-offs | Challenges: very remote location — be prepared! |
| View payoff: waterfalls and a stunning gorge | Dogs: yes, on leash only |
Recap: The KI Jo-Mary Forest isn't easy to get to, and I hope it stays that way. It's a truly special place and worth the effort to find and explore. The history of the ironworks is fascinating — to imagine a thriving community of over 200 families in this forest is wild — and the gorge is a stunning example of nature's sheer force. The Gulf Hagas trails are very manageable for any experienced hiker and a moderately challenging adventure for most people. As always, be prepared and make good choices about timing and turning around.